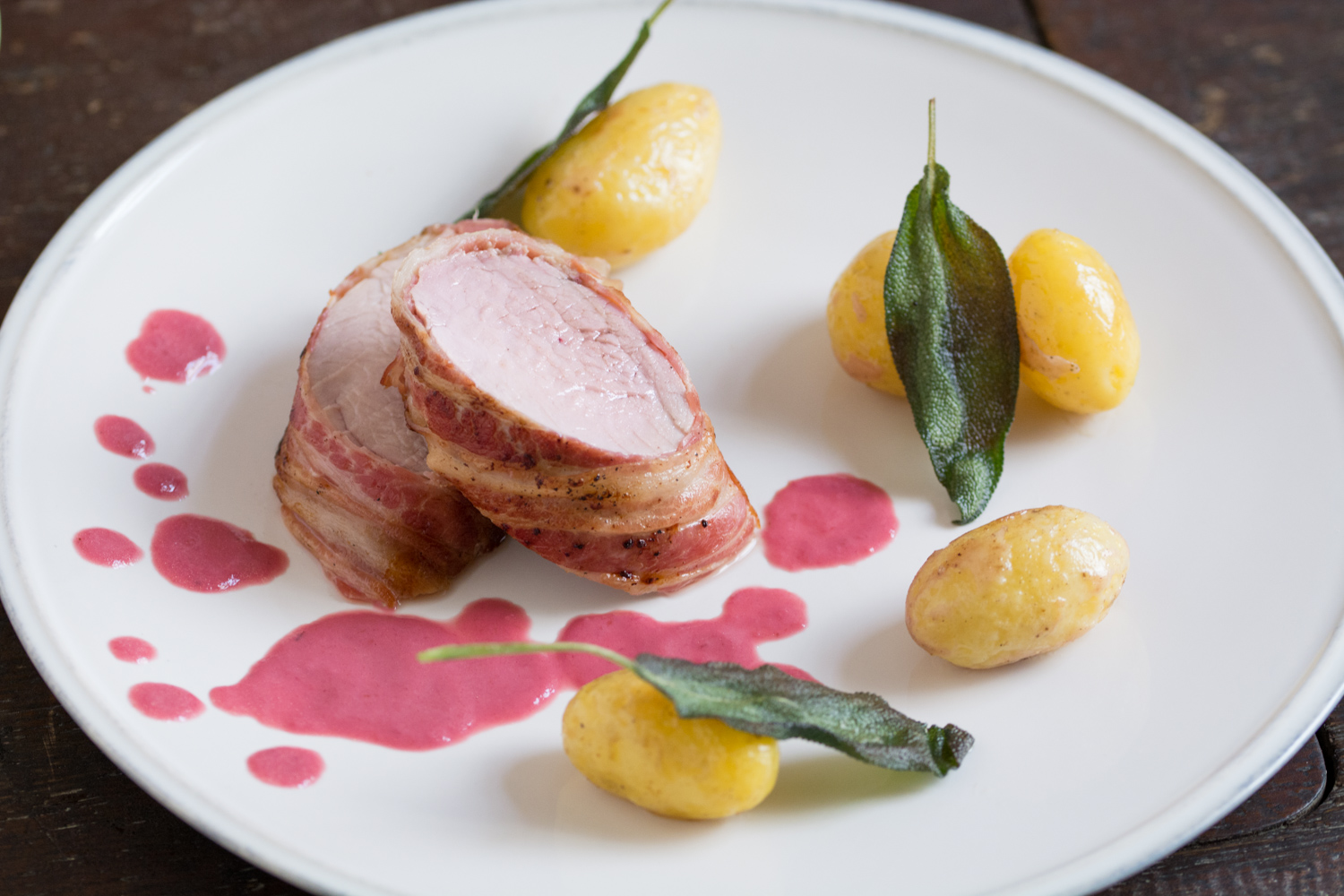 Whenever I want to roast pork, I seem to choose tenderloin more and more often, and the reasons are multiple: it cooks fast, it's tender, it's delicious, it's moist and it's inexpensive. While pork shoulder is sometimes quite fat and the pork loin quite dry, the tenderloin has just the right amount of fat. It's so easy to work with tenderloin because it remains moist and juicy long after it's sliced, not to mention that regarding the side dish, tenderloin literally goes with everything.
Don't get me wrong, even without being marinated, tenderloin is juicy and flavorful, but today I chose to run the extra mile and I brined it in pomegranate tea and sea salt. It became even more tender and the fruity flavor was spot-on. After the marinating process, I coated the tenderloin with creamy roasted garlic and I wrapped it in thin bacon slices.
It's not a big culinary secret that pork goes heavenly with all sorts of fruit, so I dressed up this marvelous steak with a sweet and tangy sour cherry sauce. To keep it simple, this morning I've picked some lovely new potatoes, I've boiled them in broth and I sauteed them in sage-flavored butter. The whole business took less than an hour, including the time spent waiting for the garlic to roast / drinking a coffee / taking more than a dozen trips to my vegetable garden as I have the memory of a 90 year old and I always forget half of my ingredients.
Bacon wrapped tenderloin
Ingredients (for 4 servings):
one 500g pork tenderloin, brined for 4 hours following this recipe (the brining process is optional)
150g finely sliced bacon
1 garlic head
¼ tsp sea salt
½ Tbsp olive oil
2-3 Tbsp vegetable oil (for searing)
Method:
Trim about 1 cm off the bottom of the garlic head. Drizzle with sea salt and olive oil and wrap it loosely in aluminium foil. Place the package in the preheated oven at 230°C/450°F (gas mark 8) for 20 minutes. After 20 minutes discard the aluminium foil and let the garlic cool for 5 minutes. Press the bottom of the garlic head to extract the garlic puree.
Lower the oven temperature to 180°C/350°F (gas mark 4).
Take the tenderloin from the brine, place it on a working surface and pat it dry.
Coat the tenderloin with the creamy garlic and wrap it tightly with the bacon slices.
Heat the olive in a skillet on medium heat. Sear the tenderloin for 6 minutes (3 minutes on each side) or until brown.
Place it in a parchment paper-lined baking tray and roast it for 15 minutes or until the internal temperature reaches 63-65°C (the juices should come out clear).
Place it on a plate and let it rest uncovered for 10 minutes.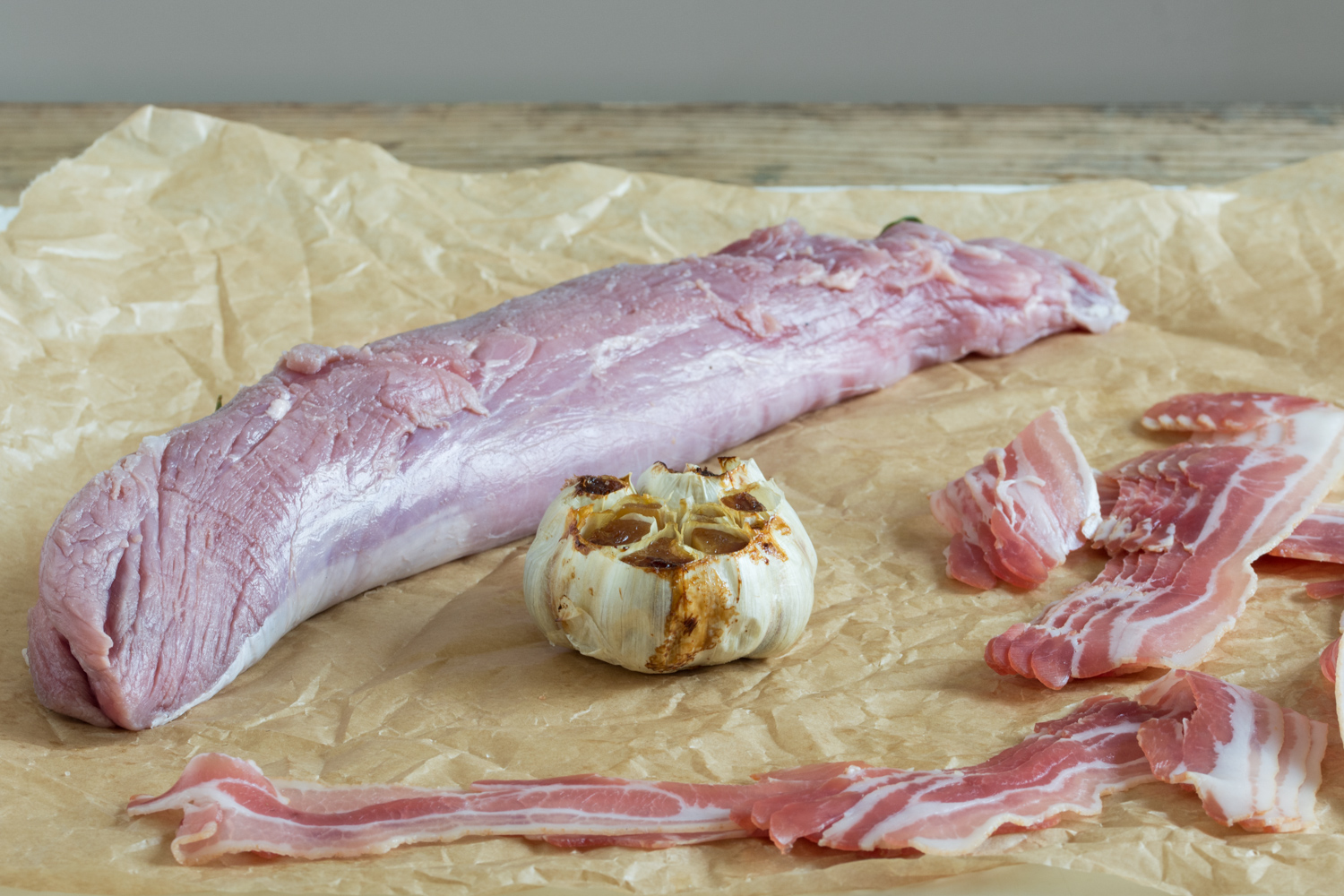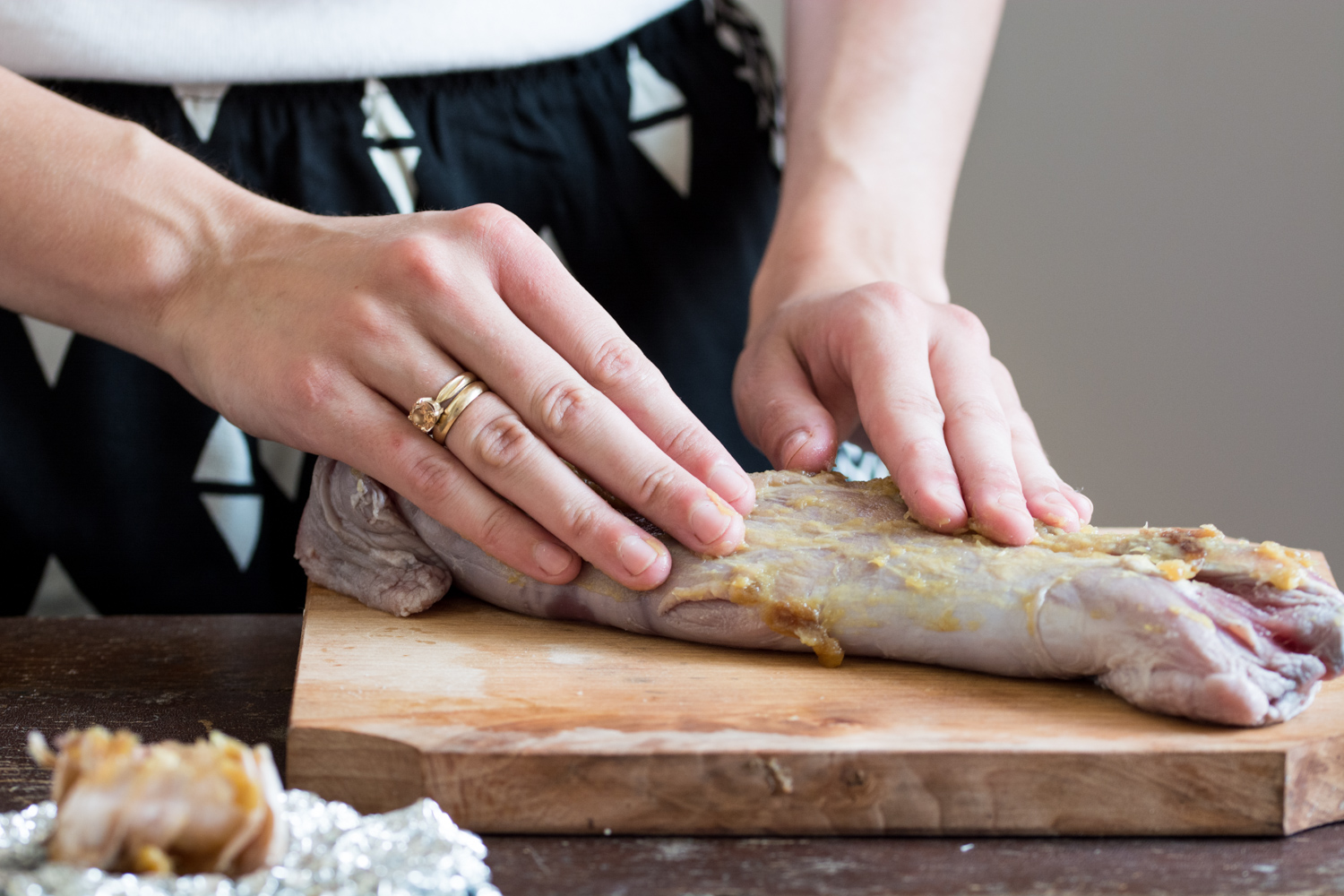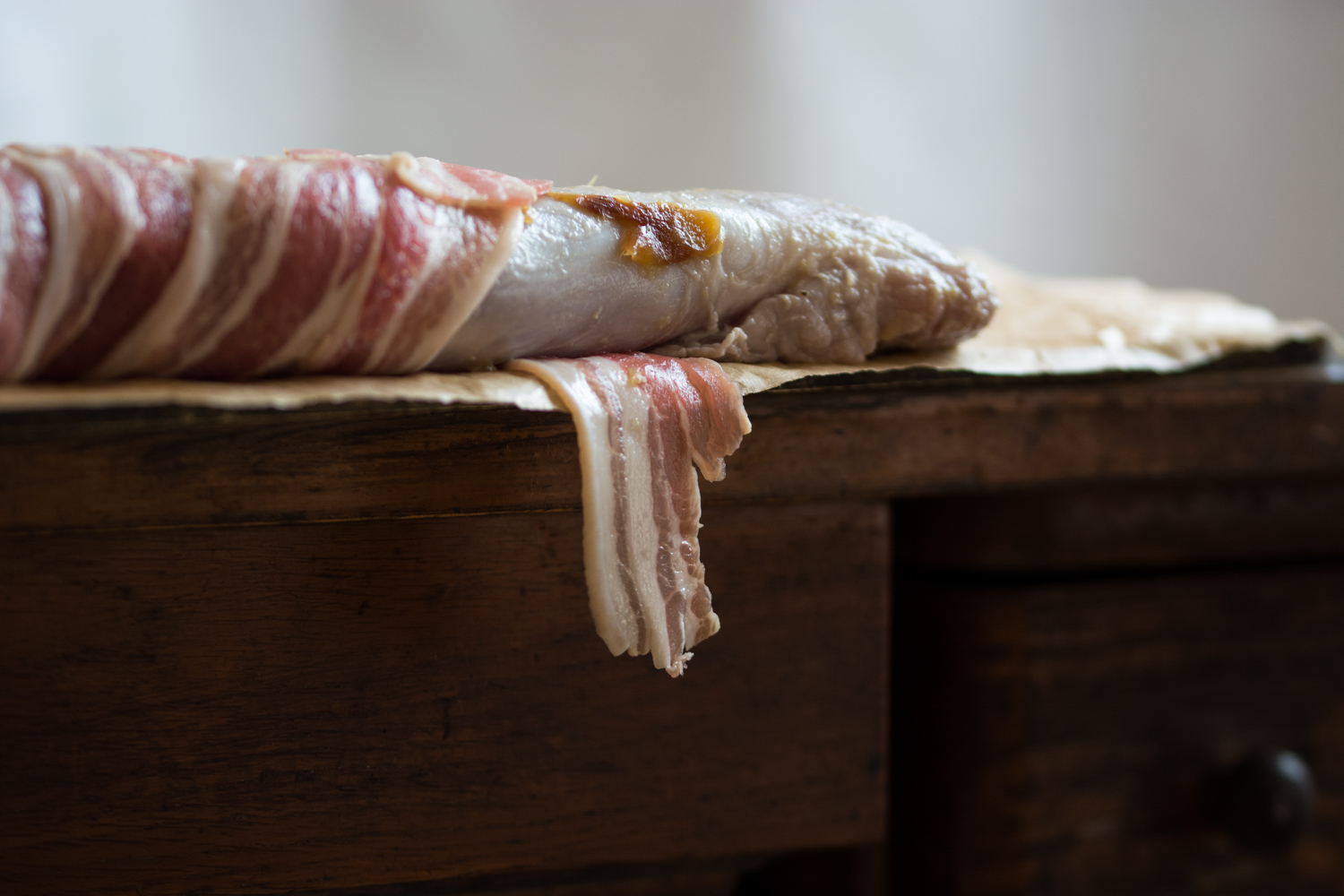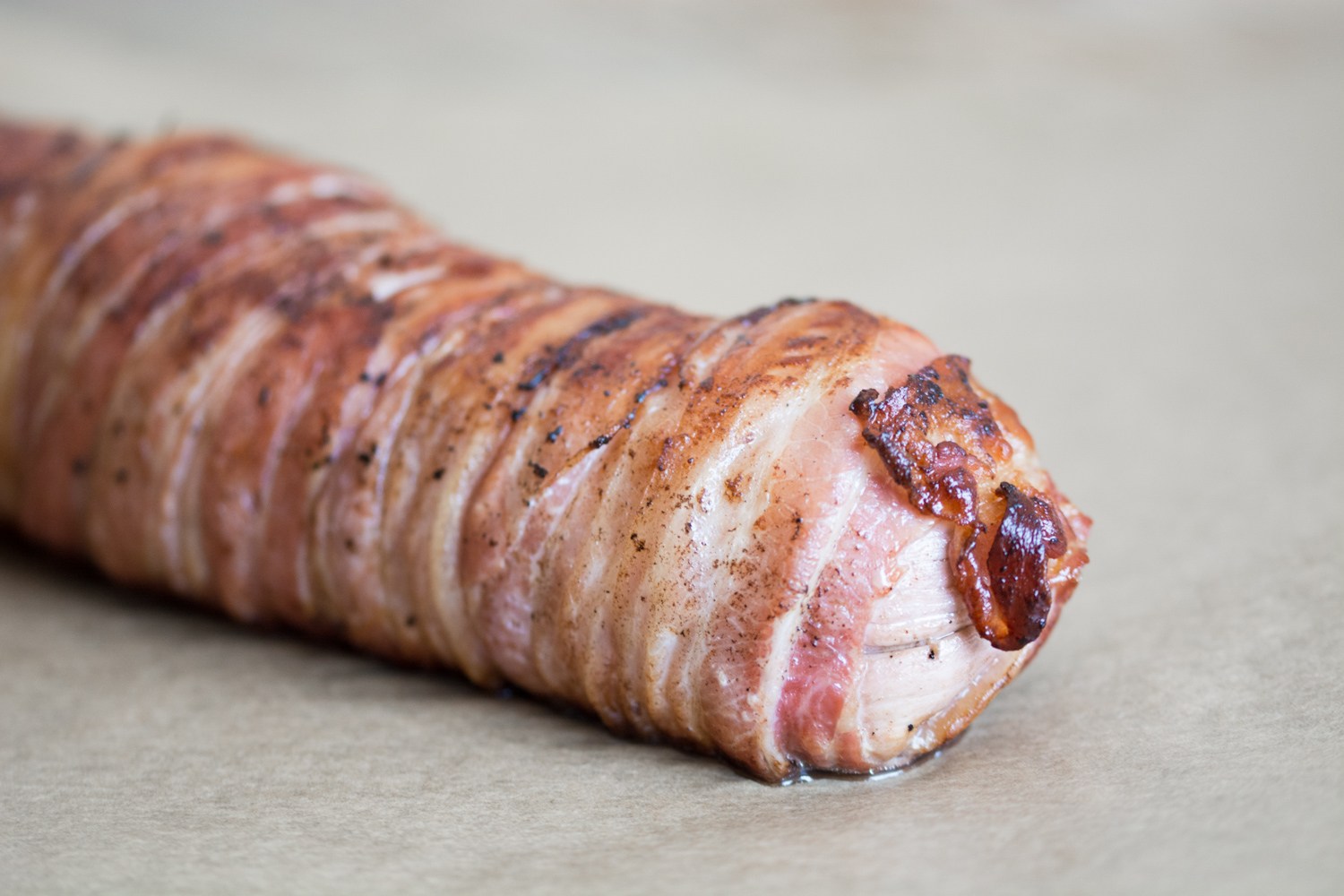 Sour cherry sauce:
Ingredients (for 4 servings):
200g sour cherries
230ml chicken broth
70g leek
70ml semi dry white wine
1 Tbsp olive oil
1 Tbsp butter
½ Tbsp honey (optional)
salt and pepper to taste
Method:
Cut the leek in half lengthwise. Fan out the leeks and rinse well to remove the dirt. Chop it finely (picture).
In a sauce pan saute the leek in 1 Tbsp olive oil on medium heat for 4-5 minutes or until soft. Pit the sour cherries.
Add the wine and stir until the liquid is reduced by half. Add the sour cherries and the chicken broth.
Simmer the mixture uncovered for about 20 minutes or until the liquid is reduced by half.
Carefully pour the mixture in a blender and pulse until smooth and creamy. Strain the sauce for a smoother texture.
Add the butter and season well with salt, pepper and honey.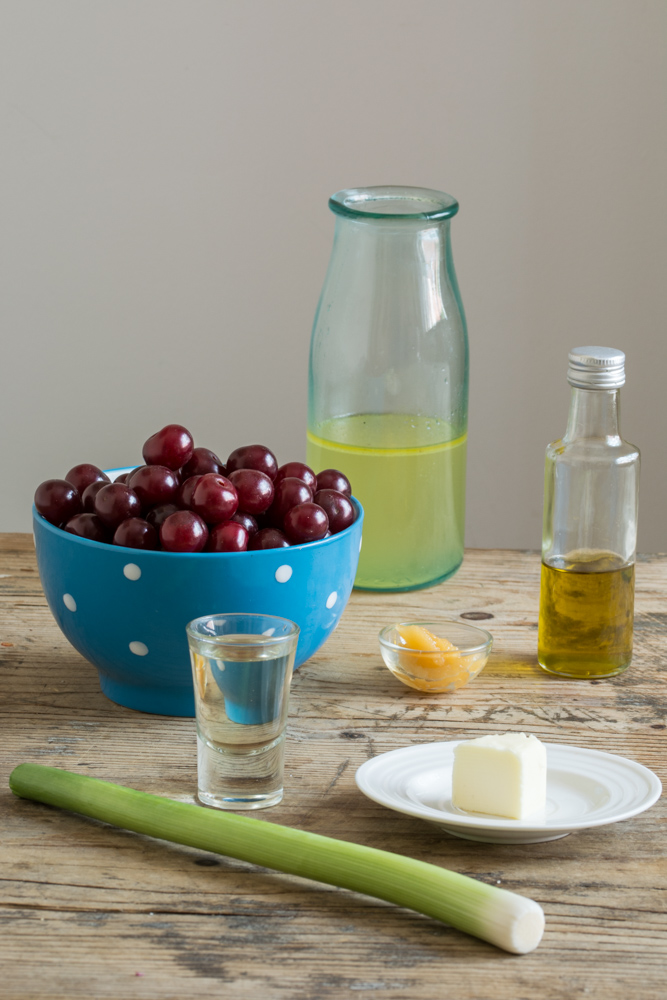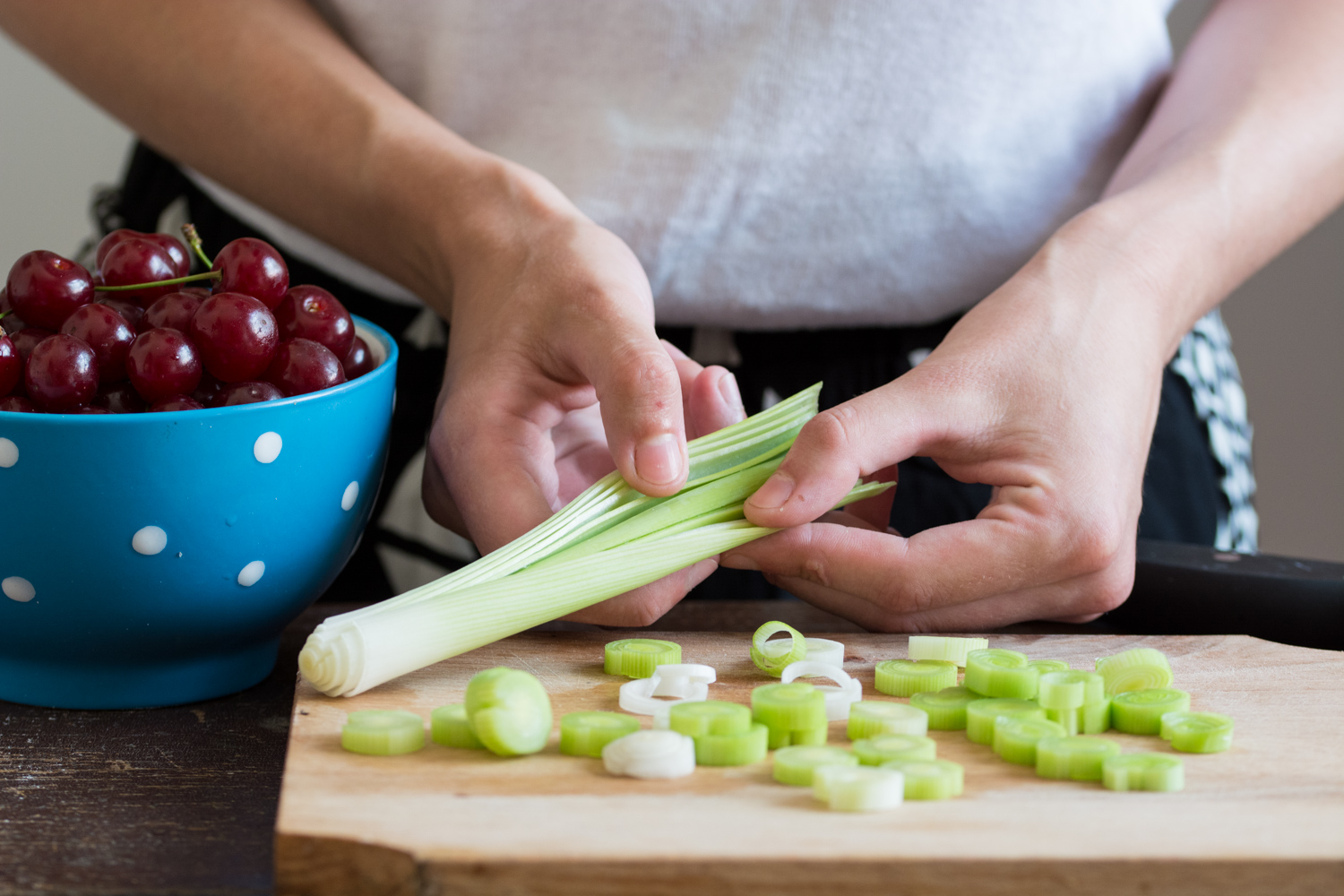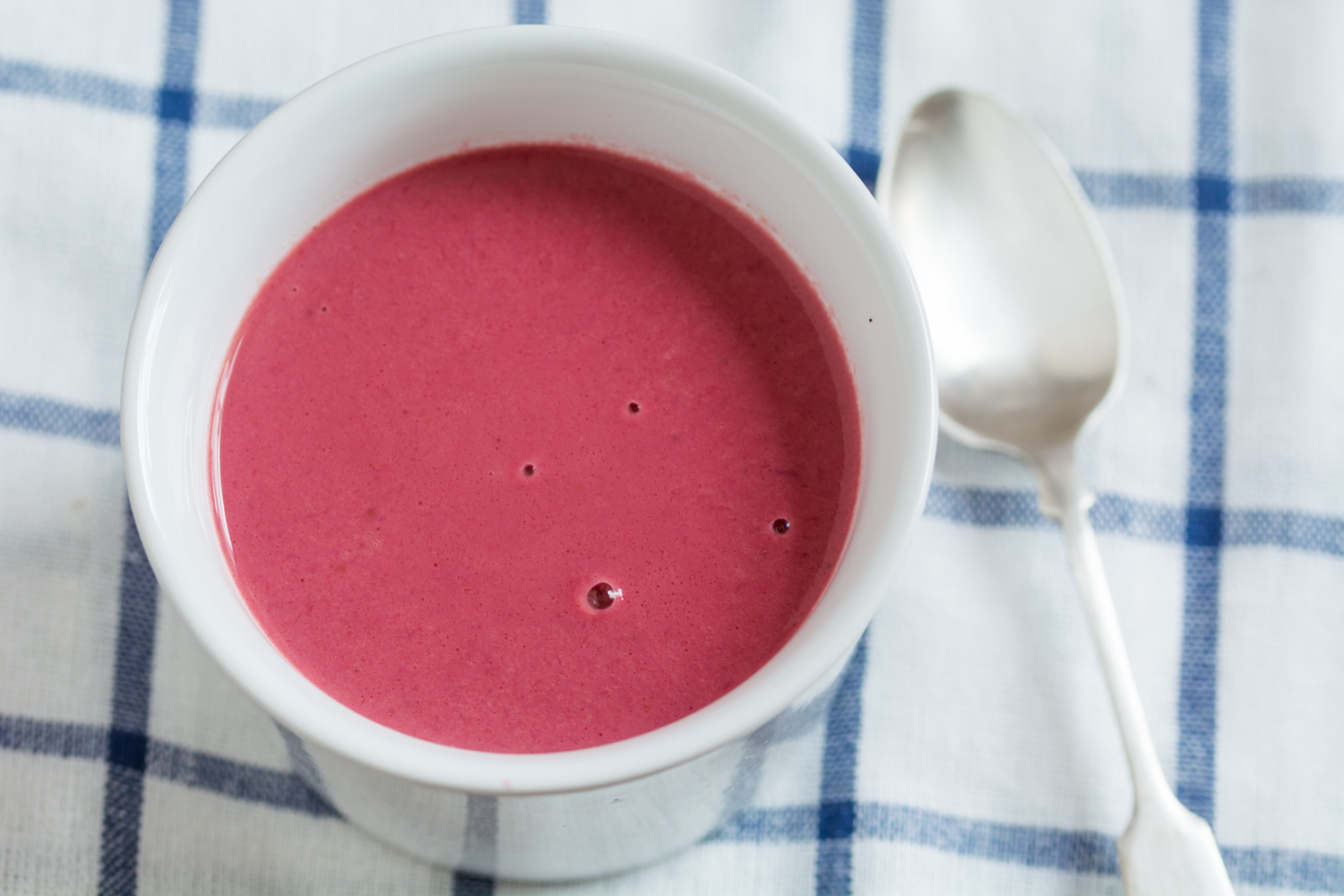 Presentation: With a sharp knife carefully cut the tenderloin in 2 cm thick slices and place them on a plate. Add the sour cherry sauce and new potatoes (boiled in broth and then sauteed in sage-flavored butter for 2 minutes).