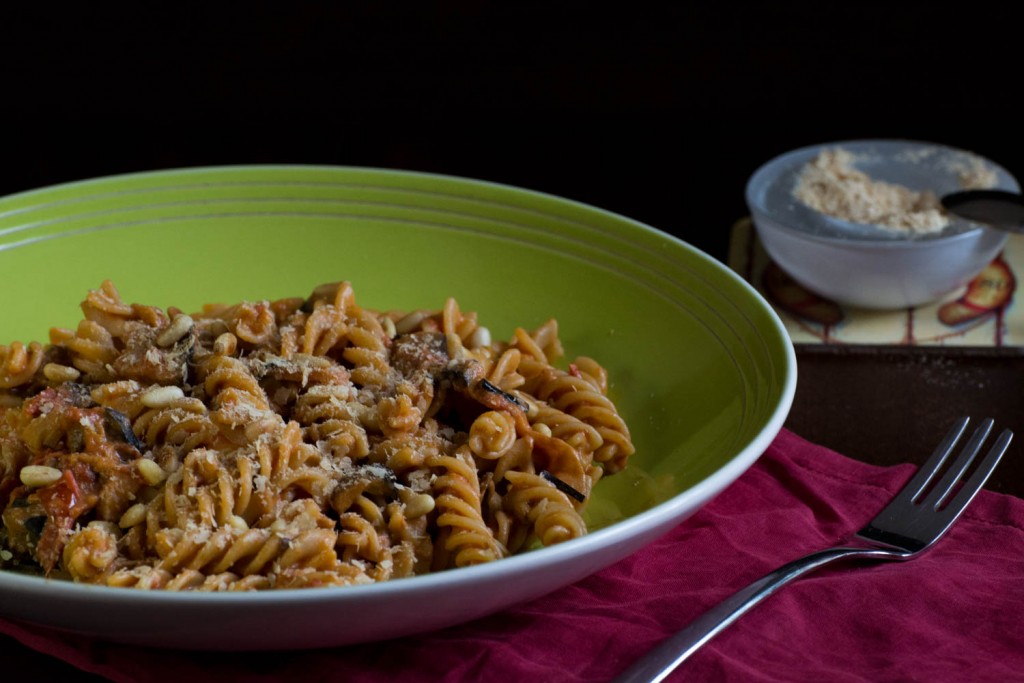 I absolutely adore pasta. It doesn't matter if they are fusilli, spagetti or penne. It doesn't mater if they are regular, whole wheat or rice pasta. I discovered whole wheat pasta 3 years ago and I felt in love. Why should we choose whole wheat instead of regular pasta? Because whole wheat pasta are higher in fiber and vitamins (epecially B complex, K vitamin and E vitamin).
I love this particular recipe because it's tasty and healthy. This recipe belongs to Jamie Oliver and it includes ricotta and parmesan cheese. I usually swap ricotta for cashew cheese and parmesan for nutritional yeast . And voilà … I have a vegan, nutritious and delicious bowl of pasta.

Ingredients:
• 2 eggplants
• 1 fresh chilli
• 3 garlic cloves
• 2 tins chopped tomatoes
• 50 pine nuts
• 4 Tbsp cashew cheese
• 6 Tbsp nutritional yeast
• 2 Tbsp chopped fresh basil
• 5 Tbsp olive oil
• 500g dry pasta of your choice
• 400 ml water
Method:
1. Bake/steam chilli, wrap it in aluminium foil and leave aside.
2. Slice eggplants lenghtwide into 3 mm thick slices. Brush slices with 3 Tbsp olive oil and grill them in batches for 2 minutes or until softened.
3. Peel and chop garlic cloves. Heat olive oil in a saucepan on medium heat and cook garlic until fragrant. Add tomatoes and water. Cook sauce for 20 minutes or until reduced by half.
4. Julienne the eggplant slices and add them to pan. Add peeled and chopped chilli and basil. Let sauce cook for another 10 minutes. Turn heat off and add salt, pepper, cashew cheese and nutritional yeast (4 Tbsp).
5. Put the pine nuts on a skillet and cook them over medium-high heat until golden.
6. Serve hot with pine nuts and nutritional yeast sprinkled on top.