Spring pea soup is my favorite soup. Even though I'm not a soup person, I felt deeply in love with this spring pea soup. It has a special place in my heart not only because it's delicious, but because this was my grandmother's signature dish. During May, while spring pea is the star of the month, I prepare this soup almost daily. Honestly, this is the only dish I could eat every single day without getting bored.
It is a lovely soup, very tasty and satisfying, even though it is made from five or six ingredients, all fresh and springy. The soup part is extremely easy to prepare. You just have to saute some veggies in olive oil, you cover them with water and you let them cook. The flour dumplings are quite easy to make, too. The first and the second dumpling is trickier, but from the third on, their preparation becomes a child's play. I might be subjective, but from my point of view, this is the perfect soup for spring!
Ingredients (for 6 servings):
600g fresh spring peas
2 baby carrots
1 large spring onion
1 handful of parsley leaves
6 Tbsp olive oil
2l water
salt and pepper to taste
for the dumplings
2 eggs
120g flour
¼ tsp sea salt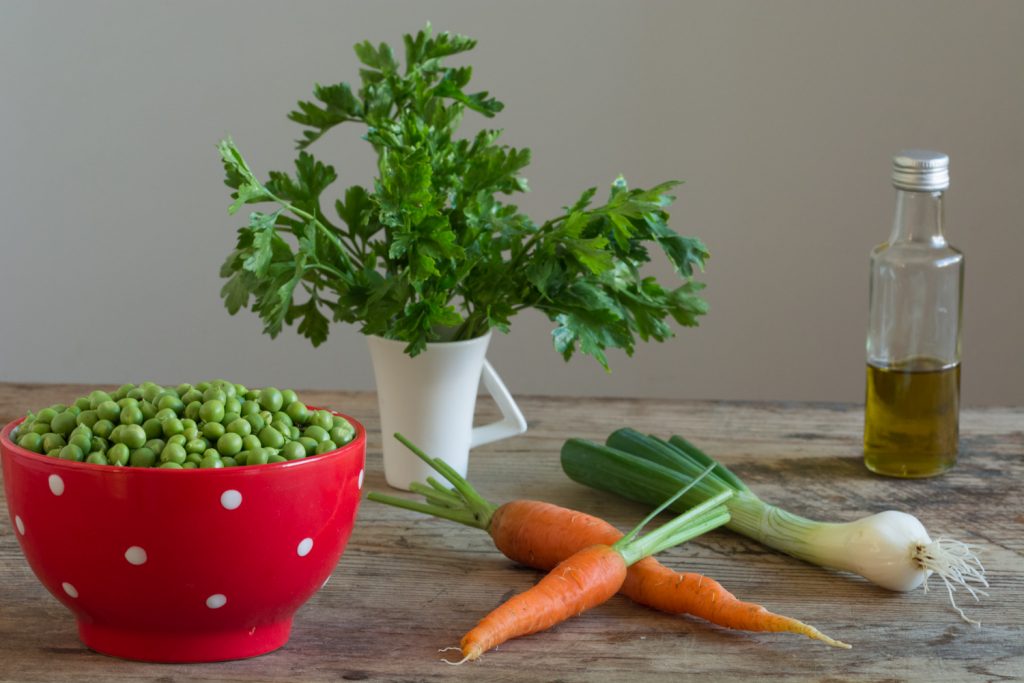 Method:
Wash and drain the spring peas. Chop the carrots, onion and parsley.
Heat the olive oil in a large saucepan. Add the onion and cook on low heat for about 5 minutes or until translucent.Add the peas, carrot slices and chopped parsley and saute the veggies on low heat, stirring occasionally until the peas are tender (about 15 minutes).
Add 2l of hot water, cover with a lid and cook for 20 minutes.
After 20 minutes prepare the dumplings. Beat the eggs with a fork and add the salt. Pour the flour gradually and mix continuously with a spoon until you form a paste. Leave the dough for 5 minutes to rest.
Place a tablespoon in the hot soup to heat the spoon and tear a small amount of dough. Put your spoon (with the uncooked dumpling) back in the water to release the dumpling. Repeat this procedure.
Cook the dumplings in soup for about 5 minutes. Remove the saucepan from heat, season with salt and pepper and serve warm.