Pea pâté made from frozen peas is a delicious appetizer but when made from fresh spring peas it's absolutely exquisite. Spring peas are blanched and then mixed with ricotta, parmesan, spring onion and fresh mint and it miraculously transforms into a dense and flavorful cream, with an almost surreal green color. Almost.
I ran out of bread and I decided it's about time to bake a focaccia (I used exactly this recipe), since I haven't made bread for so long (for 3 days, to be more accurate). So, while the dough was rising, I prepared a minty ricotta-spring pea pâté. Since I finished the pâté extremely quickly, I decide to caramelize some God knows how old   old white onions. I cooked them very slowly, at low temperature without the additional sugar until they turned a rich brown. I assembled the focaccia, spring pea pâté and caramelized onions and I got a cute and heavenly tasty appetizer.
Spring pea pâté
Ingredients (for 6 servings):
300g (fresh or frozen peas) – 2 cups
125g ricotta cheese – ½ cup
30g parmesan cheese – 1/3 cup
1 spring onion
5 mint leaves
2 Tbsp lemon juice
salt and pepper to taste
Method:
Bring to a boil 2l of water and add 1 Tbsp sea salt. Cook spring peas for 3 minutes. Meanwhile prepare the ice bath by adding 1 cup of ice to a bowl filled with cold water. Carefully drain the peas and immediately place them in the ice bath. Let them cool completely and then drain them.
Place the blanched peas in a food processor fitted with a metal blade. Add the ricotta, parmesan, sliced spring onion, mint and olive oil. Process until smooth and creamy. Season with lemon juice, salt and pepper.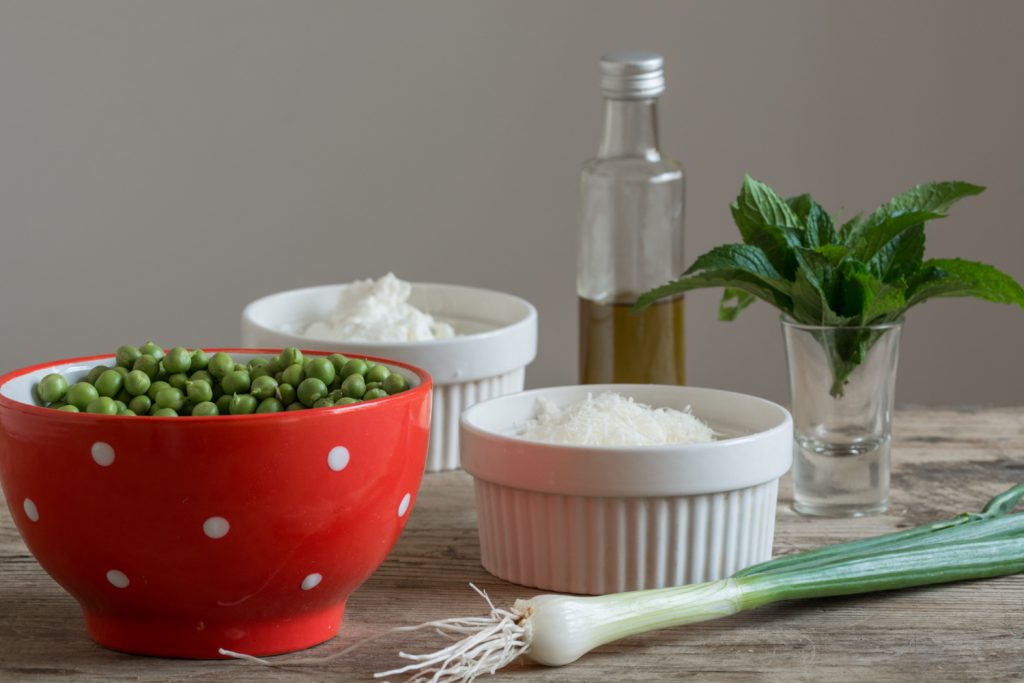 Ingredients (for 6 servings):
2 large onions
1 Tbsp butter
1 Tbsp balsamic vinegar
salt to taste
Method:
Peel and slice the onions (picture).
Melt the butter in a cast iron skillet over medium heat. Add the onions and cook until soft and translucent, stirring frequently (about 10 minutes).
Lower the heat to minimum and cook until brown stirring every 5 minutes (this will take between 30 minutes and 1 hour).
Deglaze the skillet with 1 Tbsp balsamic vinegar and 2 Tbsp water and season with salt.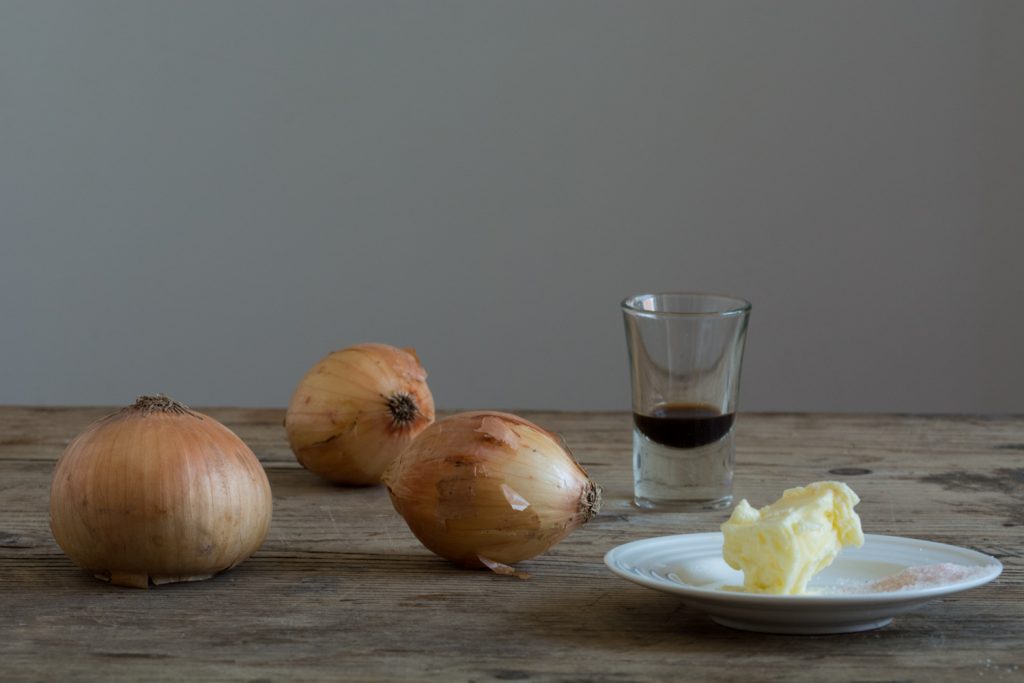 To assamble: Carrefully slice the focaccia and using a knife spread each slice with a teaspoon of pâté. Place on each slice caramelized onion ribbons and 1 radish sprout.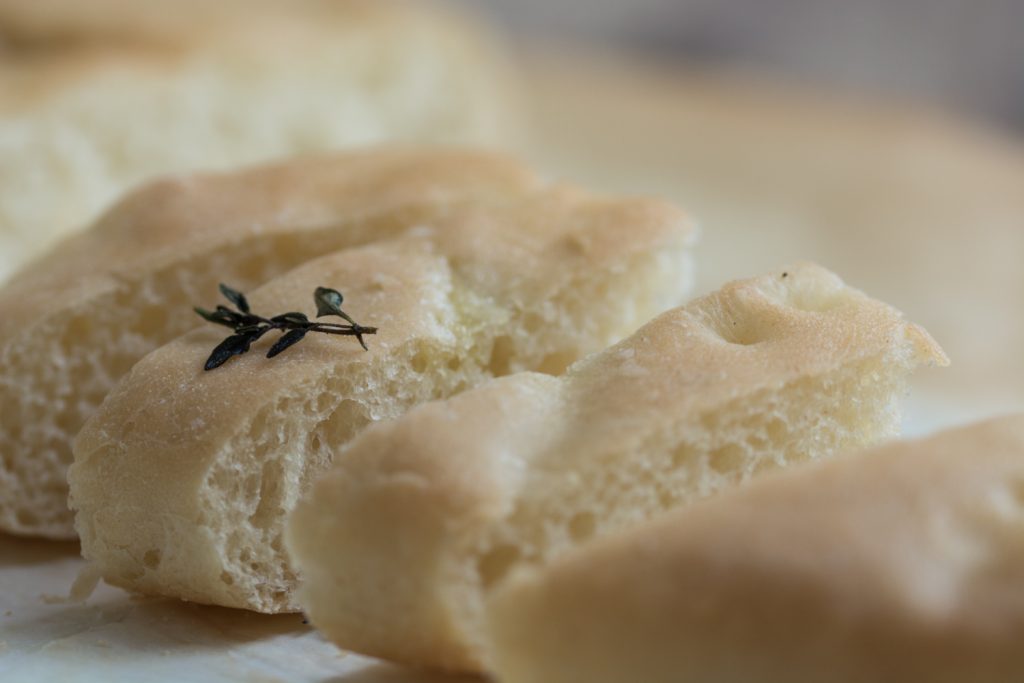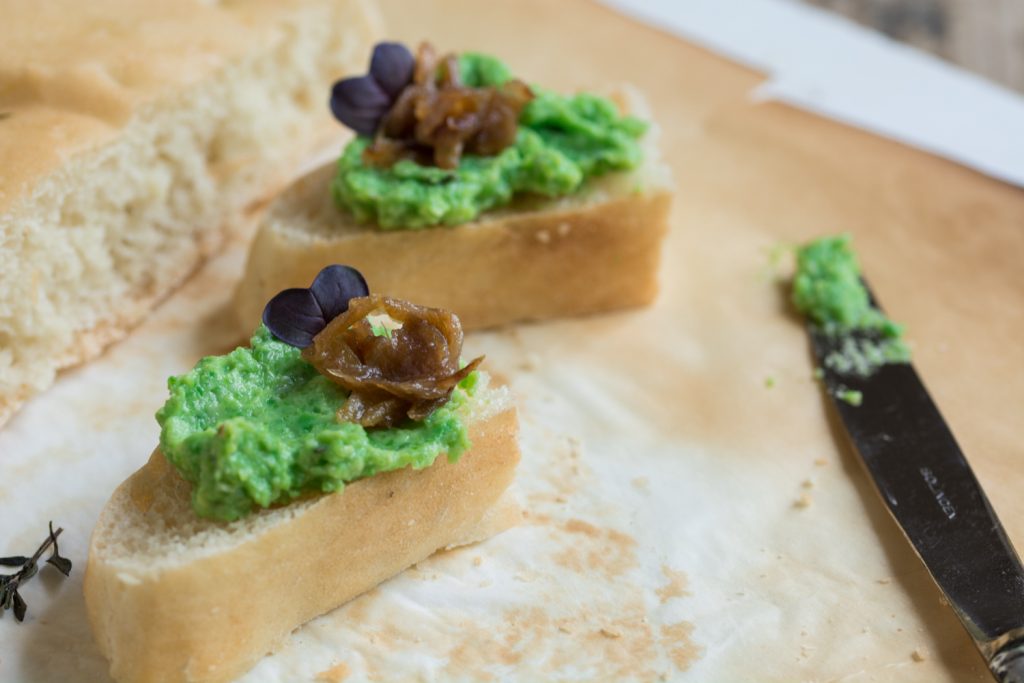 Source: www.gimmesomeove.com