Every time I crave pancakes and I'm not in the mood for staring at them while they cook, I bake a Dutch Baby. Dutch Baby is a huge and puffy German pancake served generally for breakfast. The batter made from eggs, milk, flour and sugar is baked in a buttered cast iron skillet and after baking, this lovely pancake is served with butter, lemon juice and powdered sugar. This is certainly the easiest dessert I've ever made. You blend a few ingredients and you pour the batter in a skillet. It's that simple!
Being an egg-based baked dessert you'd certainly expect a fluffy, soufflé-like final product. Trust me, the volume and the shape of this pancake is quite stunning. Regarding the fact that you pour about 2 cups of batter in a hot skillet, you'd expect to get an adorable little pancake and not a baby hippo. Let me tell you something, this is a dramatic dessert with a unique kind of beauty.
Ingredients (for 2 servings):
3 large eggs
185ml milk – 3/4 cup
75g all-purpose flour – ½ cup + 1 Tbsp
60g brown sugar – 1/4 cup
½ tsp vanilla extract
1 tsp lemon zest, grated
¼ tsp salt
30g butter – 2 Tbsp
for serving:
2 Tbsp mascarpone cheese
fresh strawberries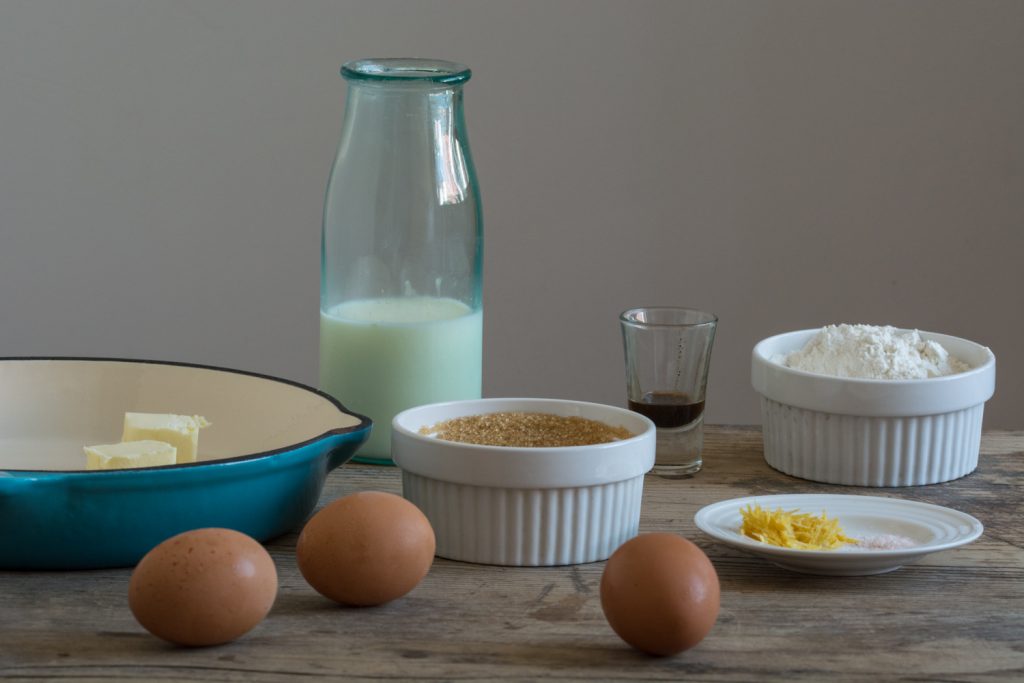 Method:
Preheat the oven at 400°F/204°C (gas mark 6). Add the butter to a cast iron skillet and place the skillet in the hot oven.
In a blender mix eggs, milk, flour, sugar, salt, vanilla extract and lemon zest and blend for about 30 seconds.
Carefully pour the batter into the buttered skillet and bake for 20 minutes. The pancake should be very puffy and brown on the edges.
Serve warm with mascarpone cheese and strawberry slices.
Source: www.marthastewart.com