I've always loved duck roast for its unmistakable flavor, its reach and exquisite taste and its mouth-watering crispy skin. But I've always felt discouraged to try to cook it. It seemed too technical and challenging to get the perfect seared duck breast. Last year I finally gave it a try and was the best decision ever. Little by little I managed to understand the meat, its physics and its chemistry. And it's not difficult at all. If you pay attention to a couple of things, your seared duck will always turn out perfect.
I like my seared duck medium to well done, with a divine crunchy skin and a juicy, pinkish, flavorful meat. In order to get this finish I brown the breast in a cast iron skillet in its own fat, and I finish it in the oven for 6 minutes. After duck has rested for 5 minutes, I slice it and I serve it with a sweet and sour wine and cherry sauce. It is a wonderful combination!
Ingredients (for 2 servings):
2 duck breasts (2 x 200g)
salt
pepper
for the wine-cherry sauce:
1 cup pitted cherries (200g) – and their juice
1/3 cup semi dry red wine (75ml)
1/3 cup chicken broth (75ml)
½ shallot (or red onion)
1 thyme branch
1 Tbsp butter (15g)
1 Tbsp duck fat (or olive oil)
½ tsp balsamic vinegar
1 tsp honey (optional)
salt and pepper to taste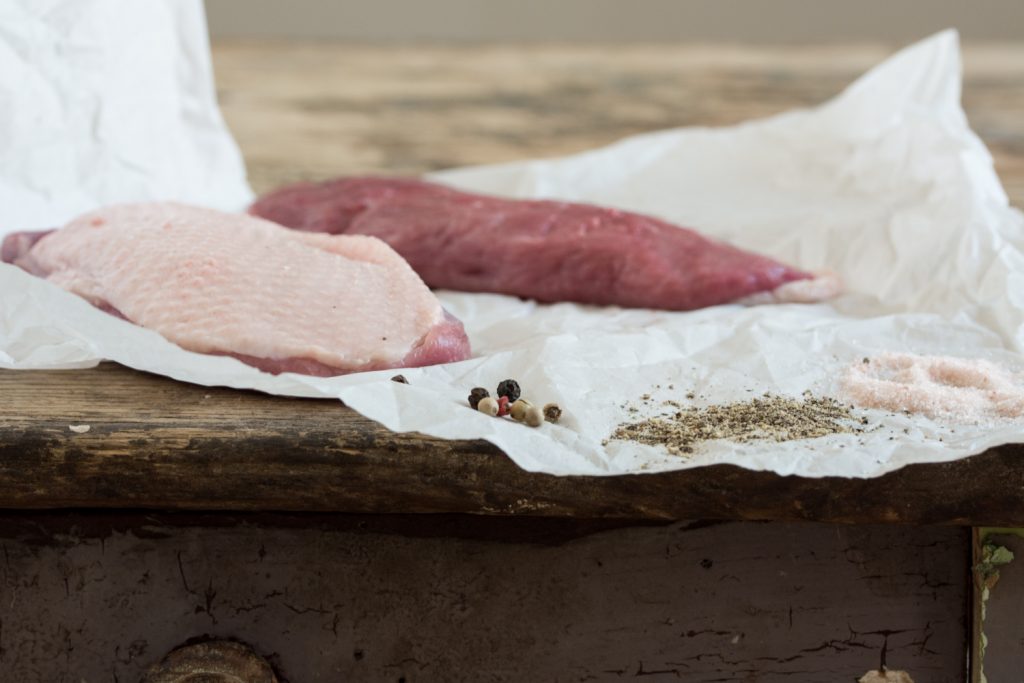 Method:
One hour before you start cooking remove the duck breasts from the refrigerator and leave it on the counter to reach room temperature.
Heat the oven at 375°F/190°C (gas mark 5).
Wash the duck breasts and pat them dry. Remove the excess skin.
Score the skin using a sharp knife.
Place the duck breast skin-side down in a cold cast iron skillet on medium-high heat without oil and cook until brown for about 4 minutes.
Brown the other side for about 2 minutes.
Place the skillet in the oven with the duck skin-side down and cook for 6 minutes.
After 6 minutes season with salt and pepper and let it rest on a plate uncovered for 5 minutes.
Prepare the sauce. Peel and slice the shallot.
Heat the duck fat/olive oil in a skillet over medium heat. Add the shallot and cook until translucent (about 3 minutes).
Add the thyme branch and the wine and cook on high heat until the alcohol has evaporated (about 2-3 minutes).
Add the broth and the cherry juice and cook on medium heat for about 7 minutes or until the liquid has reduced by half.
Add the cherries and simmer for 3 minutes. Add butter and mix well.
Season with salt, pepper, honey and balsamic vinegar.
Slice the duck breast, pour the cherry sauce and garnish with pea and leek sprouts.