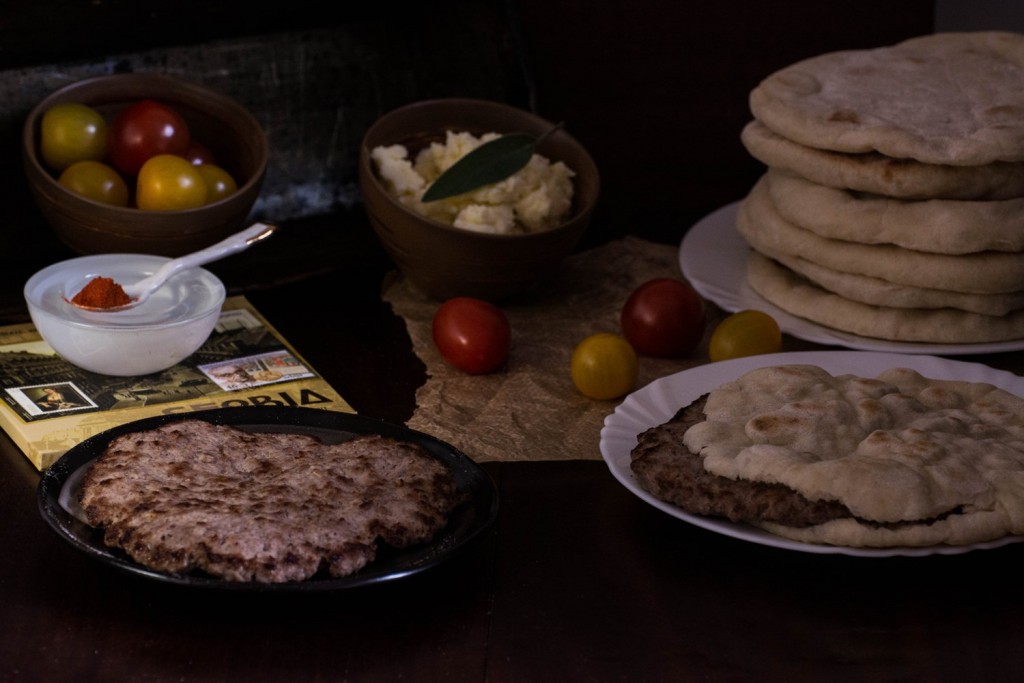 Pljeskavica is a Balkan signature dish. It's nothing else but a beef/pork grilled burger. It's perfect in its own simplicity. It is often served in a pita bread, with veggies and milk kajmak. We'll talk about kajmak some other time.
I ate this delicious burger for the first time when I was about 4 years old. I remember vividly that my mother brought me pljeskavica from Novi Sad (Serbia). She also brought me that day a box of Cipiripi chocolate and a bucket literally a big, fat bucket) of Eurocrem spread. I can't remember whether I liked pljeskavica or not. Obviously, I was mesmerized by the chocolate. I felt in love with pljeskavica 3 years ago. We were in Belgrade, two block from Kalemegdan and we saw this teeny tiny bistro. We took a place at a table and that was the moment when I tasted perfection for the first time.
Burger
1 kg ground meat (1/2  beef and 1/2 pork)

¼ cup chopped onion
3 Tbsp sparkling water
1 tsp salt and ¼ tsp pepper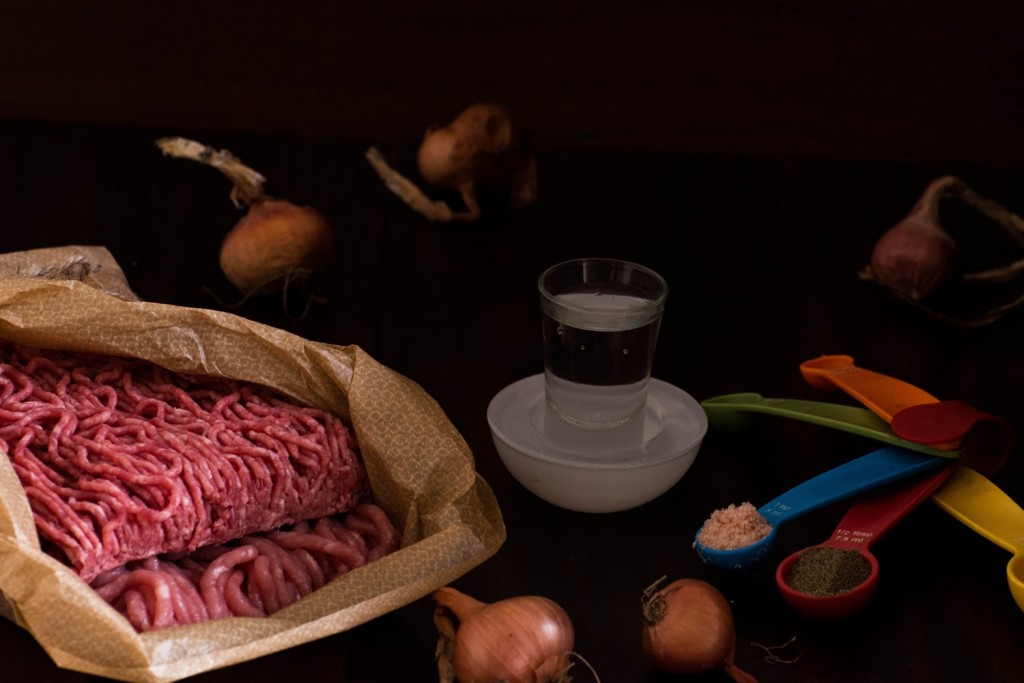 Method:
Mix all the ingredients in a mixing bowl and refrigerate for at least 1 hour.
Divide meat mixture into 6 balls and flatten each ball on an oiled work surface.
Heat grill or a skillet on high heat and brown each burger on both sides (about 3 minutes on each side).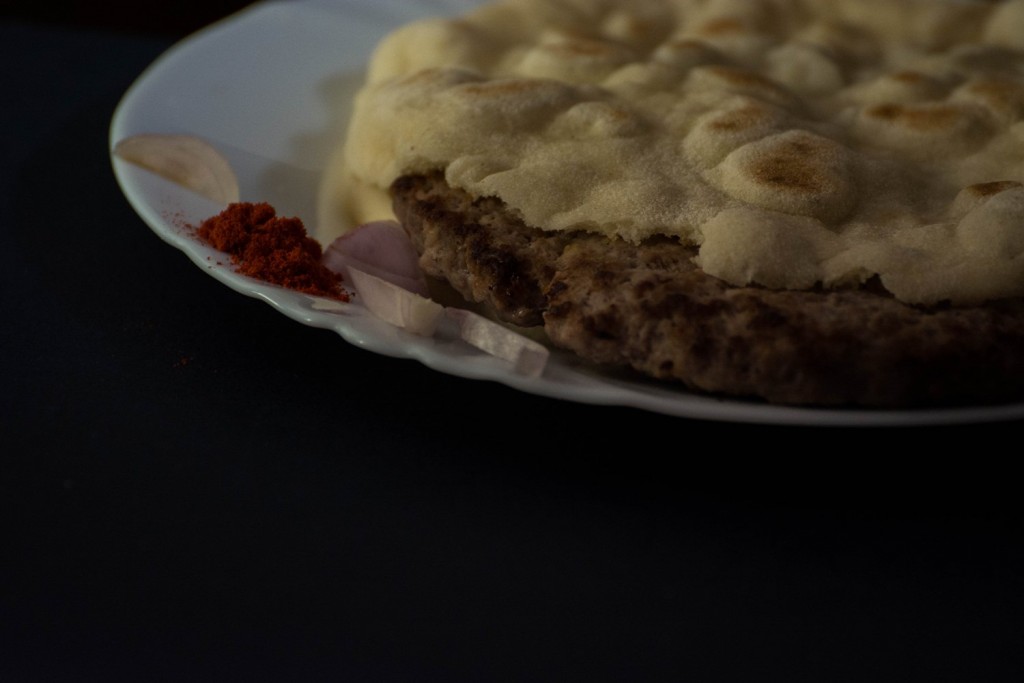 Pita bread:
Ingredients:
2 + ½ cups strong white flour
1 cup lukewarm water (between 36 and 38°C)
1 + ½ tsp salt
1 + ½ Tbsp olive oil
1 yeast satchel

Method:
Mix together 1 cup of flour, 1 cup of water and yeast and leave aside for 10 minutes (this technique will activate the yeast).
Add remaining flour, salt and olive oil and mix until combined.
Knead dough for 10 minutes on a floured working surface.
Put the dough back in the mixing bowl, cover it and let it rise until doubled in volume (about 1 hour).
Put the dough back on the floured working surface and knead for 1 minute.
Divide dough into 8 balls, cover them with a towel and let them rise for 30 minutes.
Roll out each ball on the floured working surface until 5 mm thick.
Cook each pita in a skillet on medium –high heat on both sides until golden.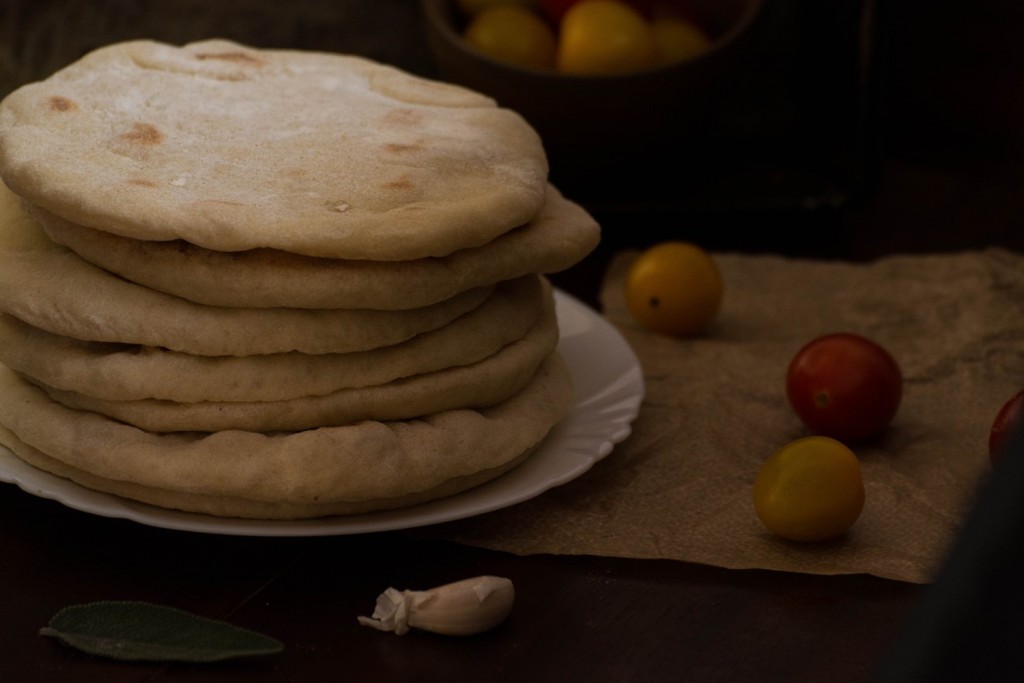 Aromatic kajmak
Ingredients:
150g kajmak
1 Tbsp finely chopped shallot
¼ tsp chopped fresh chilli
1 tsp grated lemon zest
salt and peper
Method: Mix well all the ingredients until combined.