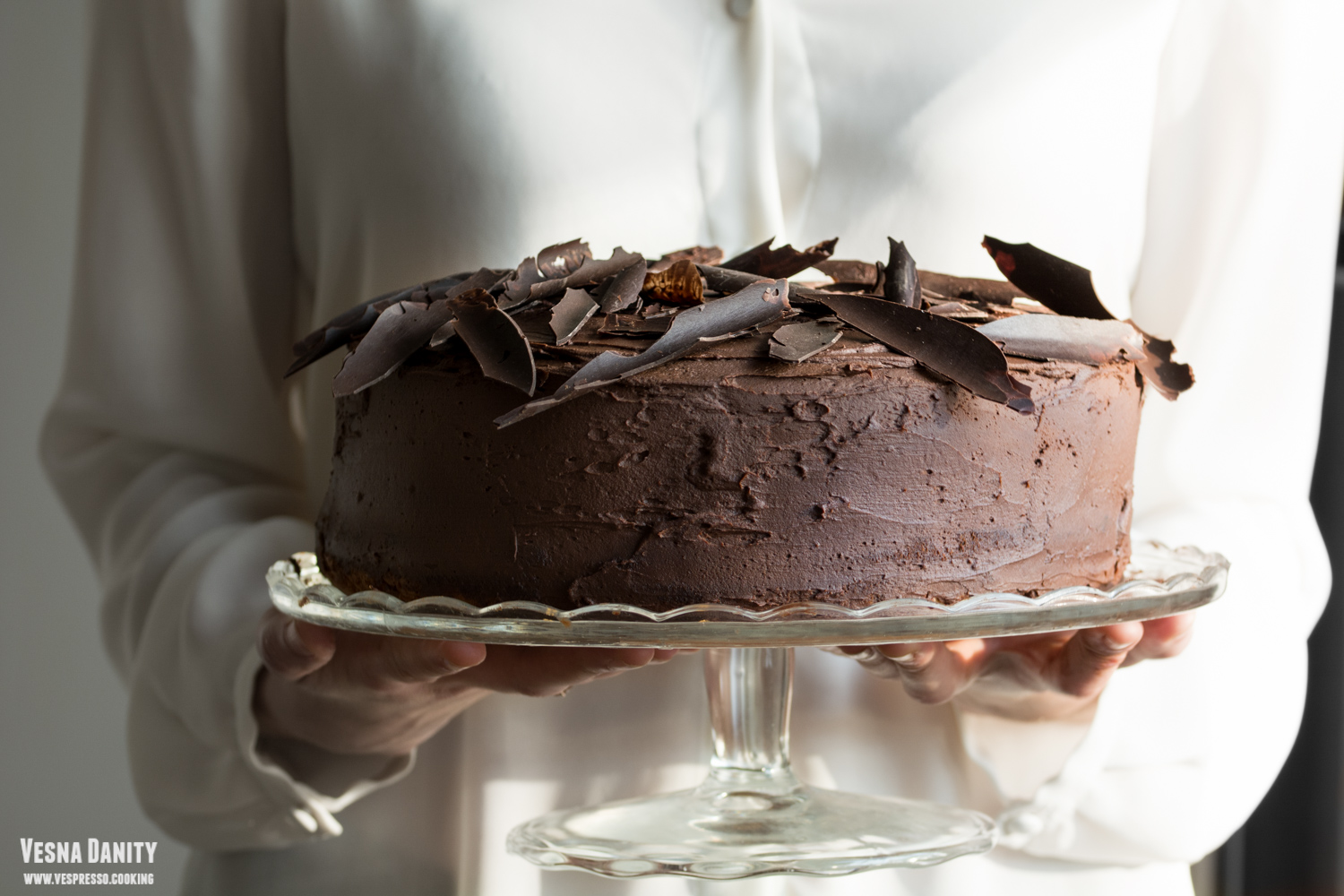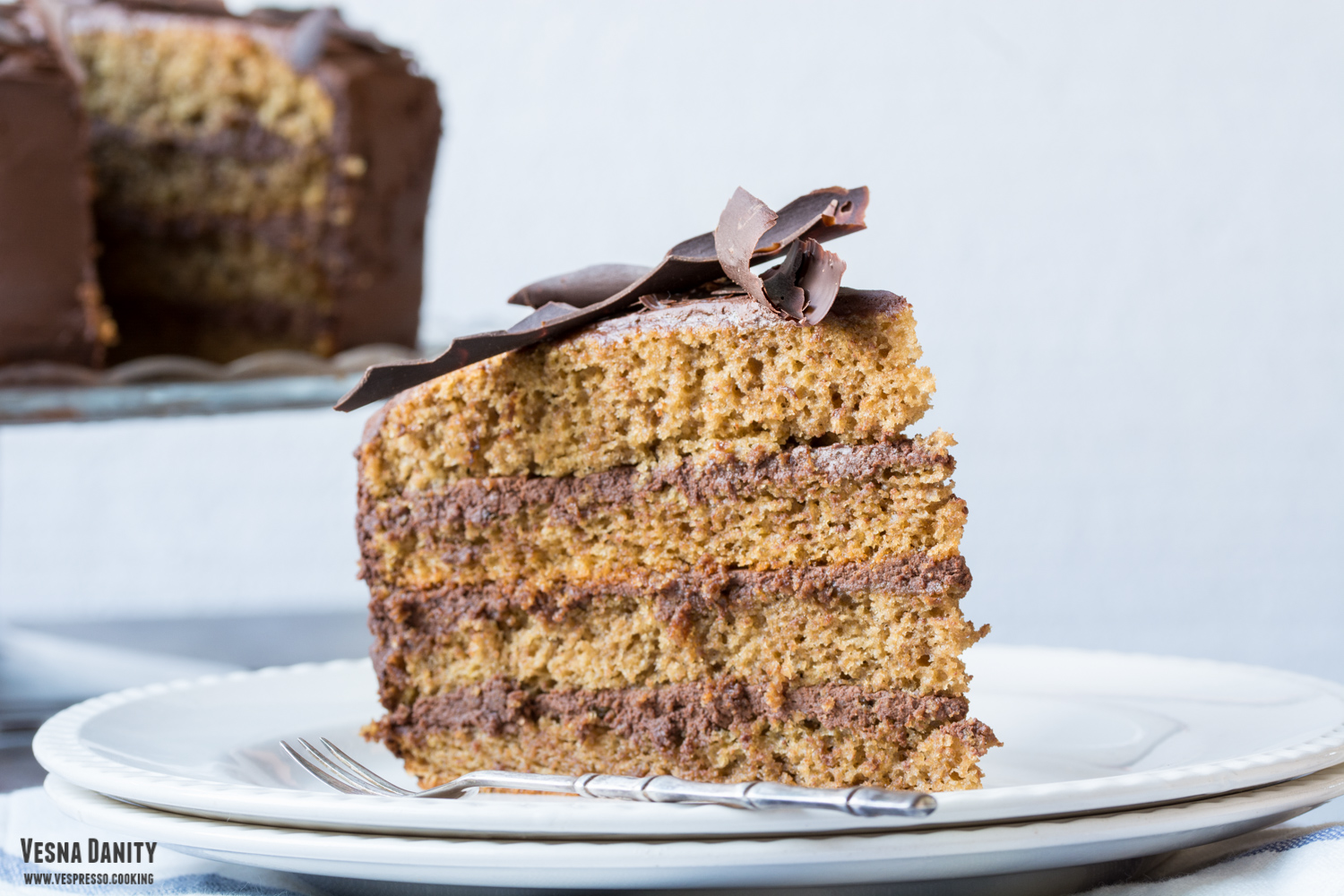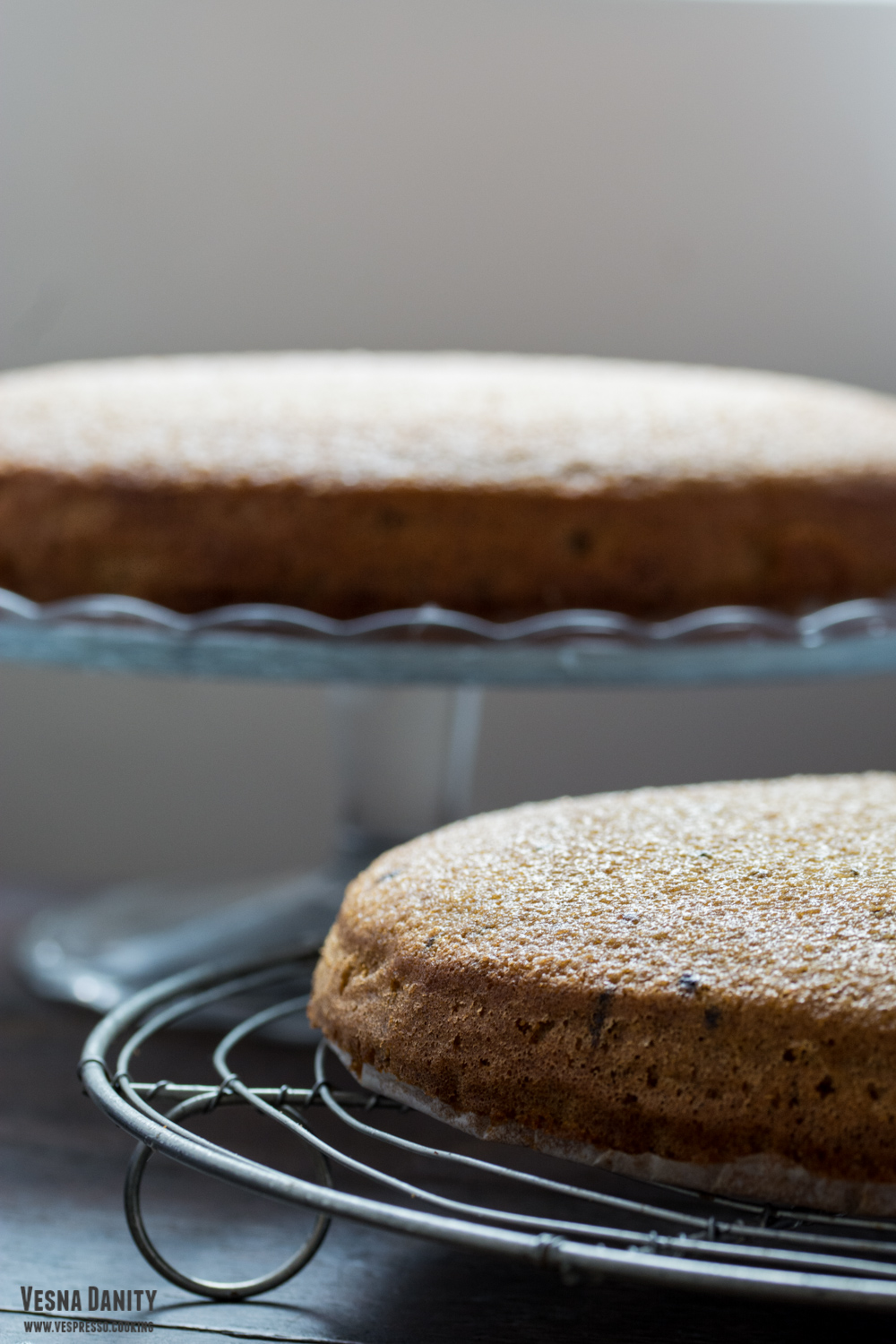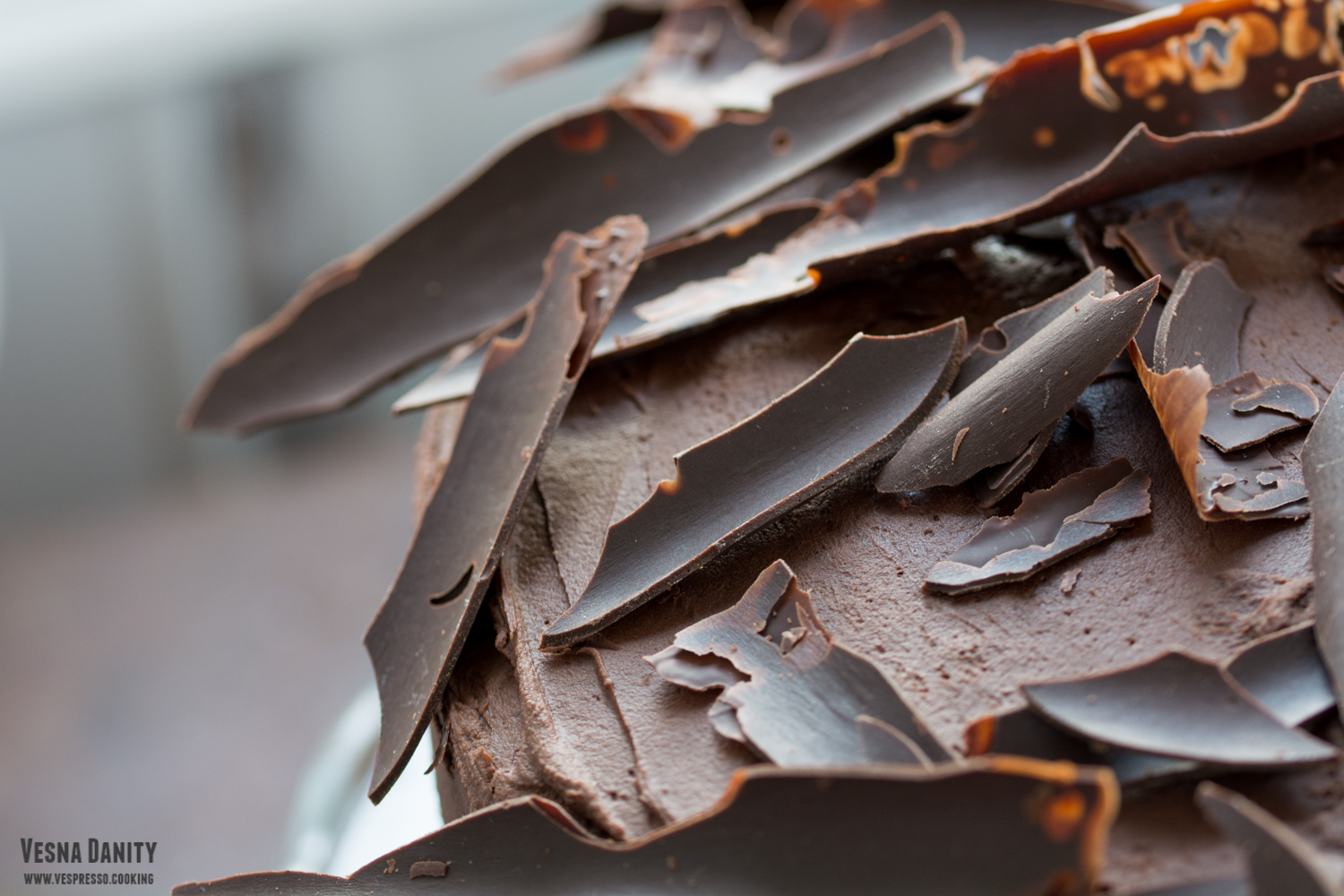 Today VespressoCooking turns 1. I can't believe it! I have no idea how time flew by but it did, and I'm so glad I had the courage to launch myself, head first, in this project. It was such a wild year, I shifted my career, I discovered my infinite passion for photography, I've created a poultry microfarm, I graduated from culinary school and became a chef. I hope I don't sound cheesy but I feel the need to thank you. Thank you from the bottom of my heart for every visit, for every line that you've read and for every recipe that you've saved!
Whenever there's an anniversary, there has to be a cake, and this particular cake is nothing but extraordinary. It is a chocolate and coffee cake, a mocha delight, if you will. It is a well known fact that coffee and chocolate are a match made in heaven but this cake somehow surprises me with every slice. The sponge is the perfect balance between dense and airy and the whipped ganache is simply divine.
The sponge is in fact "torta al Caffé", an Italian coffee cake. This particular sponge is very popular in northern Italy, and it's served for colazione, breakfast that is. I felt in love with its texture and its taste at first bite and I wished I could make it in my own kitchen. Persuasive as I am, I convinced the pastry chef (which happens to be a close friend) to give me the recipe and since then I've been been baking it at least twice a month.
There's not much to say about the ganache. Ganache is a cake filling made with chocolate melted in warm whipping cream. The proportion of those two ingredients give the ganache its texture. I use the following scheme:
for a thick ganache (used for chocolate truffles): 2 parts chocolate, 1 part cream
for a creamy ganache (used as a filling): 1 part chocolate, 1 part cream
for a soft ganache (used as a glaze): 1 part chocolate, 2 parts cream
Ingredients (for one 26cm sponge):
4 large eggs
80g white granulated sugar – 2.8 oz
100g brown granulated sugar – 3.5 oz
¼ tsp sea salt
140ml strong coffee (I used espresso ristretto) – 4.7 fl oz
80ml vegetable oil (I used olive oil) – 2.7 fl oz
½ tsp instant coffee powder
1 tsp vanilla extract
200g white all-purpose flour – 7.1 oz
15g baking powder – 0.5 oz
Method:
Preheat the oven at 200°C / 400° F (gas mark 6).
In a large bowl mix together eggs, sugar and salt until creamy and doubled in size.
In a small bowl mix the strong coffee with the instant coffee powder. Add the oil and vanilla extract.
Add the coffee mixture to the egg and sugar mixture and stir until combined. Add the sifted flour and baking powder and mix until just combined.
Pour the mixture into a parchment paper-lined tray and bake in the preheated oven for 10 minutes. Lower the temperature to 180°C / 350° F (gas mark 4) and bake for further 20 -25 minutes or until a toothpick inserted in the center comes out clean.
Allow the sponge to cool down on a wire rack.
Proceed the same for the second sponge.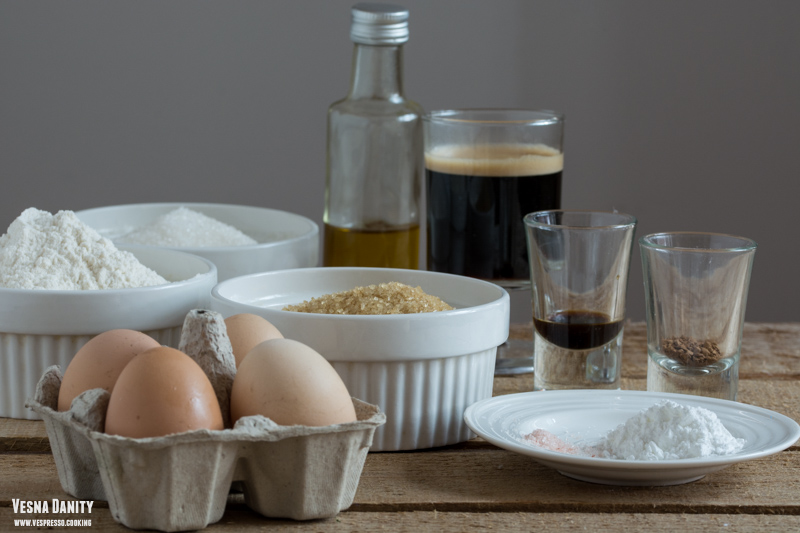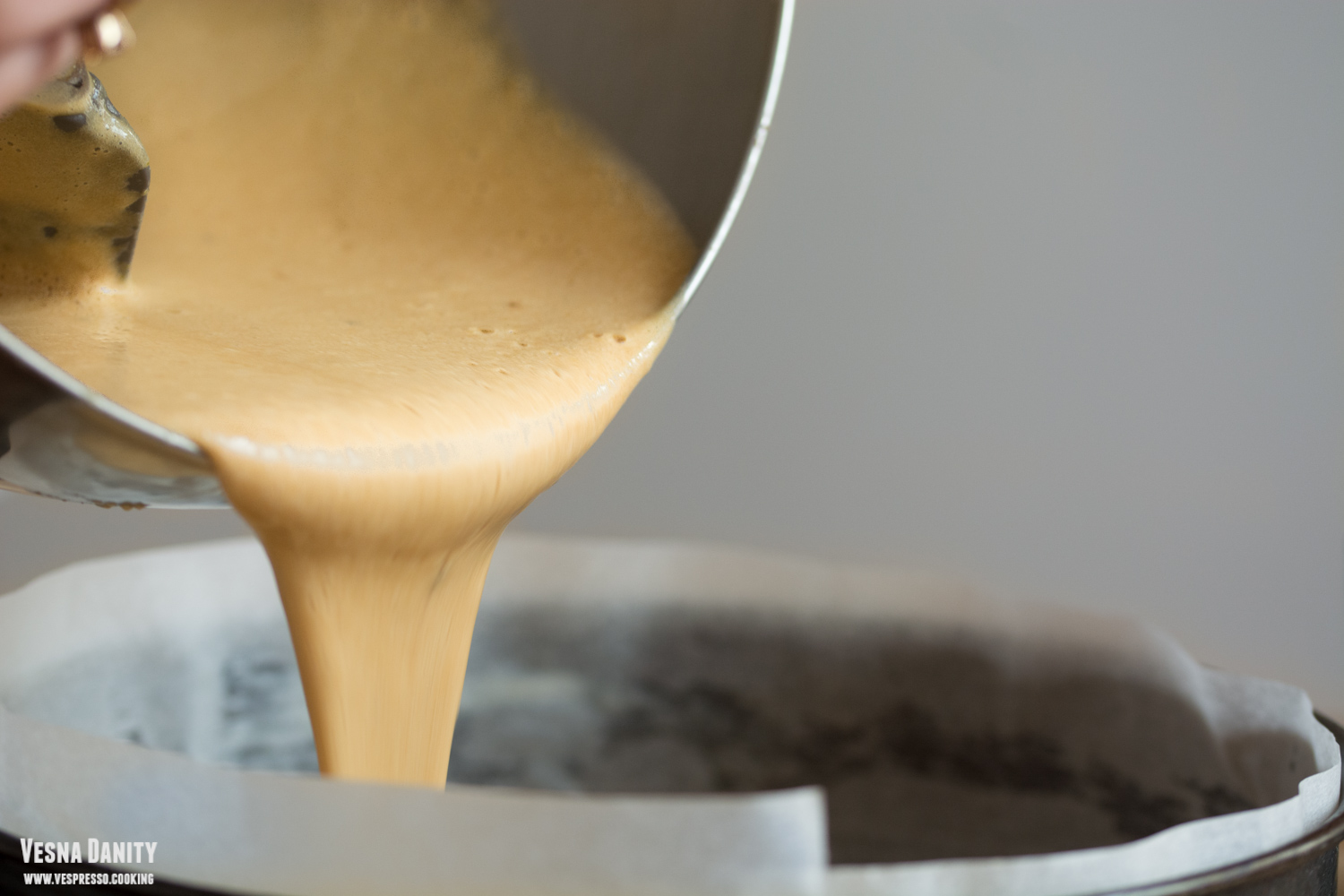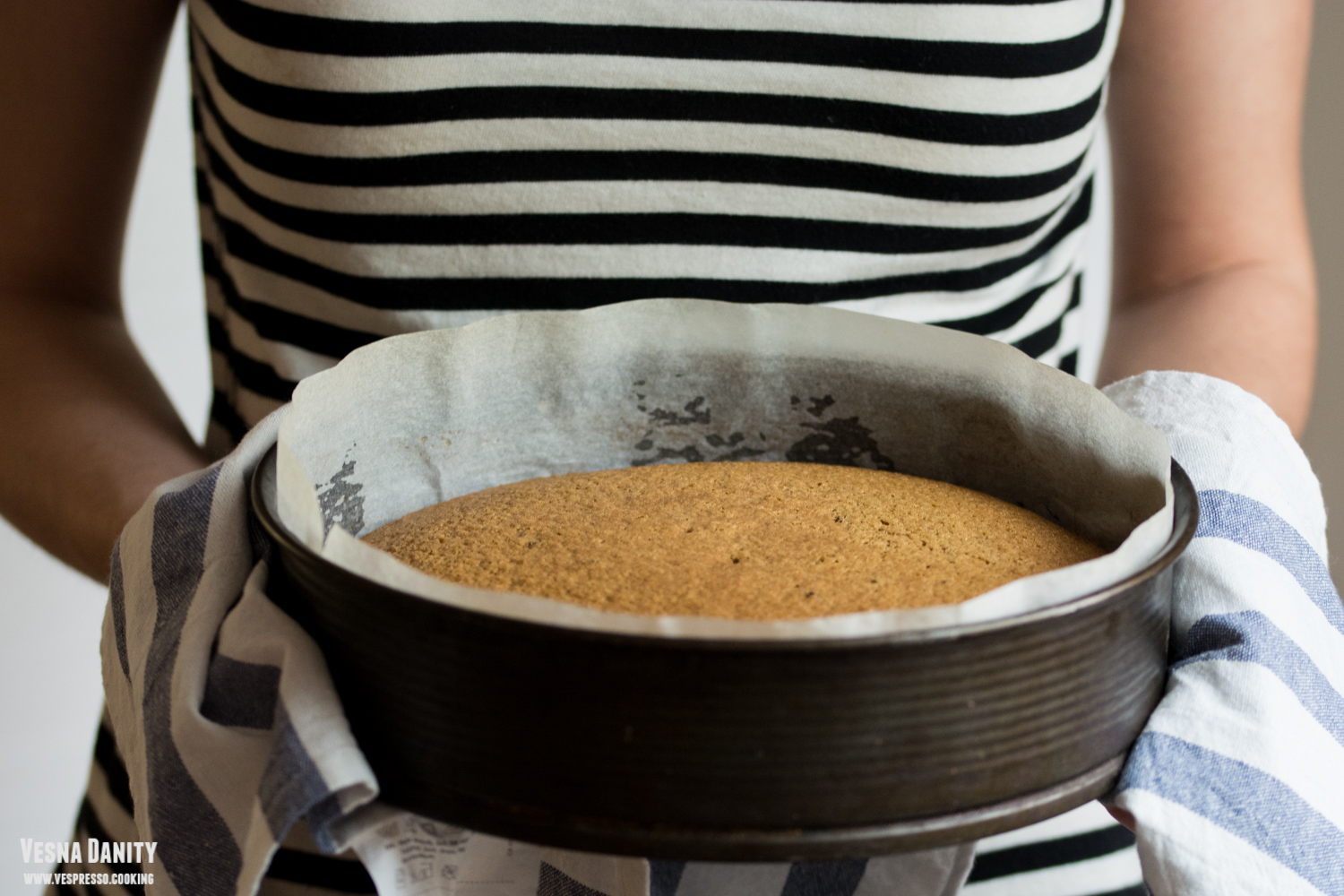 Whipped ganache:
500g dark chocolate (I used 55% cocoa) – 17.7 oz
500g whipping cream (35% fat) – 17 fl oz
¼ tsp sea salt
½ tsp instant coffee powder dissolved in 1 tsp warm water (the coffee is optional)

Method:
Chop the chocolate and place it in a large bowl.
Heat the cream. As soon as it starts to simmer pour it over the chocolate and leave it aside for 3 minutes.
After 3 minutes start stirring until the mixture is smooth and glossy. Leave it aside to cool down to room temperature (picture).
When the ganache is cool, whip it for 2-3 minutes, until fluffy, doubled in volume and lighter in color.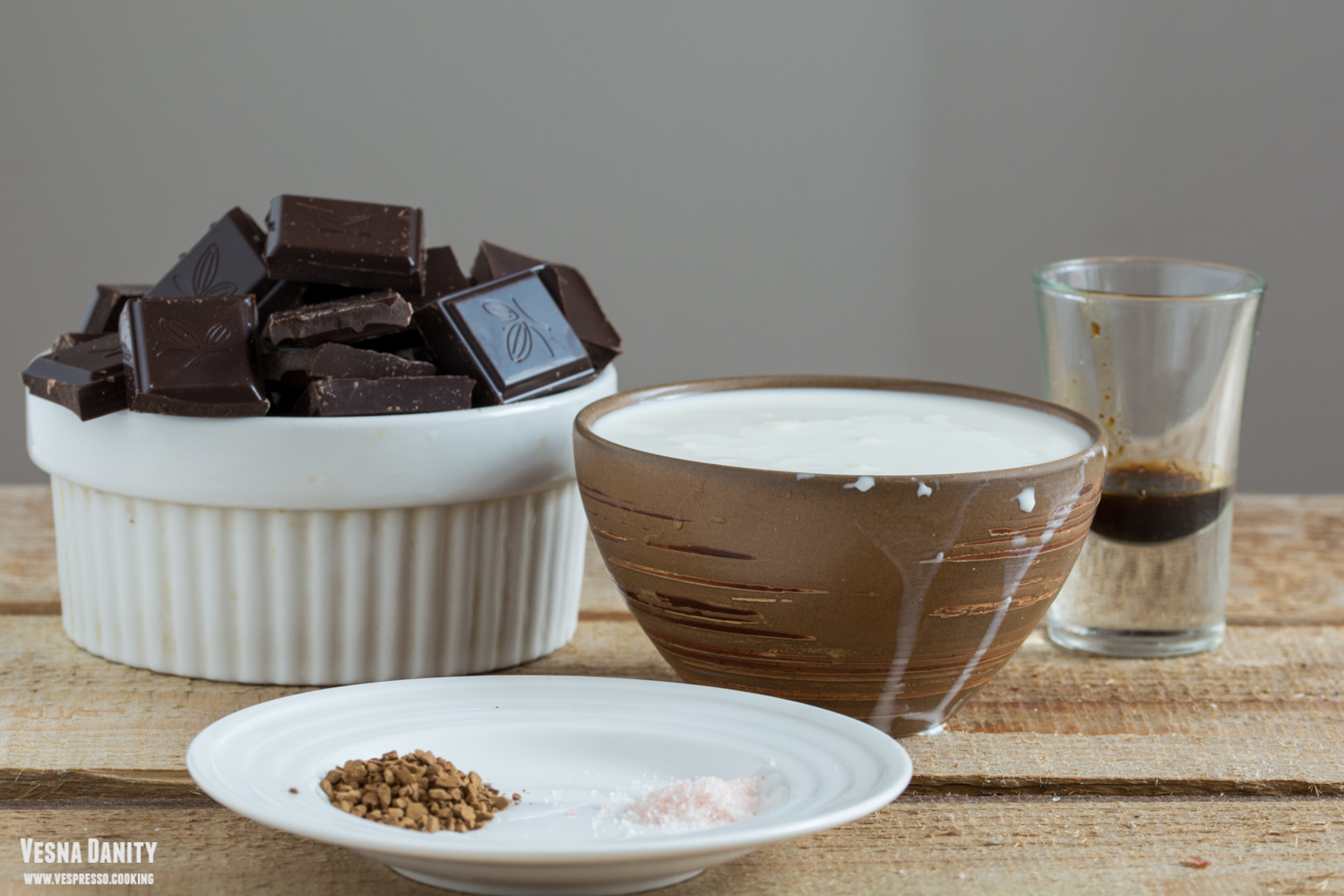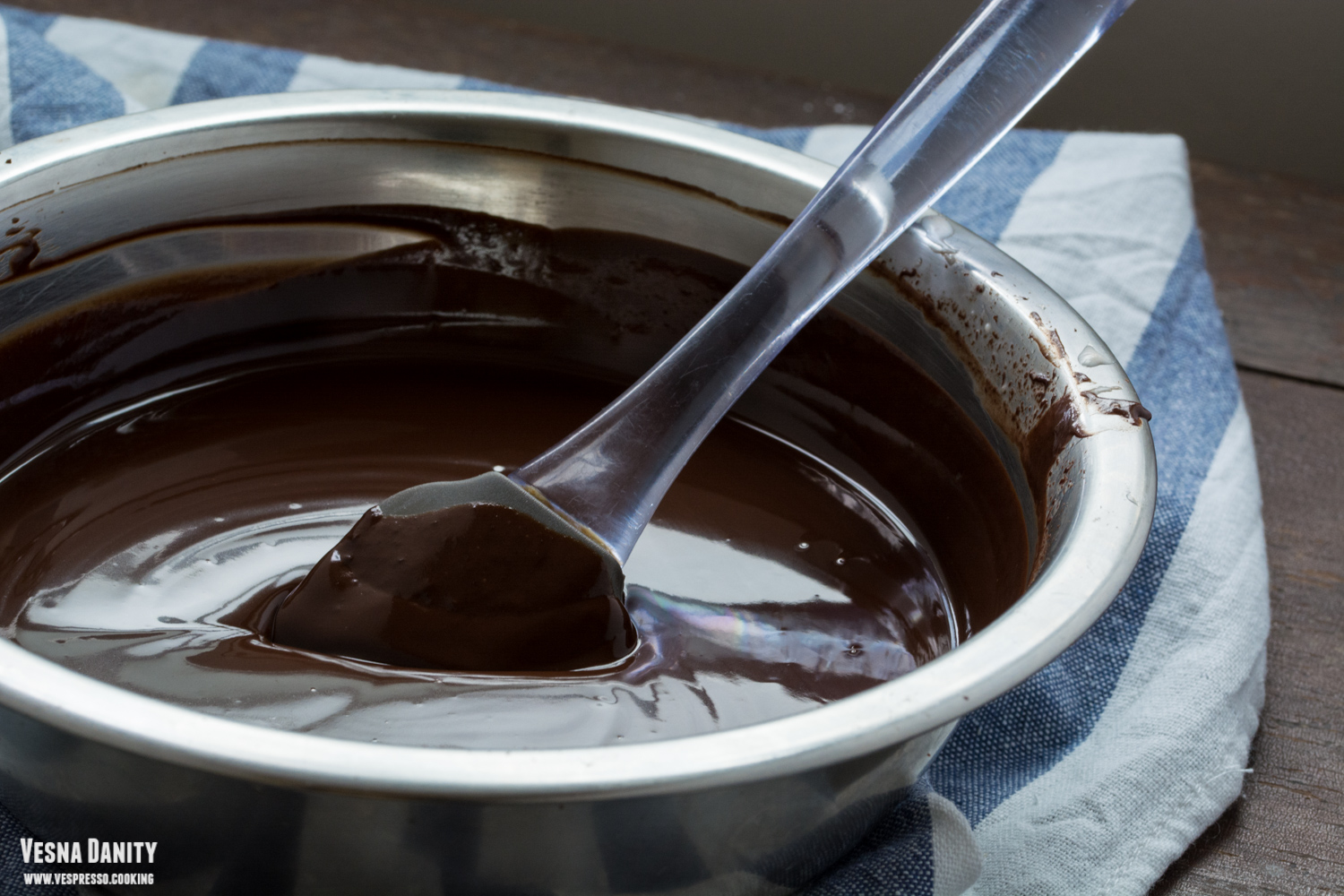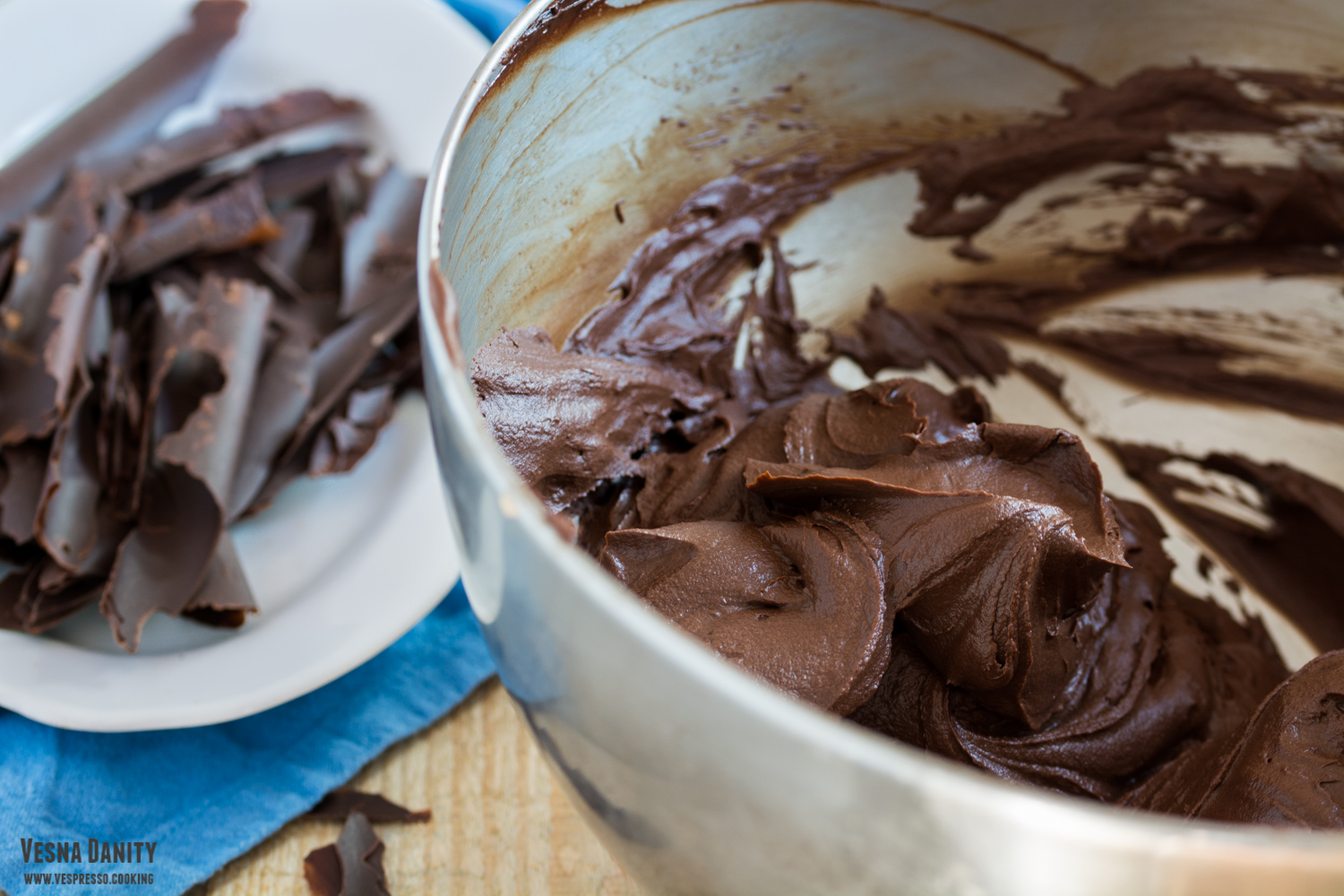 Assambly:
Cut both sponges in half using a sharp serrated knife. Put the first layer on a large plate or a cake stand and spread a quarter of the frosting on the first layer. Add the second layer and continue until you have finished. Spread the last quarter of the ganache over the surface, level with a spatula and garnish with chocolate decorations. Refrigerate the cake for at least 1 hour before slicing.