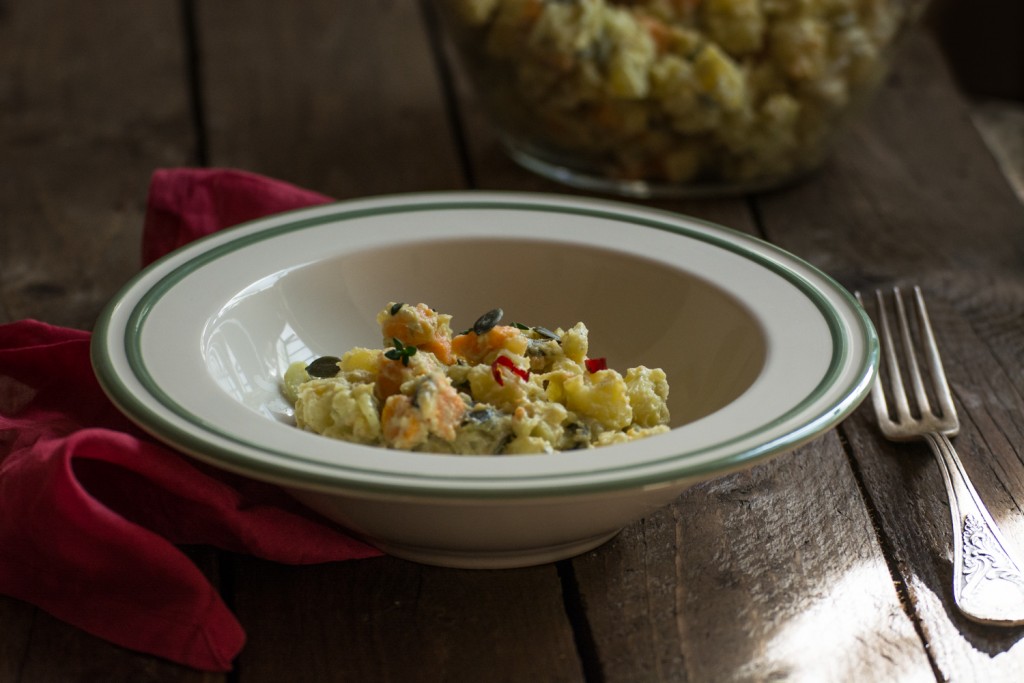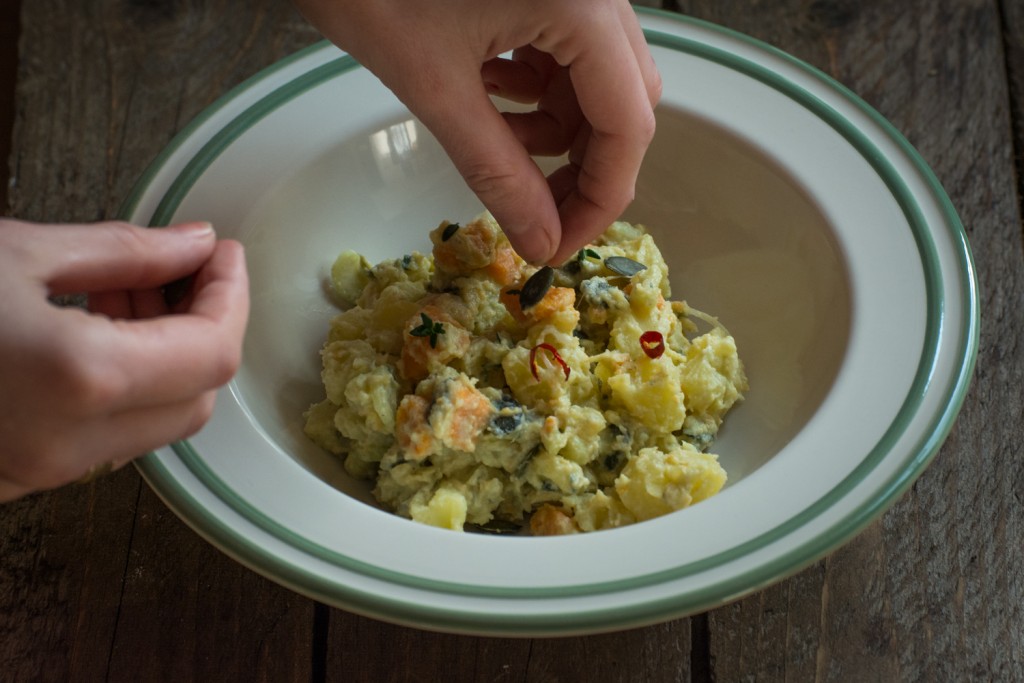 This potato salad is a healthier approach to classic mayonnaise potato salad. Since I started cooking, I tried a lot of recipes, but I haven't found the perfect one. I tried to include lots of different ingredients, some of them fitted like a glove, some of them made my salad taste at least… weird. So, I finally have my own version, a version that is both tasty and nutritious.

This salad has the same creamy texture as the mayonnaise version. I swapped mayonnaise with a velvety high in healthy unsaturated fatty acids, avocado sauce. For extra fiber, I used 1 part sweet potatoes and 5 parts regular red skin potatoes.
My experience with potato salad taught me the following things:
Always to use red skin potatoes. They have a lower level of starch, so they hold their shape better.
To cut my potatoes in same size pieces; this way the potatoes will cook at the same time.
The best way to boil potatoes is the following method: cover the potato cubes with cold water, add 1 tsp of salt, put them on the stove on high heat until they start to boil, lower the temperature to minimum and simmer them for 10-14 minutes (depending on their size).
Potato salad
Ingredients:
1kg red skin potatoes
200g sweet potatoes
2 celery stalks, chopped
2 spring onions, chopped
25g pumpkin seed
1 ripe avocado
100g Greek yogurt
4 Tbsp olive oil
juice from ½ a lemon
1 tsp mustard
1 Tbsp thyme, chopped
½ tsp garlic powder
salt and pepper to taste
Method:
Peel potatoes and cut them into small cubes (picture).
Place them and 1 tsp of salt in a pot, cover them with cold water and bring to a boil on high heat. When the water starts to boil, lower the temperature and let potatoes simmer for 10 to 14 minutes. Check if the potatoes are done by piercing them with a fork.
Drain potatoes and rinse them under cold water. Spread potato cubes on a tray, this way they will cool faster.
Meanwhile prepare the sauce by mixing in a food processor the following ingredients: avocado, Greek yogurt, olive oil, lemon juice and mustard. Add chopped thyme and season well with salt, pepper and garlic powder.
In a large bowl mix together potatoes, celery, spring onions and pumpkin seed. Pour the sauce over the vegetables and mix well.