I make tortilla de patatas for dinner at least once a week and I usually serve it with a salad. The best part of this simple dish is that the leftovers (if there are any and that's one big "IF") are even better the next morning, for breakfast. This morning I had a sudden craving for tortilla and I just had to make one. Another wonderful thing about this dish is that regarding the ingredients, sky is the limit; you can use anything from fresh or frozen veggies and herbs to dairy or meat products.
For this particular tortilla I used sweet potatoes, Kalamata olives, red bell pepper and onion. To make this recipe lighter, I boiled my potatoes instead of frying them and the result was a hearty and colorful omelette full of bold flavors.
Ingredients (for 2 servings):
6 large eggs
250g potatoes (I used 150g sweet potatoes + 100g white potatoes)
3 Tbsp olive oil
1 shallot
3 spring onions
½ red bell pepper
50g pitted Kalamata olives
½ Tbsp fresh thyme, chopped
1 Tbsp lemon juice
salt and pepper to taste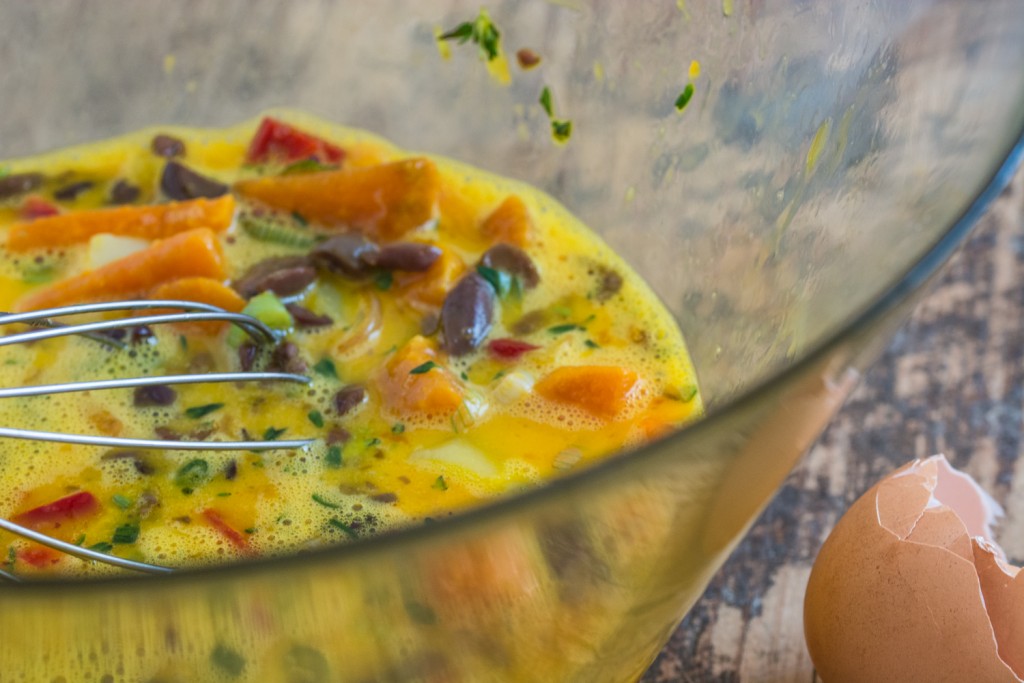 Method:
Peel and slice the potatoes (picture). Boil them in salted water until tender (about 10 minutes) and drain the excess water.
Chop the shallot, spring onions, pepper and olives.
In a skillet heat 1 Tbsp olive oil on medium heat. Saute the shallot, spring onions and pepper until soft (about 5 minutes).
Beat the eggs together with the lemon juice. Add sautéed shallot, green onions and pepper, chopped thyme and olives and season well with salt and pepper.
Heat 2 Tbsp olive oil in a clean skillet on medium heat. Add the egg mixture and cook for about 7 minutes, until the edges are cooked but the top is still runny.
Transfer the omelette in the oven and grill the top for about 5 minutes or until golden brown.
Cut in wedges and serve warm.