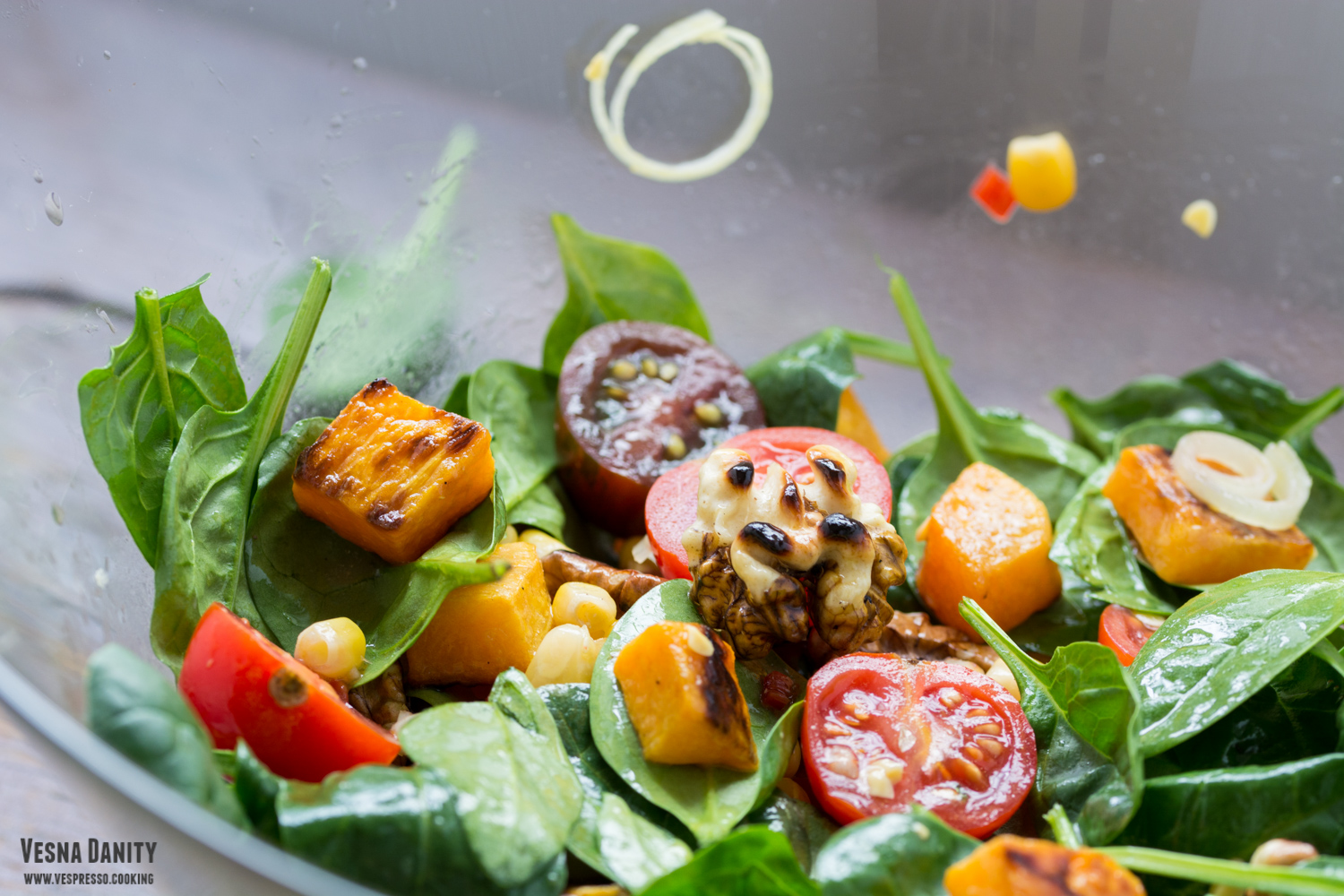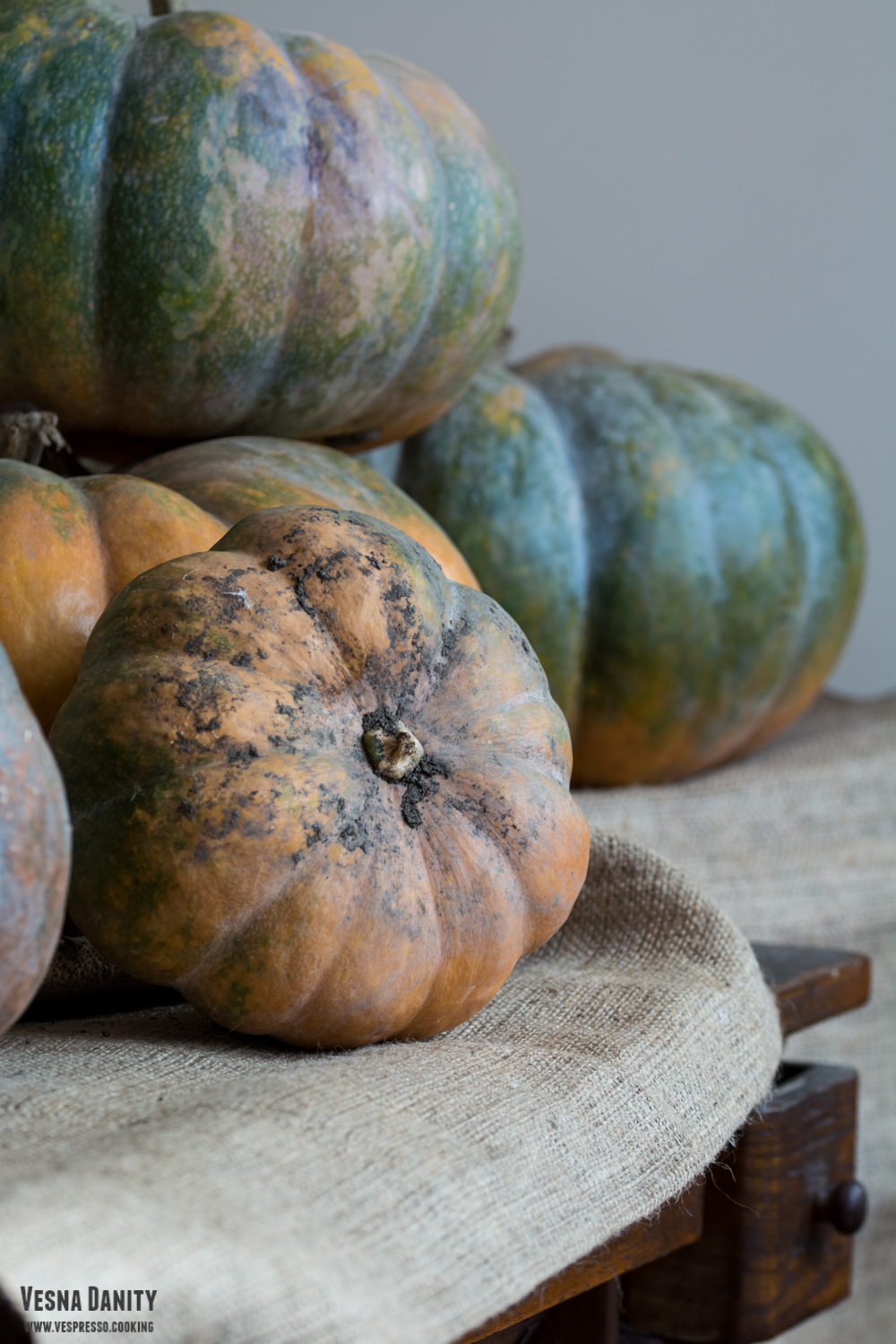 For me, autumn basically translates itself by pumpkin. Pumpkin soups and creams, pumpkin salads and stakes, pumpkin cakes, pies and smoothies.  This humble and extremely versatile vegetable has won my heart through time, due to its lovely flavor, texture and sweetness. Undoubtedly, my favorite variety of pumpkin is Musquee de Provence, a French variety that I've been growing in my own veggie garden for years. This beautiful giant has a gorgeous burnt orange skin with teal patches and a deep-orange flesh. The flesh is delicious and flavorful and if it's finely sliced, it can be served even raw.
Why I love roasted pumpkin and corn salad:
it's satisfying
it can be served by itself or it can be a appetizing companion for a protein (pork, chicken, duck)
it's colorful
it's packed with autumnal flavors
it's delicious
Ingredients (for 4 servings):
½ pumpkin (I had 600g peeled pumpkin)
200g baby spinach
200g sweet corn
250g cherry tomatoes
60g walnuts
60g goat cheese
about ½ red chili pepper, deseeded
6 Tbsp olive oil ( 2 extra Tbsp for serving)
2 Tbsp lemon juice
salt and pepper to taste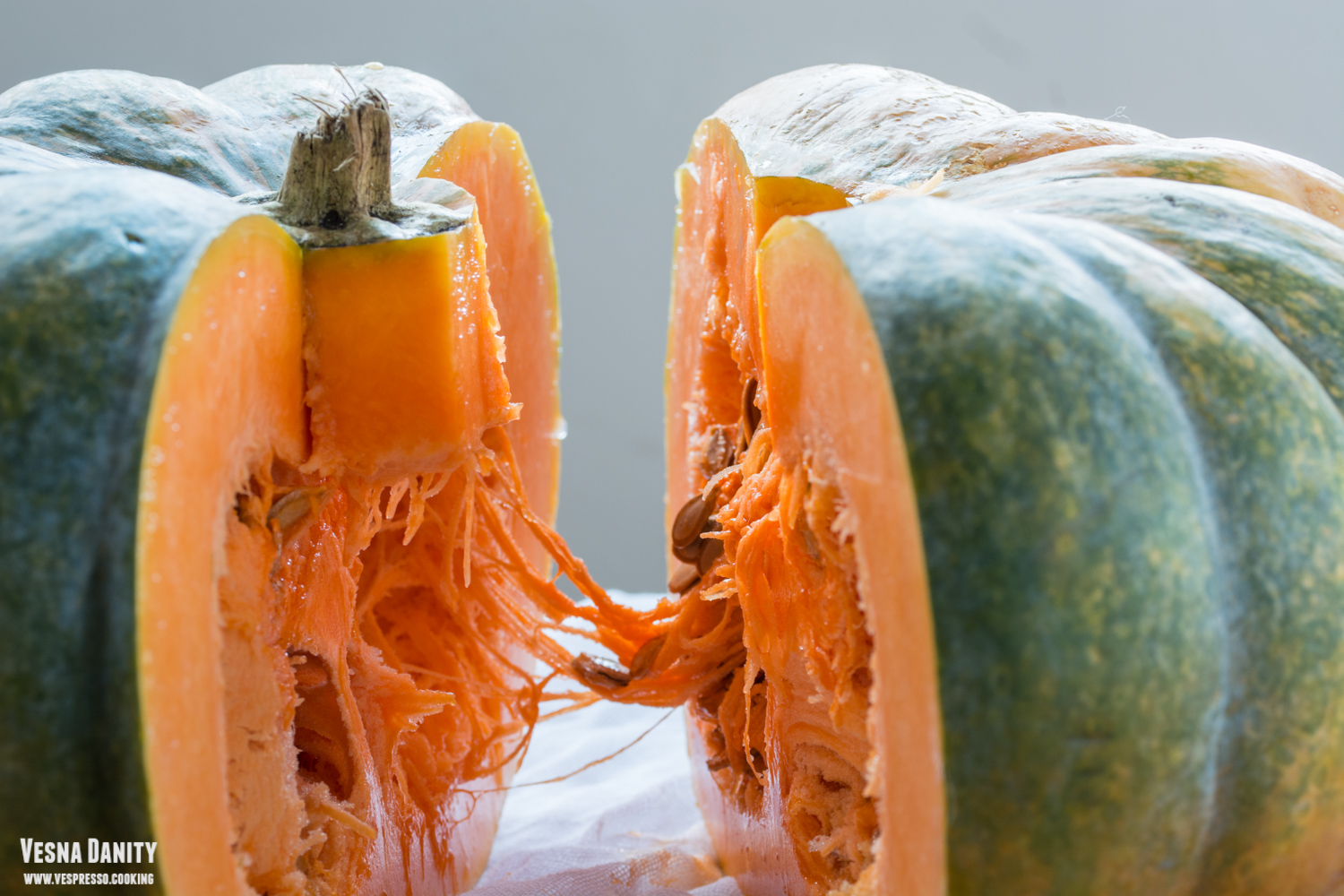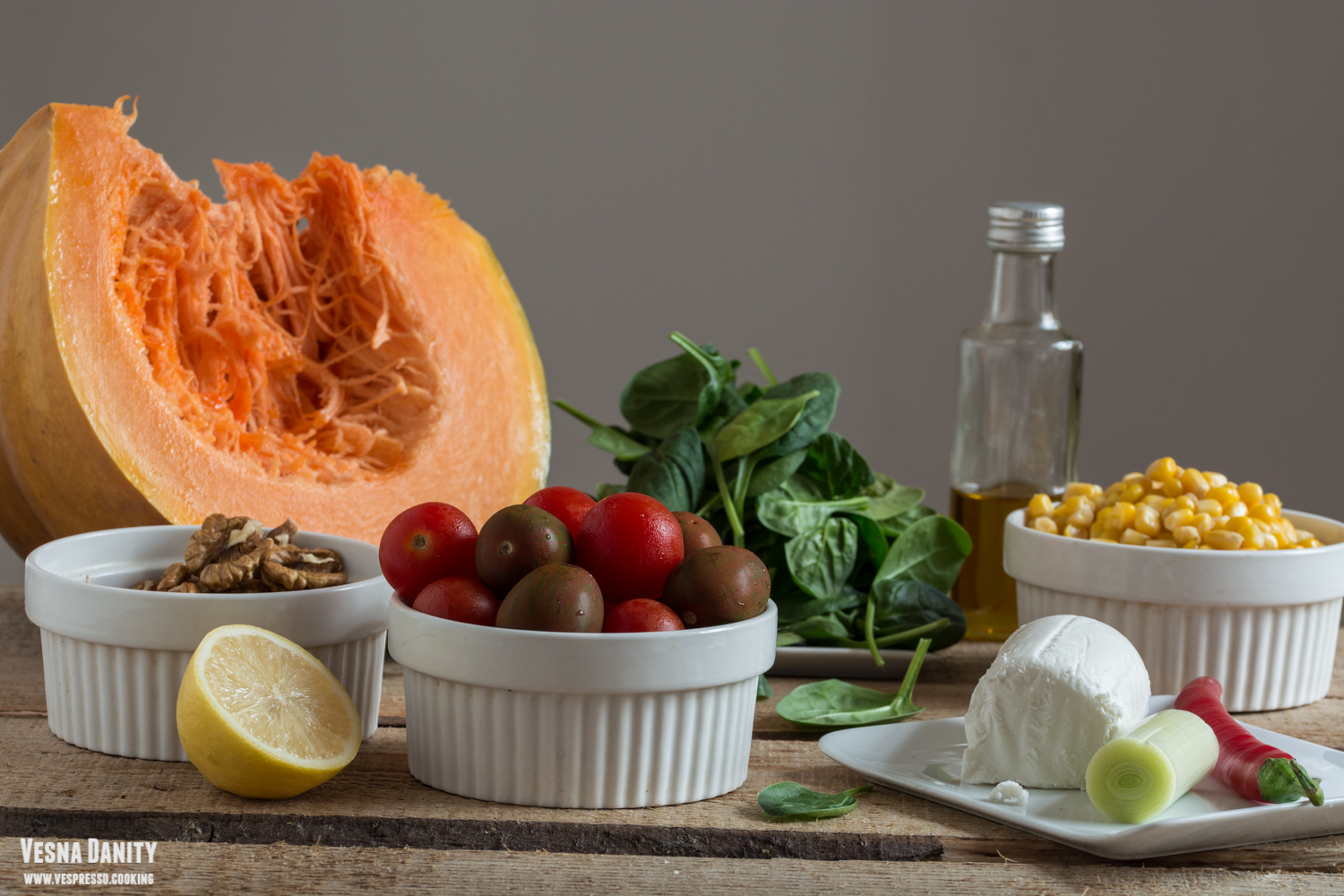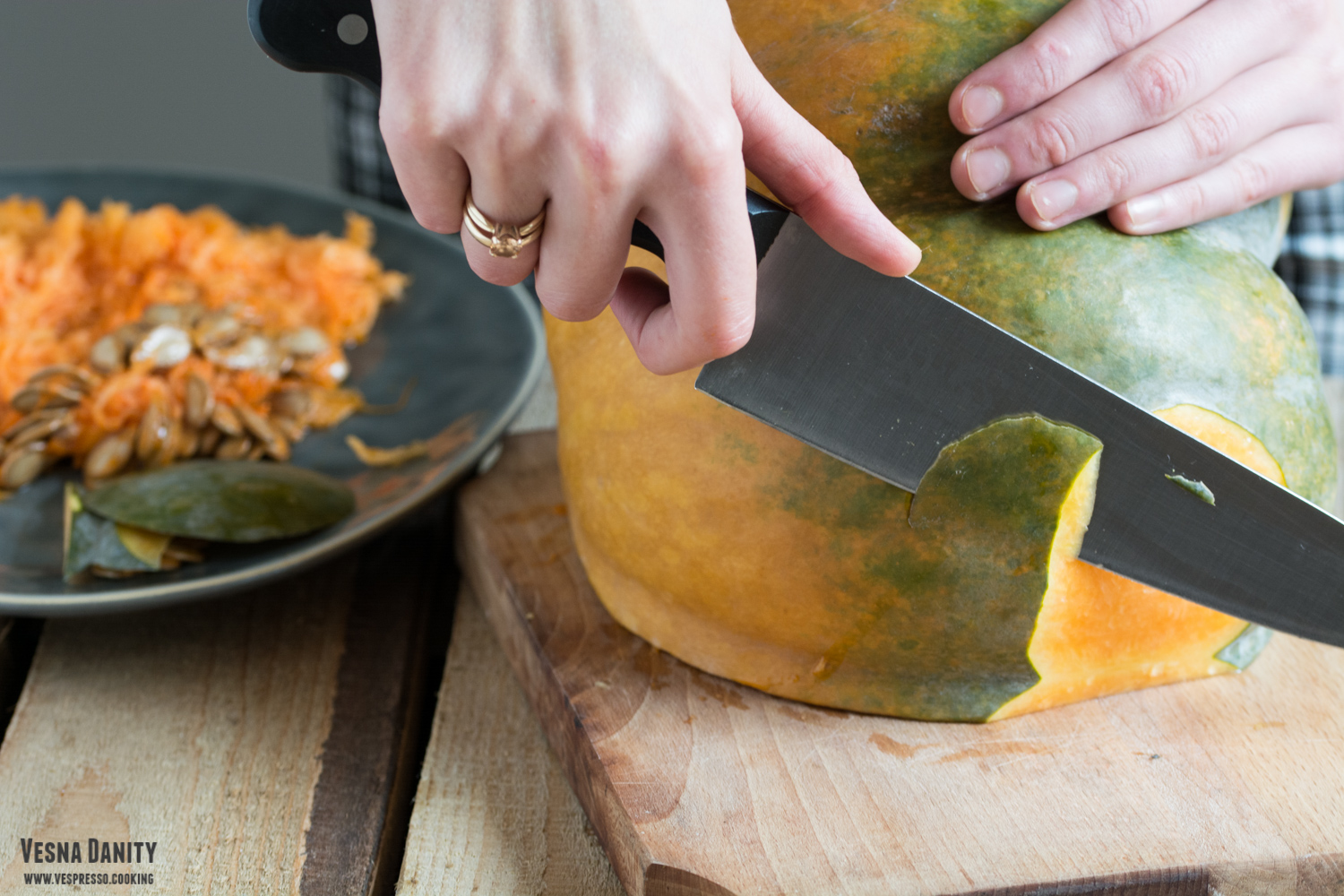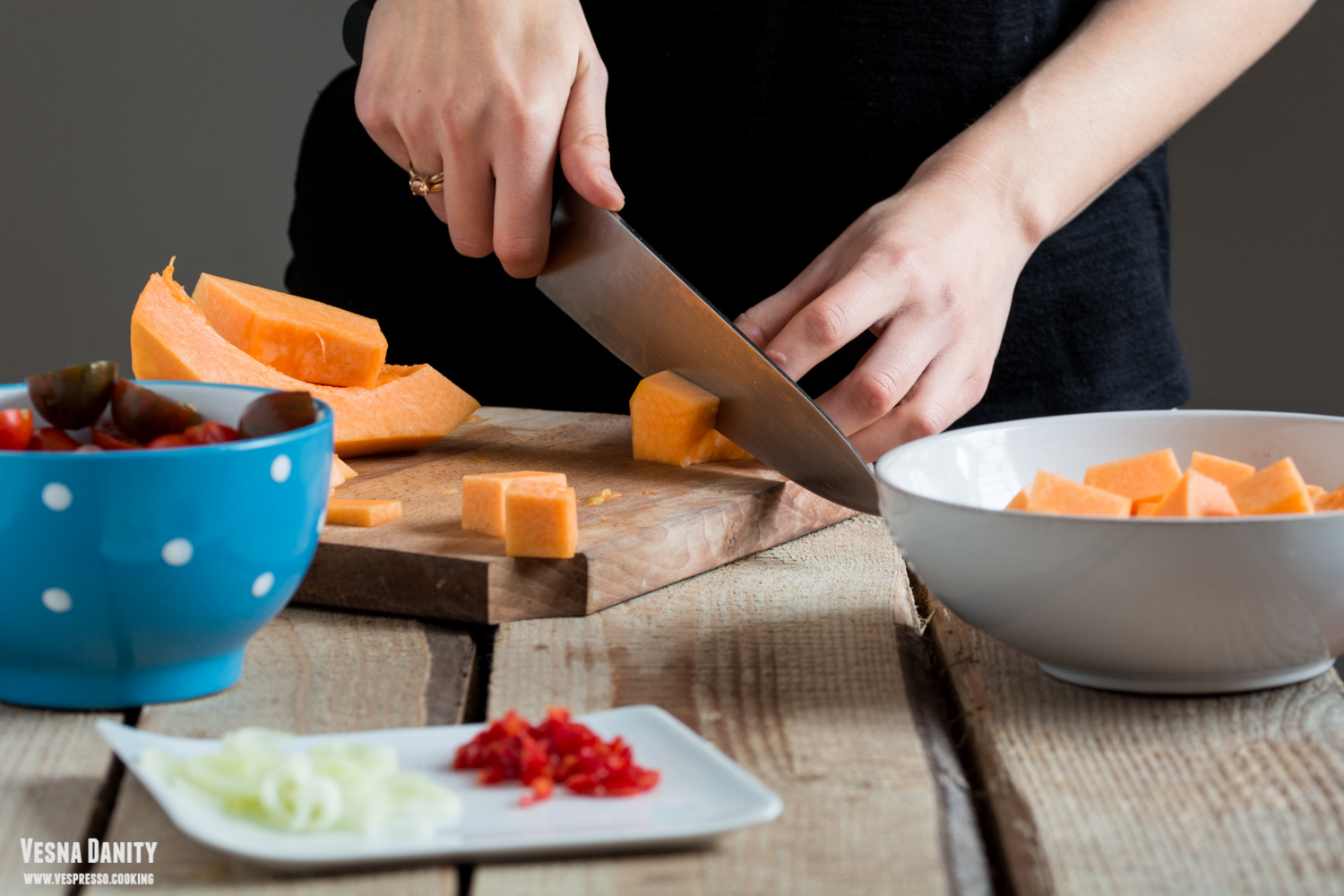 Method:
Preheat the oven at 200°C / 400° (gas mark 6).
Carefully peel the pumpkin using a sharp knife. Chop it in bite-size cubes. The surplus that remains after cubing the pumpkin can be used for soups.
Take a tray and line it with parchment paper. Place pumpkin cubes in a single layer and toss with 2 Tbsp olive oil.
Place the tray in the oven and roast for 20 – 25 minutes, turning once, until the pumpkin cubes are tender. The roasting time depends on the pumpkin variety. Leave tray aside to cool.
Meanwhile prepare the rest of the ingredients. In a small skillet brown the walnuts over high heat, to intensify the flavor and to get rid of their skins. Leave them aside to cool and remove their skins using your fingers.
Cut the leek in half lengthwise. Fan out the leeks and rinse well to remove the dirt. Chop it finely.
Halve the cherry tomatoes and finely chop the red chili pepper.
Pour the lemon juice in a large salad bowl. Slowly drizzle 4 Tbsp of olive oil and stir until combined. Add the pumpkin cubes, corn, cherry tomatoes, walnuts, leeks, chili and spinach and gently toss to combine. Crumble the goat cheese over the salad.
Season with salt and pepper just until serving. Divide the salad between four plates, drizzle ½ Tbsp of olive oil on top of each plate and serve immediately.