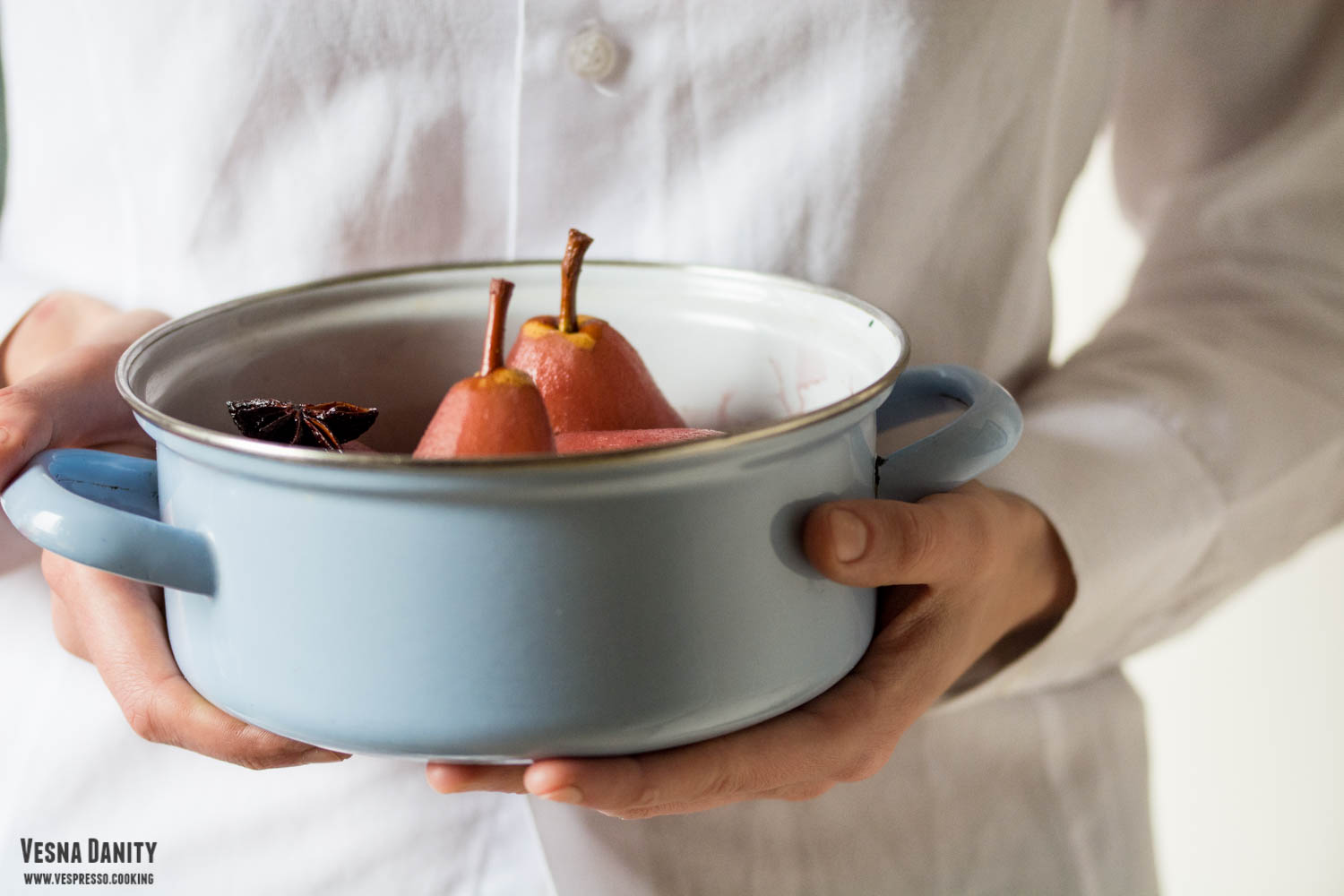 Poached pears are simply amazing! If simplicity is the ultimate form of sophistication, this dessert might be the quintessence of this idea. Ripe pears, brown sugar, wine. Maybe a vanilla bean, a cinnamon stick and a star anise. This simple ingredients, combined together, create a mouth-watering, exquisite and stunning dessert.
Poached pears are so versatile. They can be paired with a cheese platter and nuts, creating the perfect way to end any sophisticated menu. They can be served with a scoop of vanilla ice cream, and they make a refreshing dessert ideal on a hot summer evening. I chose this time to serve them in a wine and brown sugar reduction and I paired them with a flavorful orange blossom mascarpone cream. Regarding poached pears, the possibilities are endless!
Ingredients (for 4 servings):
4 large pears, or 5 medium pears ( I used William pears)
1 cup caster brown Demerara sugar – 200g
2 cups semi dry red wine – 480ml
2 cups water – 480 ml
1 star anise
1 cinnamon stick
1 vanilla pod
Mascarpone cream:
115g mascarpone cheese (8 Tbsp)
1 Tbsp honey
¼ tsp orange blossom water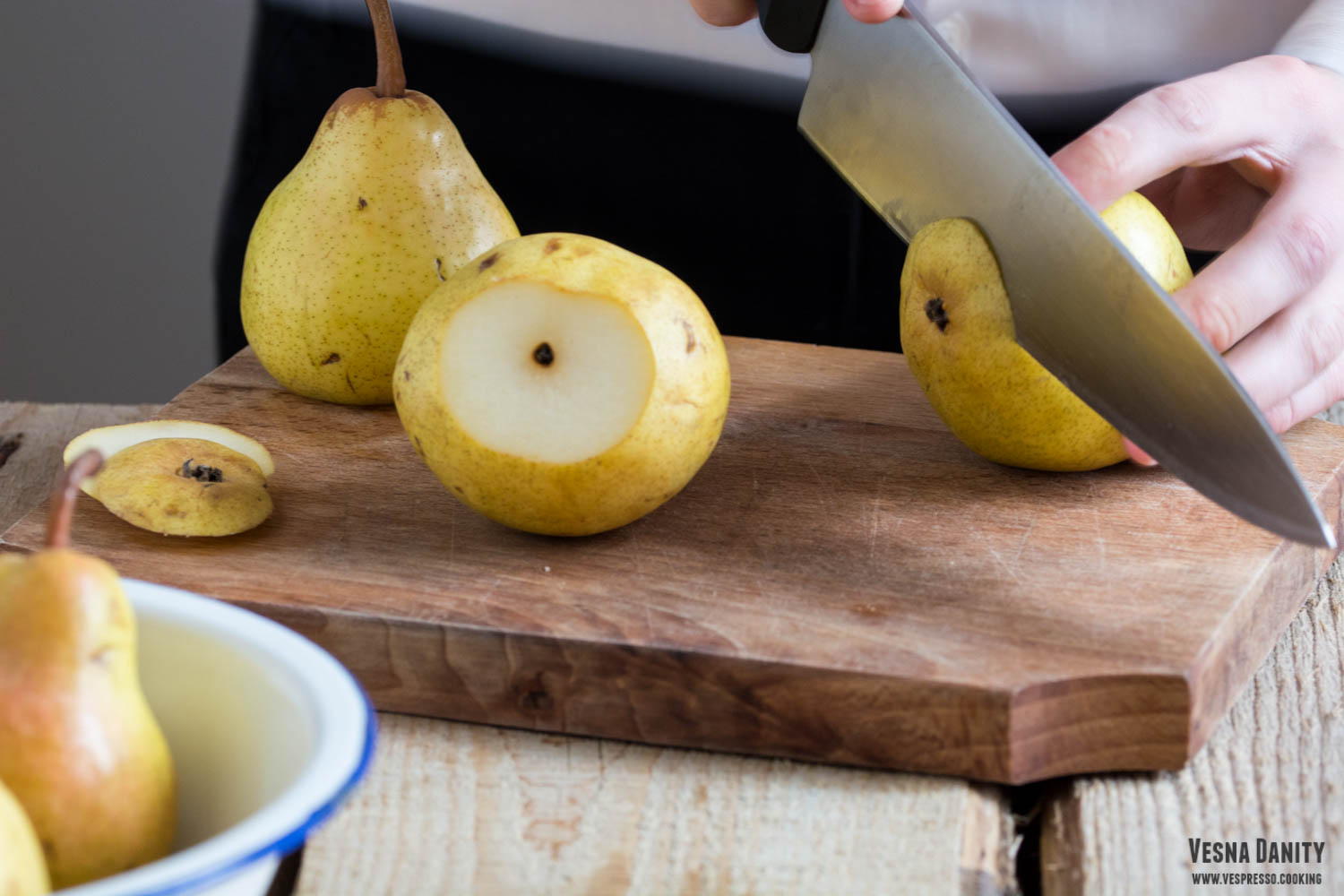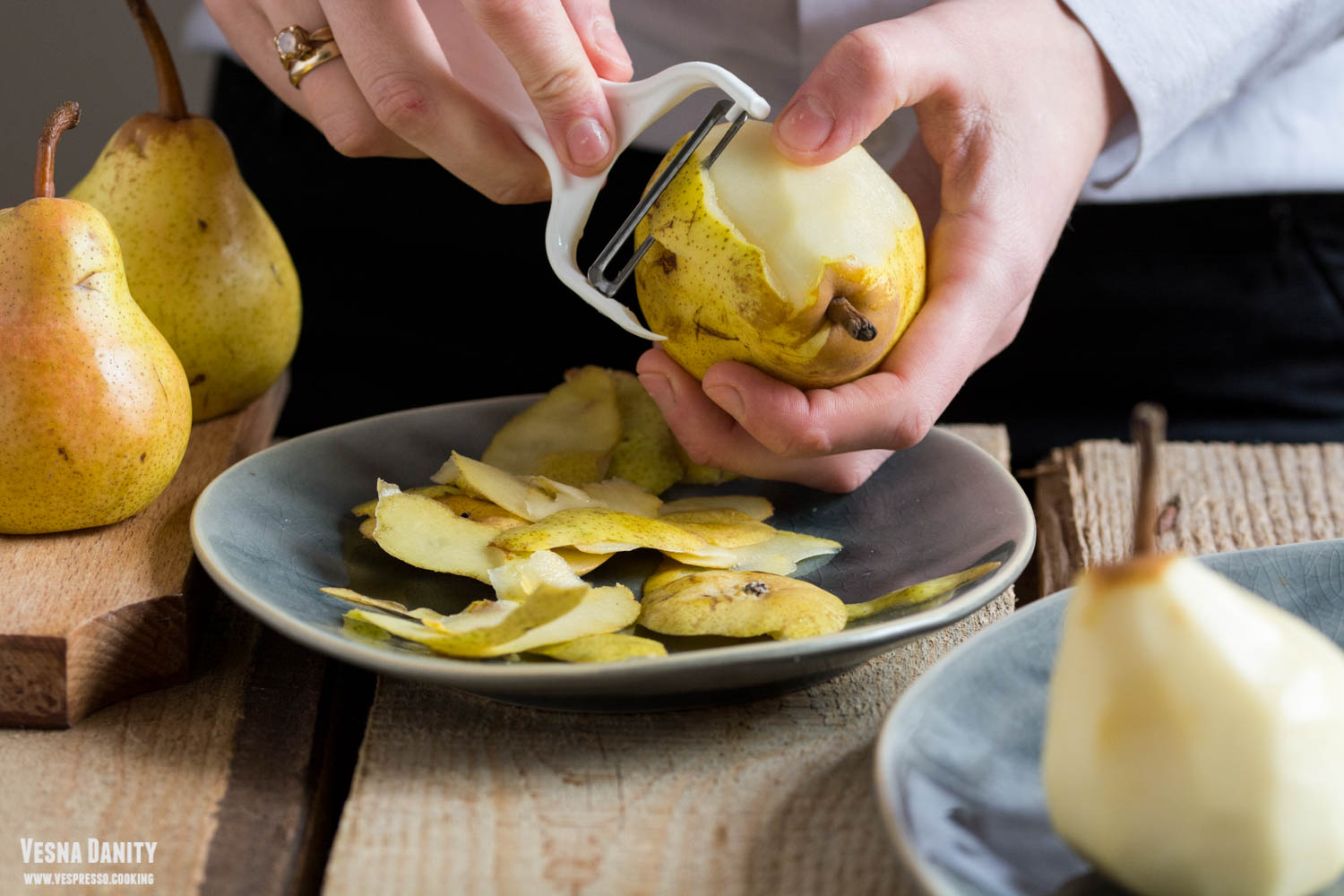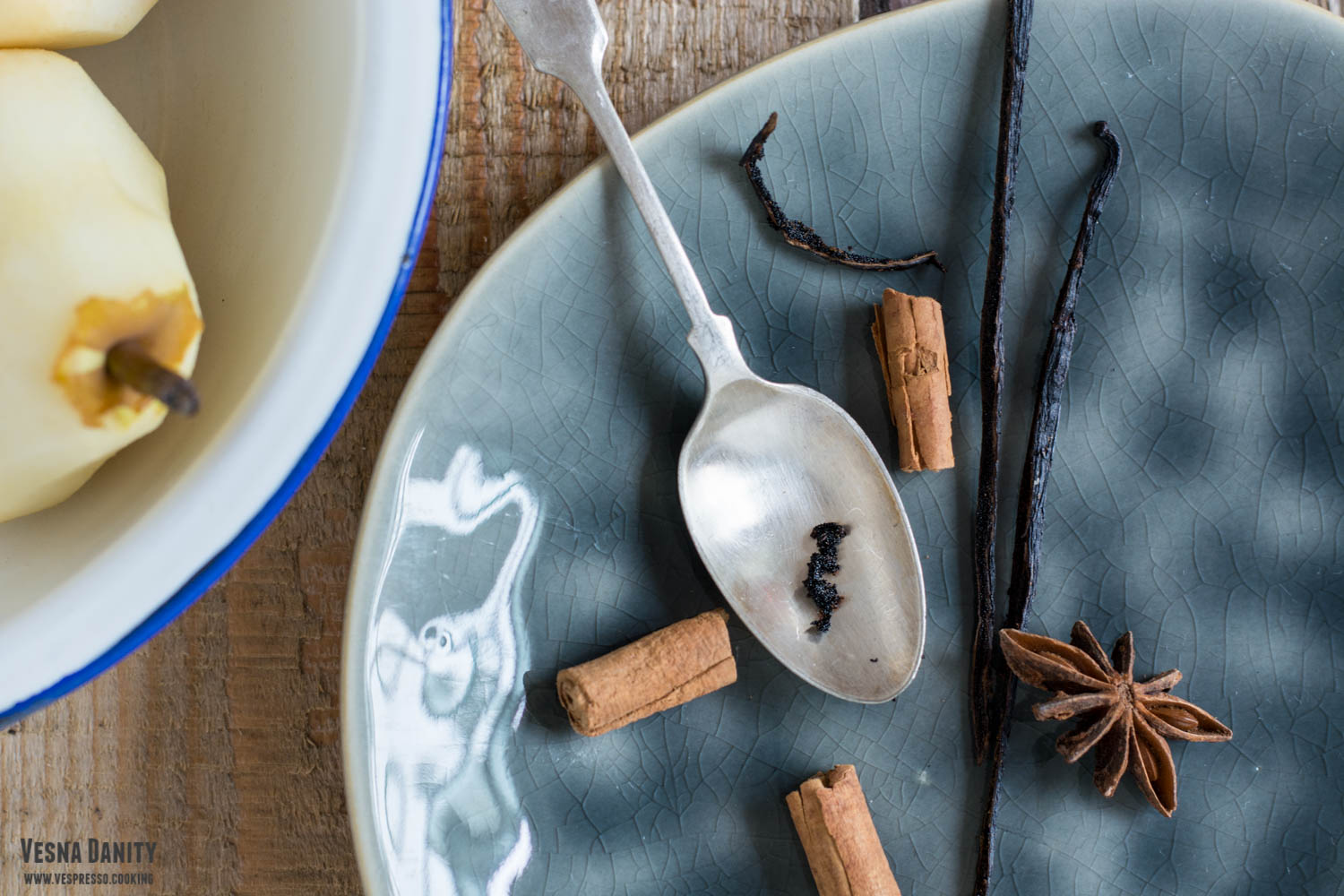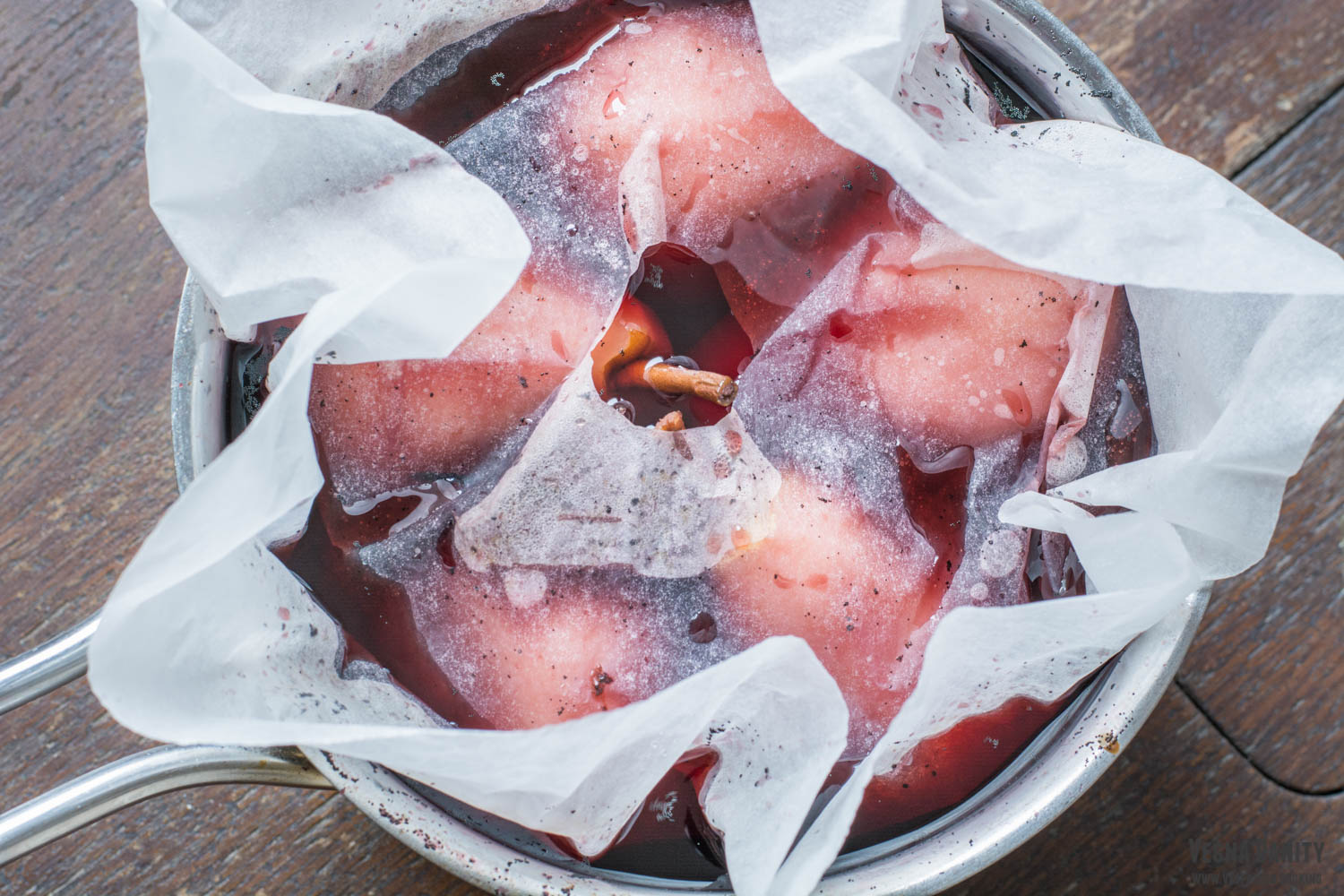 Method:
Whenever I'm making poached pears, I'm using the following scheme: for every pear I use ¼ cup of sugar, 1/2 cup of wine and 1/2 cup of water.
In a large saucepan combine the wine with water and sugar and bring to a boil over medium heat. Split the vanilla pod lengthwise and scrape out the seeds using a knife or a spoon. Add the vanilla seeds and the seeded vanilla bean, cinnamon stick and star anise.
Meanwhile prepare the pears. Cut about 2 cm off from the bottom of the pears (to give them stability while plated). Peel them carefully using a vegetable peeler and leave the stem intact. You can also scoop out the seeds using a noisette (exactly like I did in this recipe), but I personally skip this part.
When the poaching liquid begins to simmer, reduce the heat to minimum, place the pears in the saucepan and cover them with a parchment paper lid (cut out a parchment paper circle slightly larger than the saucepan's circumference and cut out a small orifice in its center).
Poach the pears for 20 – 30 minutes or until they are tender when pierced with a knife (the time depends on their ripeness). Make sure you turn them every 5 minutes.
Let them cool down in the poaching liquid for at least 1 hour (you can keep them refrigerated in the poaching liquid for 1 – 2 days).
Place the pears on a platter, simmer the poaching liquid over medium-high heat for 30 – 40 minutes, or until reduced by half to sticky glaze.
Meanwhile prepare the mascarpone cream by combining the mascarpone cheese with honey and orange blossom water.
Place the pears on plates and top them with 2-3 Tbsp of wine reduction (use the remaining reduction for ice cream, choux a la crème or brownies). Spoon 2 tablespoons of mascarpone cheese, sprinkle some cocoa powder and garnish with fresh blueberries.