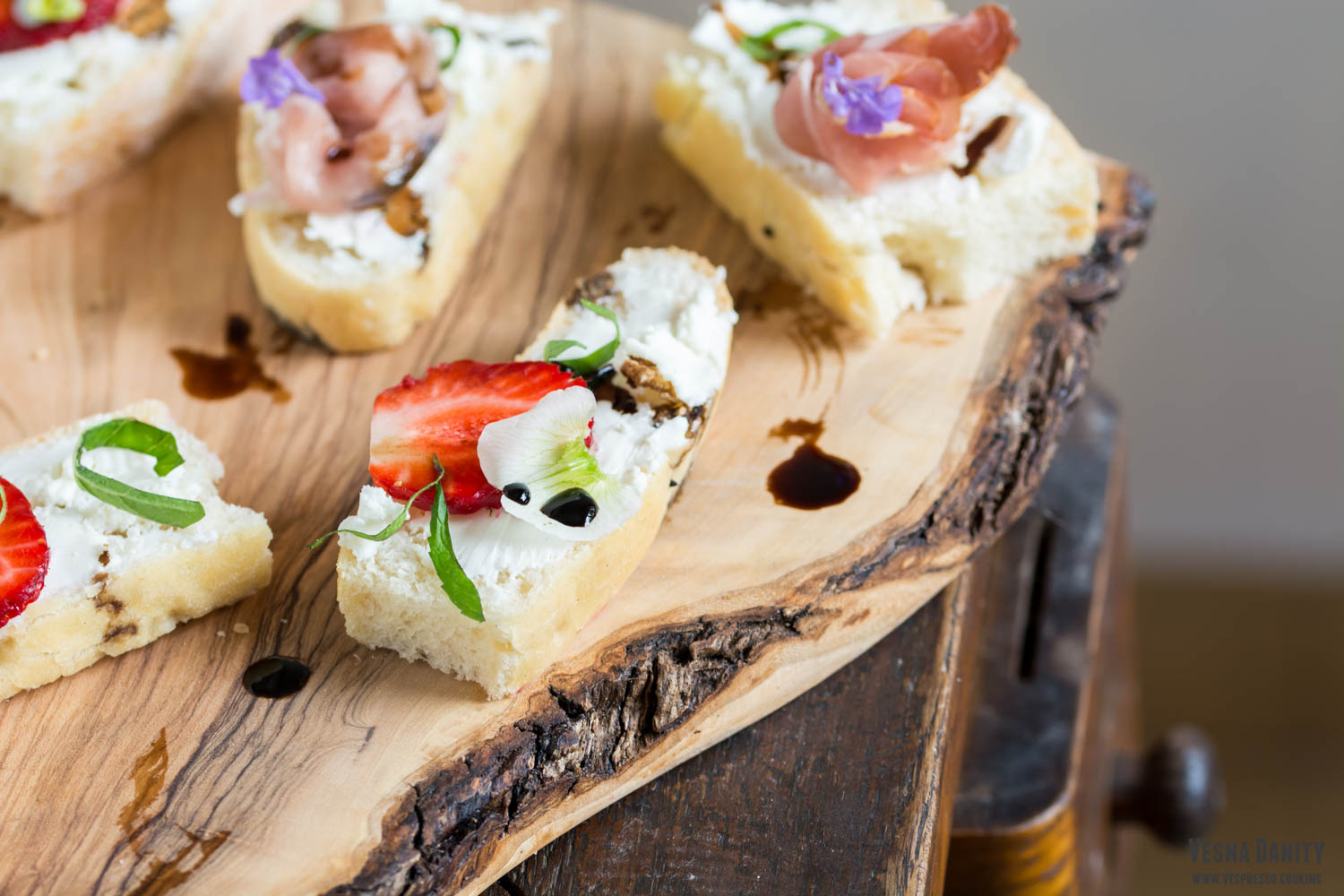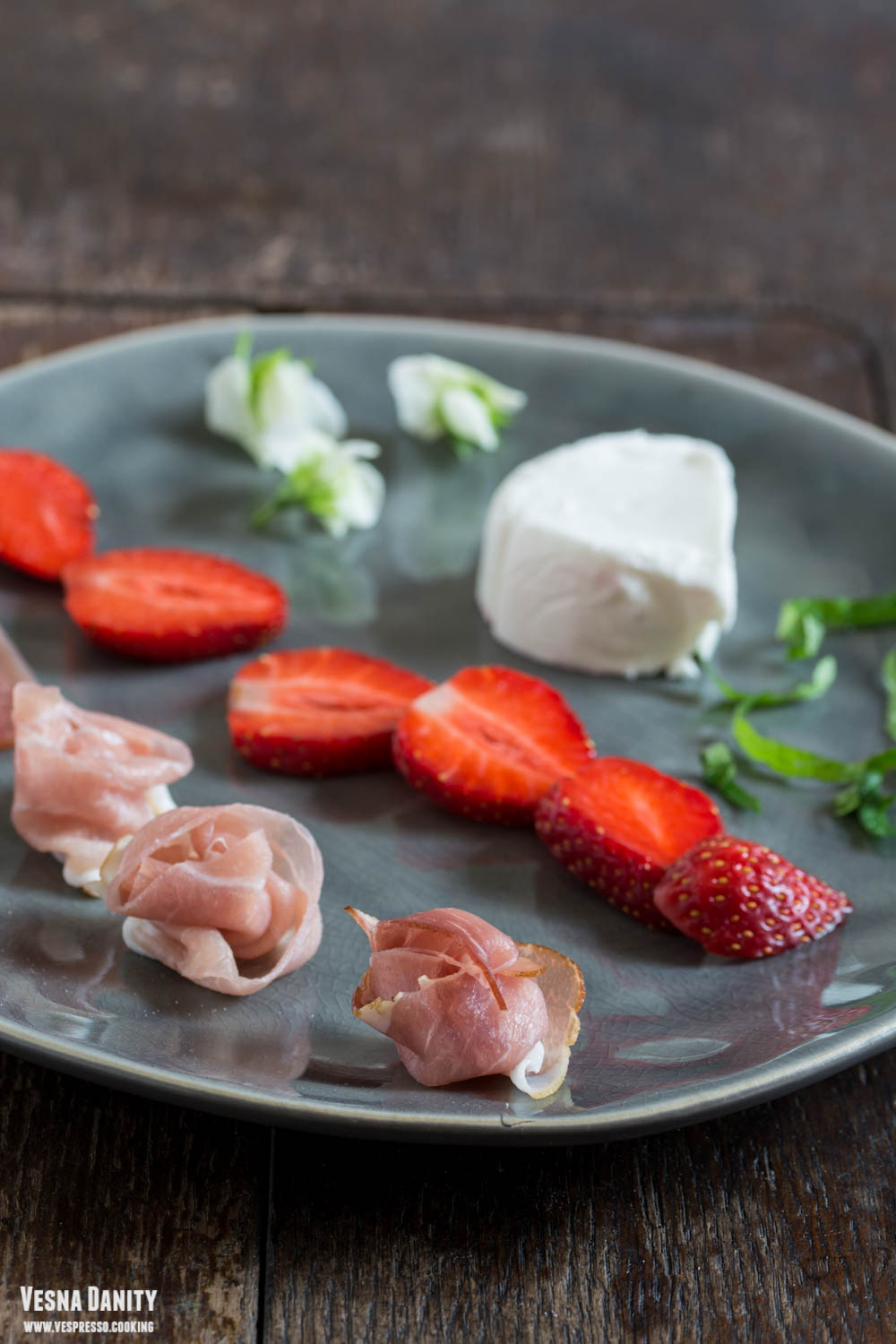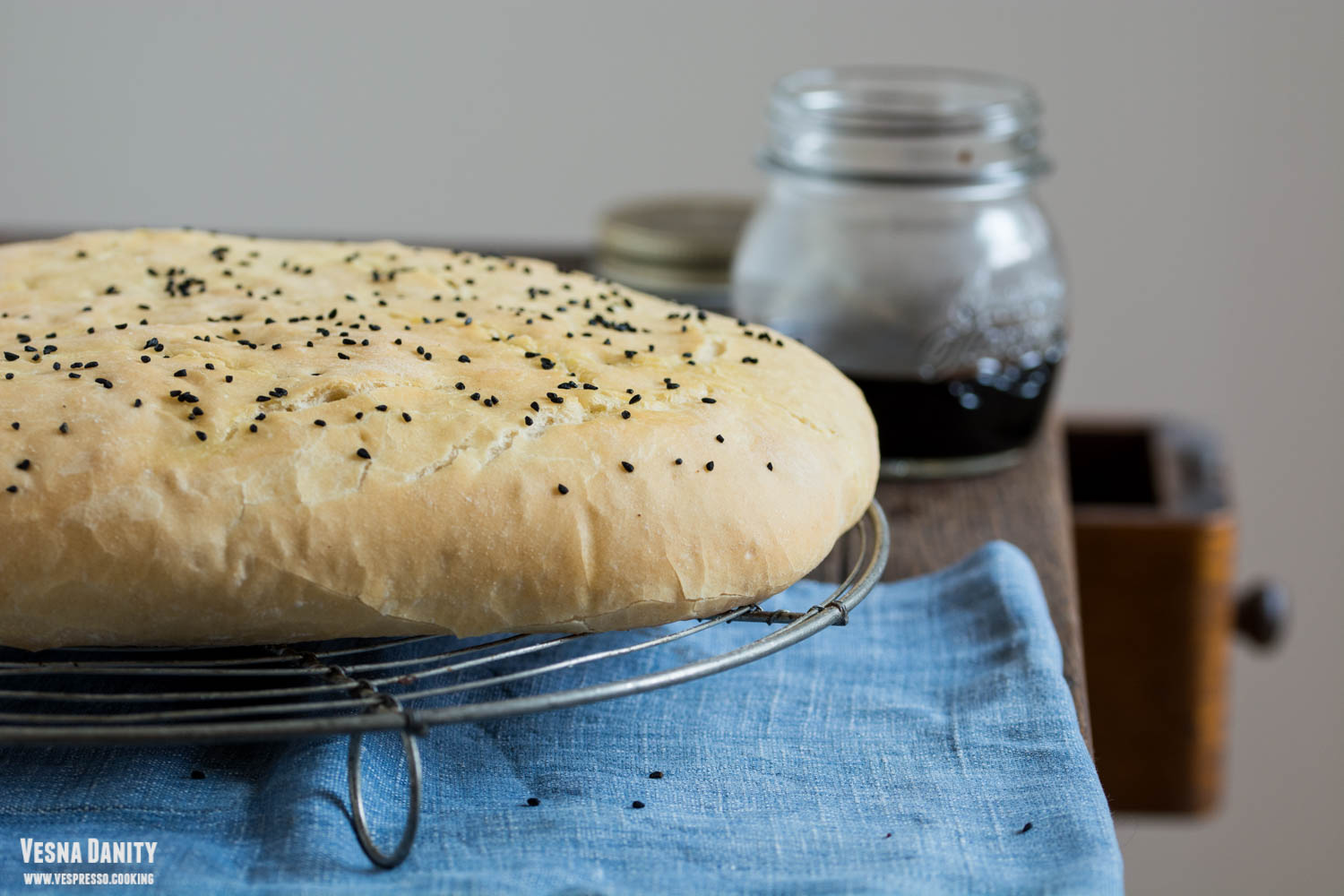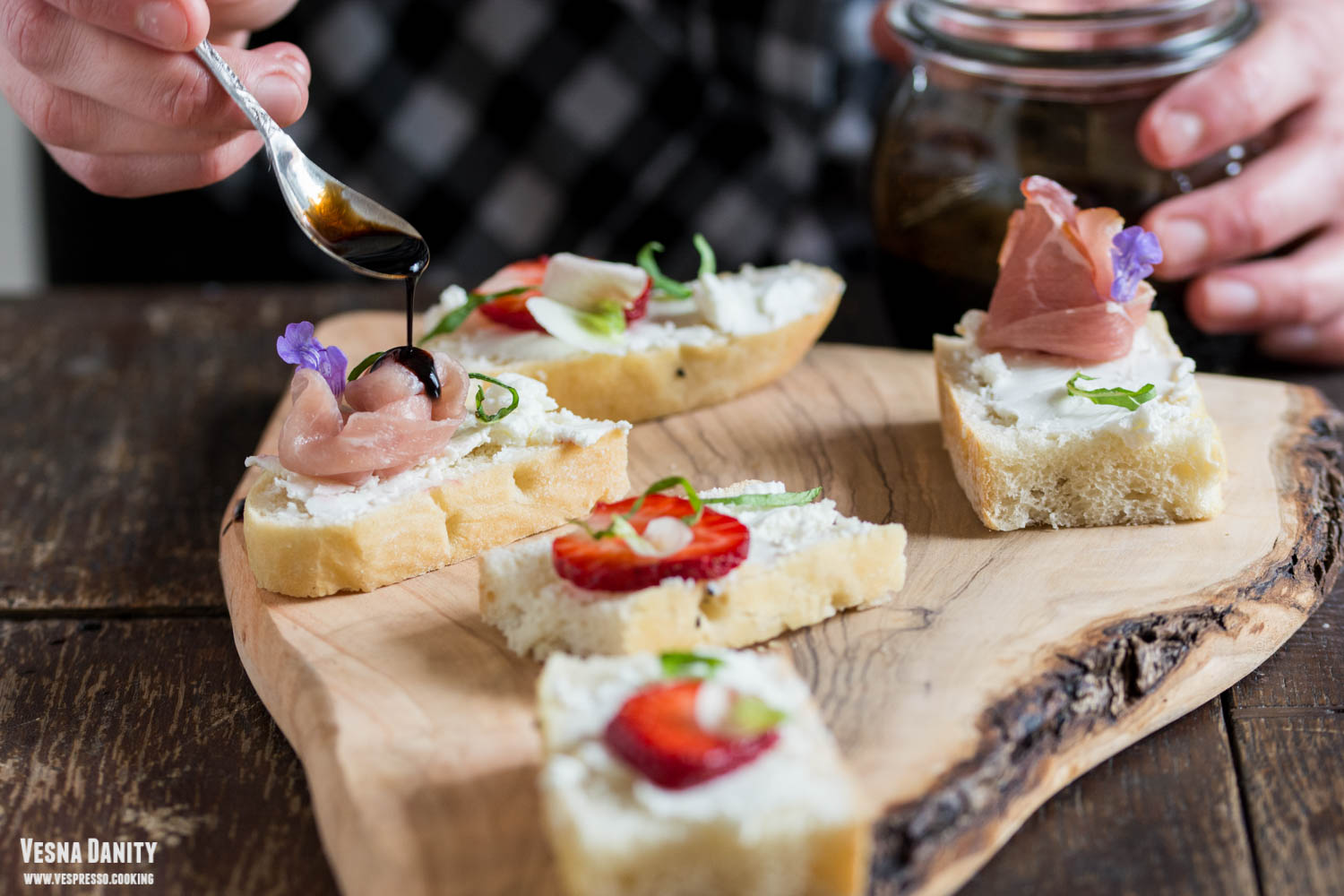 This lovely canapés are more than suitable for spring. The base is a delicious homemade nigella seed focaccia which is topped with tangy goat cheese, juicy strawberry slices, smoky Prosciutto roses, fresh mint ribbons and a balsamic vinegar reduction. I simply love balsamic vinegar reduction, it's such a versatile condiment; its acid and slightly sweet taste and its unmistakable aroma go wonderfully with different types of cheese, vegetables and fruits and it tastes divine paired with vanilla-flavored desserts, too. Since it's springtime and my garden abounds with flowers, I decided I should garnish my canapés with edible flowers, just for aesthetic reasons.
For my canapés I used homemade focaccia (I used this recipe). The only changes I've made are the following: I prepared the dough, I placed it in a bowl, I covered it with cling film and I refrigerated it overnight. The next morning I kneaded the dough and I rolled the bread, I garnished it with nigella seeds and I drizzled it with olive oil. After 1 hour of rising, I baked it for about 20 minutes.
I usually make my own balsamic vinegar reduction. I add 1 cup of balsamic vinegar to a saucepan and I boil it until the liquid becomes syrupy and reduces by 1/3 cup. I pour the reduction in a jar and I leave it to reach room temperature before refrigerating it. Since it thickens considerably as it cools down, I reheat it in warm water before using.
Balsamic vinegar reduction
Ingredients (for 80ml of final product):
1 cup of balsamic vinegar (240ml)
Method:
Add the vinegar to a small saucepan. Take a toothpick and insert it in the saucepan (perpendicular to the saucepan's bottom) to check the level – you can check the level several times throughout the boiling process to see how much it reduces).
When the vinegar begins to simmer, reduce the heat to low – medium and simmer the liquid for 20 -25 minutes (depending on the size of the saucepan), stirring occasionally. When the liquid starts to thicken, check again the level with a clean toothpick.
The reduction is ready when it's syrupy and the volume has reduced by 1/3 (you can notice the marks on my toothpick in the photo).
Leave the reduction to cool down to room temperature, place it in an airtight jar and refrigerate it until you're ready to use.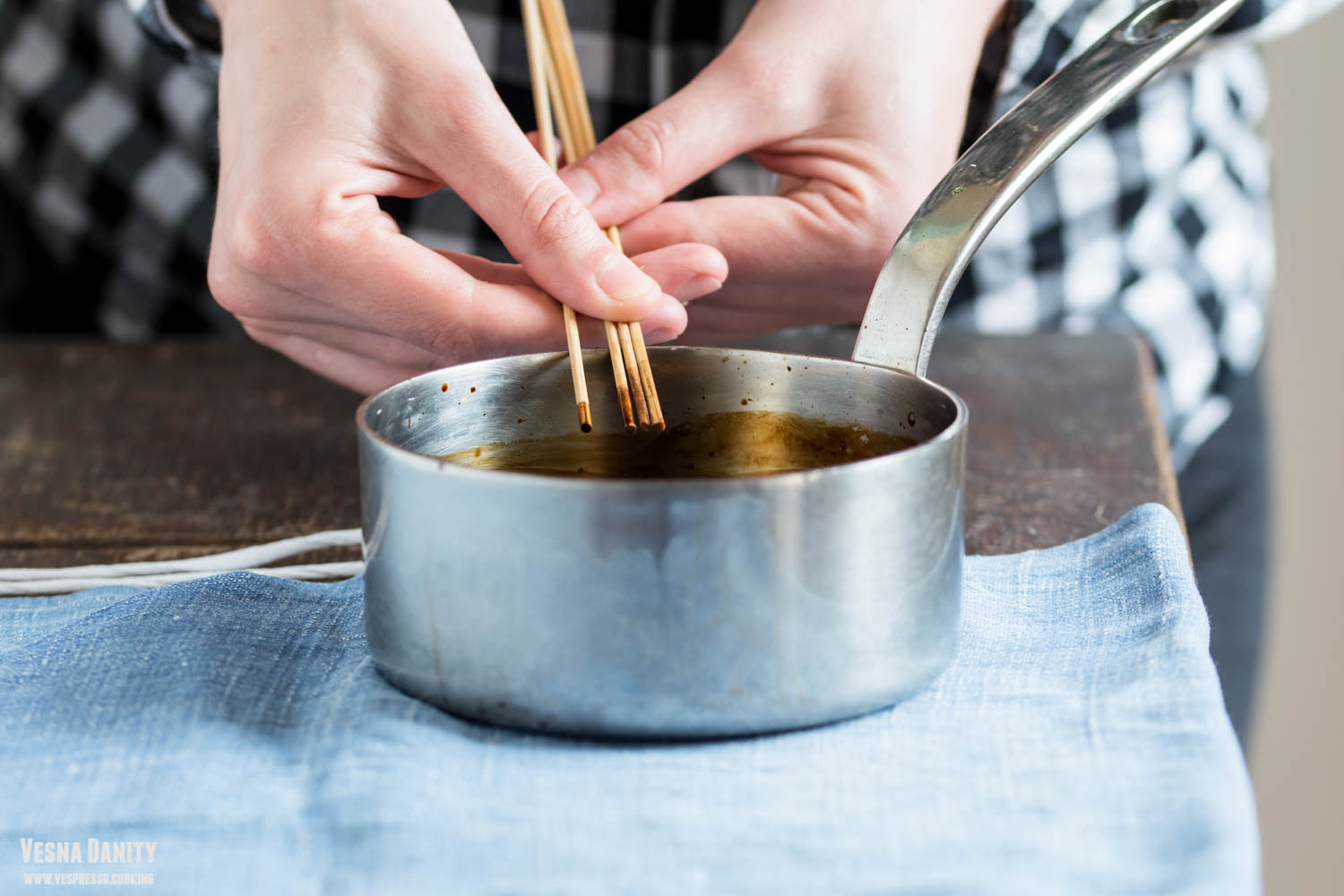 Spring Canapés
Ingredients (for 4 servings):
8 thin focaccia rectangles
50g goat cheese
2 strawberries
4 slices of prosciutto crudo
2 – 3 mint leaves
1 Tbsp balsamic vinegar reduction
edible flowers (optional)
Method:
Clean the strawberries, remove the stem and thinly slice them.
Cut the mint leaves into small ribbons.
Spread ½ tsp of goat cheese on each focaccia rectangle. Arrange the toppings mentioned above (strawberry, pea flower, mint ribbon, balsamic vinegar reduction / prosciutto slice, sage flower, mint ribbon, balsamic vinegar reduction).