I love veggie soups. They are nutritious, tasty and very easy to make. When it's freezing outside, a big bowl of soup has the power to warm up both your body and your soul.
Today I chose a cream of potato soup. It's so hearty and creamy. For extra flavor, I boiled veggies in homemade chicken soup and I seasoned my cream of potatoes with Cajun spice blend. I served this wonderful soup in huge bowls with crispy bacon, avocado, pumpkin seeds and chilli pecorino cheese sprinkled on top.
Ingredients:
80g sliced bacon
1 onion
2 carrots
150g celeriac
7 potatoes
100ml dry white wine
1 +1/2 Tsp Cajun spice blend
1 chilli
1 600ml chicken broth
250ml milk
2 Tbsp flour
100ml cooking cream (23% fat)
salt and pepper to taste
Method:
Cook bacon in a large pot on high heat, until crispy. Remove bacon and add chopped onion, carrot and celeriac to the pot. Cook on high heat, stirring occasionally, until the onion is translucent (about 5 minutes).
Add chopped potatoes to the pot and cook for 5 minutes. After five minutes add the Cajun seasoning, chopped chilli and wine and cook until the liquid is reduced by half.
Pour in the broth, reduce temperature to minimum, cover with a lid and cook vegetables until soft (about 45 minute).
After 45 minutes, in a bowl mix together milk and flour and add to the pot. Allow the flour to cook for about 10 minutes.
Remove soup from stove and blend it in the food processor until smooth and creamy.
Add cooking cream and season well with salt and pepper.
I served this soup with the following toppings: crispy bacon slices, chopped avocado, chilli and chives, pumpkin seed and pecorino chilli cheese.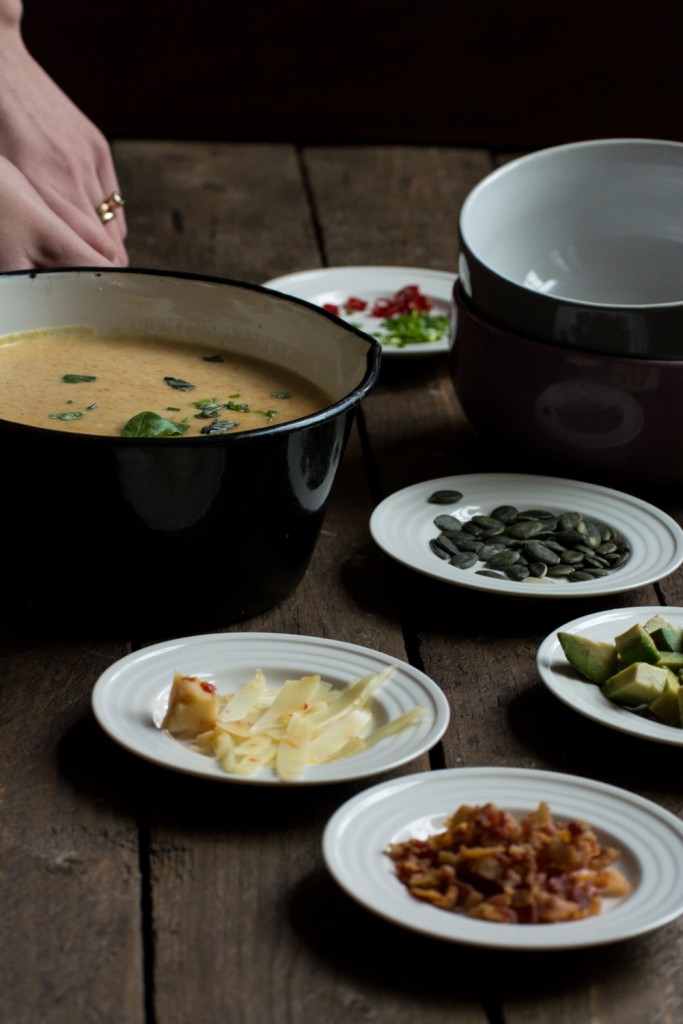 Source: www.foodnetwork.com