Mushrooms stuffed with spinach and cheese, served with béchamel sauce – a warm appetizer which is both delicate and hearty. This dish can be easily made suitable for the vegetarian diet, only be skipping the bacon.
I stuffed my mushroom caps with hard-boiled quail eggs and spinach cream, seasoned with fresh thyme and garlic. For the spinach filling I used frozen spinach, 3 types of cheese (feta, cream cheese and parmesan and sauteed mushroom stems).
These mushrooms have a lot of bold flavors which are even more elevated by this simple and fine white sauce. For the béchamel sauce I infused milk with thyme, bay leaf and shallot slices, to make the sauce even more interesting.
Stuffed mushrooms
Ingredients:
20 medium size champignon mushrooms
10 hard-boiled quail eggs (peeled and halved)
220g frozen spinach
150g cream cheese
150g feta cheese, grated
50g parmesan cheese, grated
1 Tbsp olive oil
50g bacon, chopped
1 medium onion, chopped
2 garlic cloves, minced
½ tsp chopped thyme
½ tsp garlic powder
salt and pepper to taste
tomato cubes (for garnish)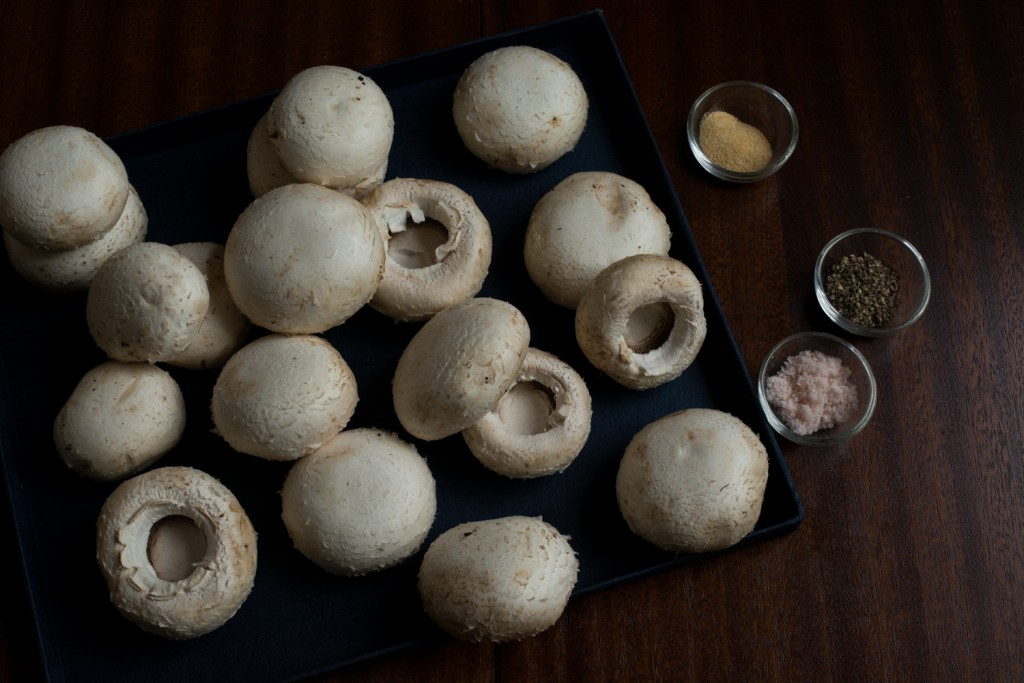 Method:
Quickly rinse mushrooms and remove stems.
In a skillet saute on medium heat the bacon slices, in olive oil until crispy. Add chopped onion and cook until translucent. Add chopped stems and cook for 10 minutes or until the liquid has evaporated. Add garlic and thyme and cook for 2 minutes, or until fragrant. Leave skillet to cool.
In a large bowl, beat the cream cheese until fluffy. Add the drained spinach, feta cheese, 40g of parmesan cheese and the mushroom mixture. Mix together and season with salt and pepper.
Place mushroom caps on a parchment paper-lined tray and season well with salt, pepper and garlic powder. Place in each mushroom a half of an egg and a teaspoon of spinach filling. Sprinkle with grated parmesan cheese (about 10g).
Bake mushrooms in the preheated oven at 375°F/190°C (gas mark 5) for about 25 minutes.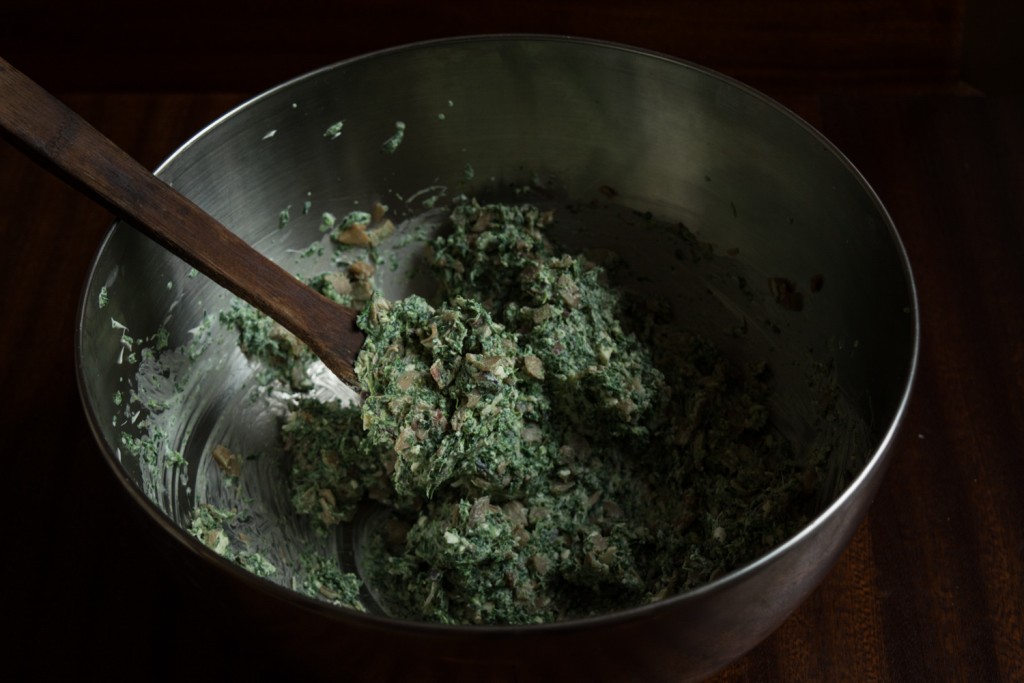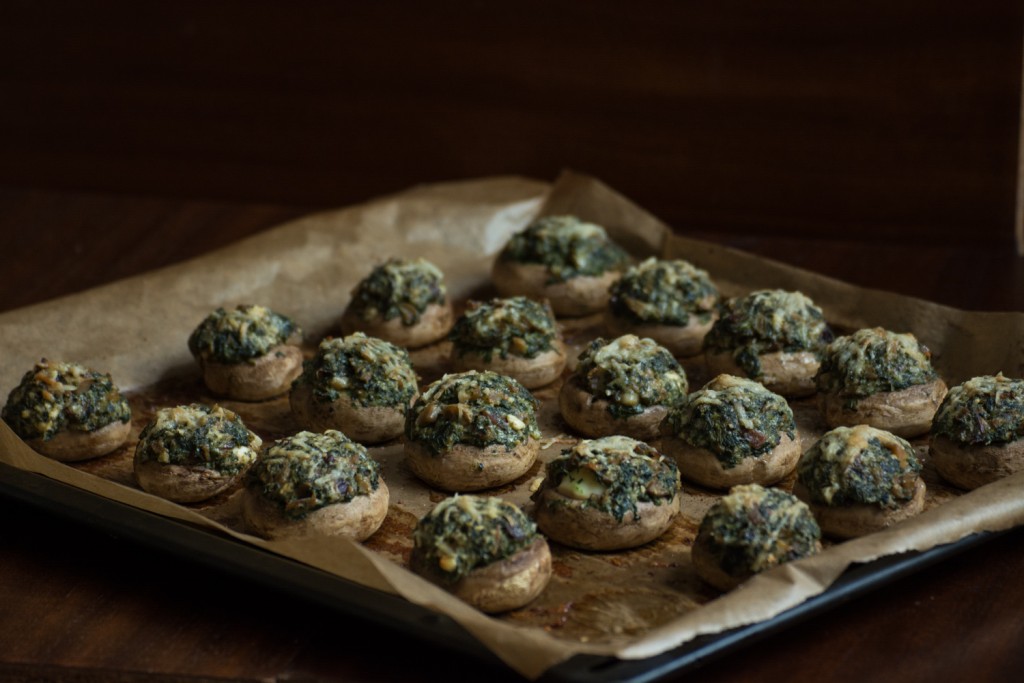 Béchamel sauce
Ingredients:
2 cups milk
2 + ½ Tbsp butter
2 Tbsp flour
¼ tsp nutmeg
salt and white pepper to taste
1 thyme branch
1 bay leaf
1 small shallot
Method:
Pour the milk in a pan and add the thyme branch, bay leaf and shallot slices.
Meanwhile make the roux. In a saucepan heat the butter over low heat until melted. Add the flour and stir until the mixture is golden and smells like freshly baked pie crust (about 5 minutes).
Add the hot milk, one ½ of a cup at a time, stirring frequently.
Cook sauce on low heat for 10 minutes, stirring from time to time.
Discard the shallot slices and herbs, season well with salt, pepper and nutmeg and serve hot.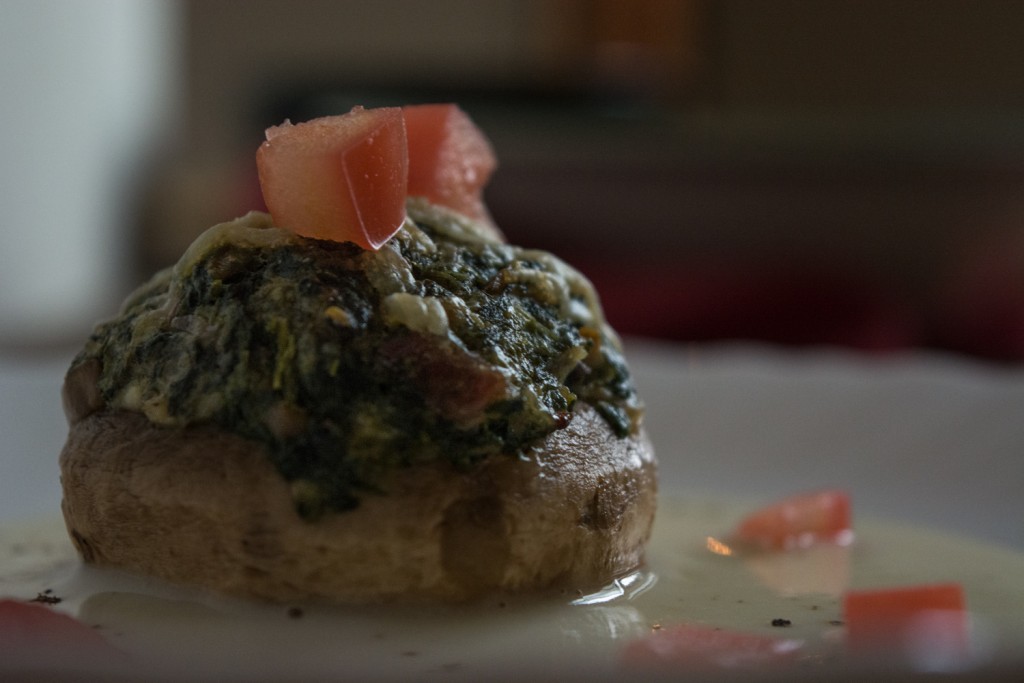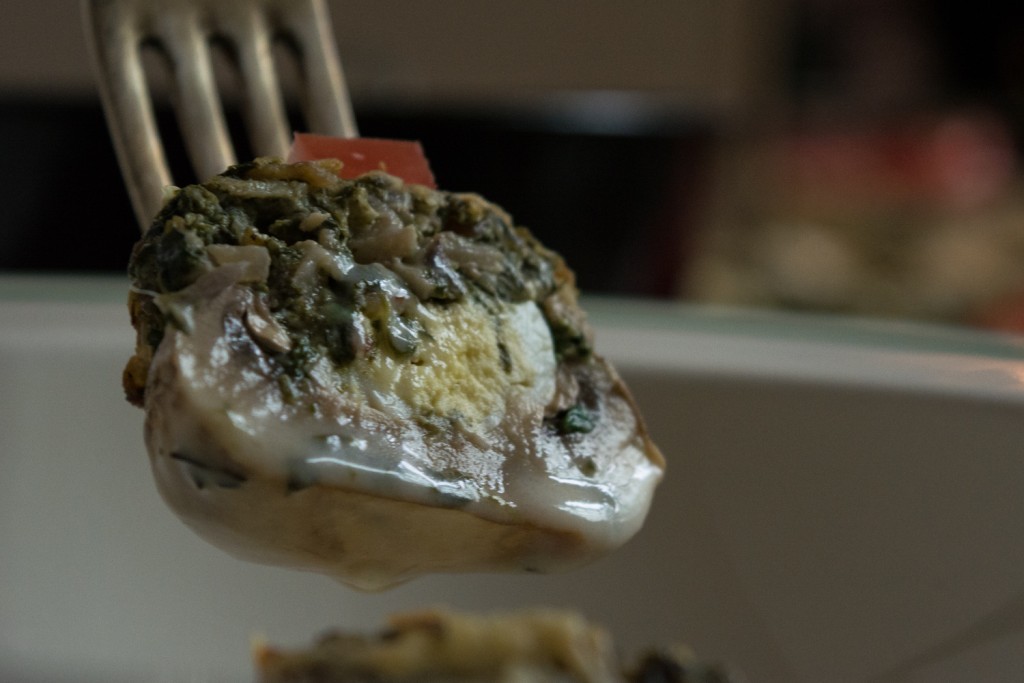 Source: www.foodnetwork.com