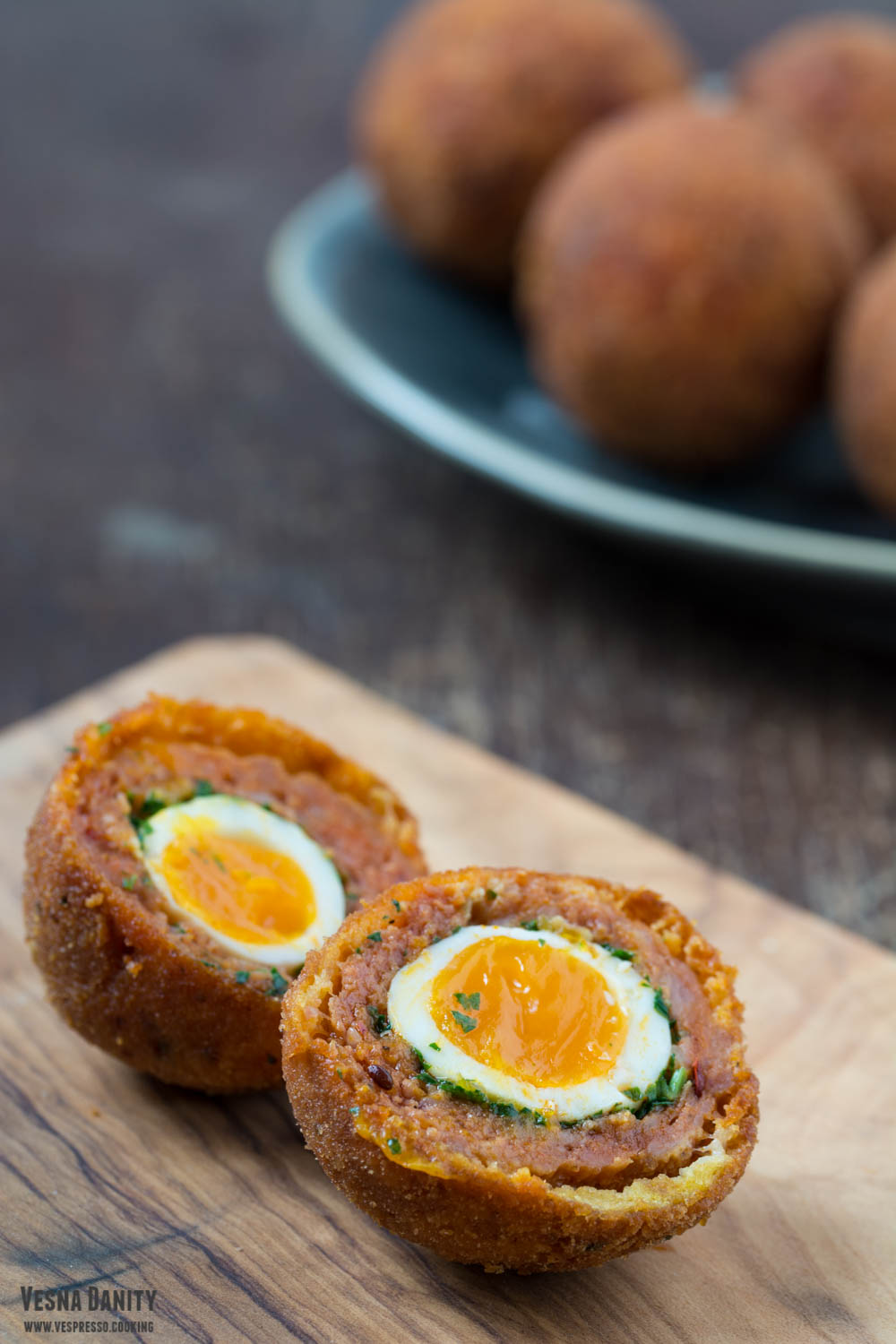 Scotch eggs are nothing else but boiled eggs wrapped in sausage, coated in bread crumbs. Whenever I'm making scotch eggs, I like to use quail eggs because the final product is small and appetizing, but you can also use chicken or duck eggs. They can be served either hot or cold. Served hot, they make a delicious and hearty main dish and served cold, they make some eye-catching and mouth-watering appetizers.
I love my scotch eggs soft boiled with a crispy crust and an oozing, velvety and buttery yolk, but this is of course a matter of preference. If you like your eggs soft boiled, it is extremely easy to get that oozing yolk in this recipe too. The secret is that the boiling time should not be longer than two minutes and a half. A two-minute boiling interval makes the quail egg very difficult to peel and a three-minute boil starts to solidify the yolk, so a two and a half minute interval seems to be golden.
Why I like Scotch Eggs:
they are so easy to make and they are ready in less than 30 minutes
they are delicious and so flavorful
the contrast between the crunchy crust and the velvety yolk is simply divine
they are adorable
they are satisfying
Ingredients (for 6 servings):
12 quail eggs
300g sausage meat (I used homemade paprika sausage)
2 Tbsp fresh chopped parsley
1/3 cup grated parmesan cheese (30-35g)
2 chicken eggs
½ cup bread crumbs (60g)
¼ tsp salt and 1/8 tsp pepper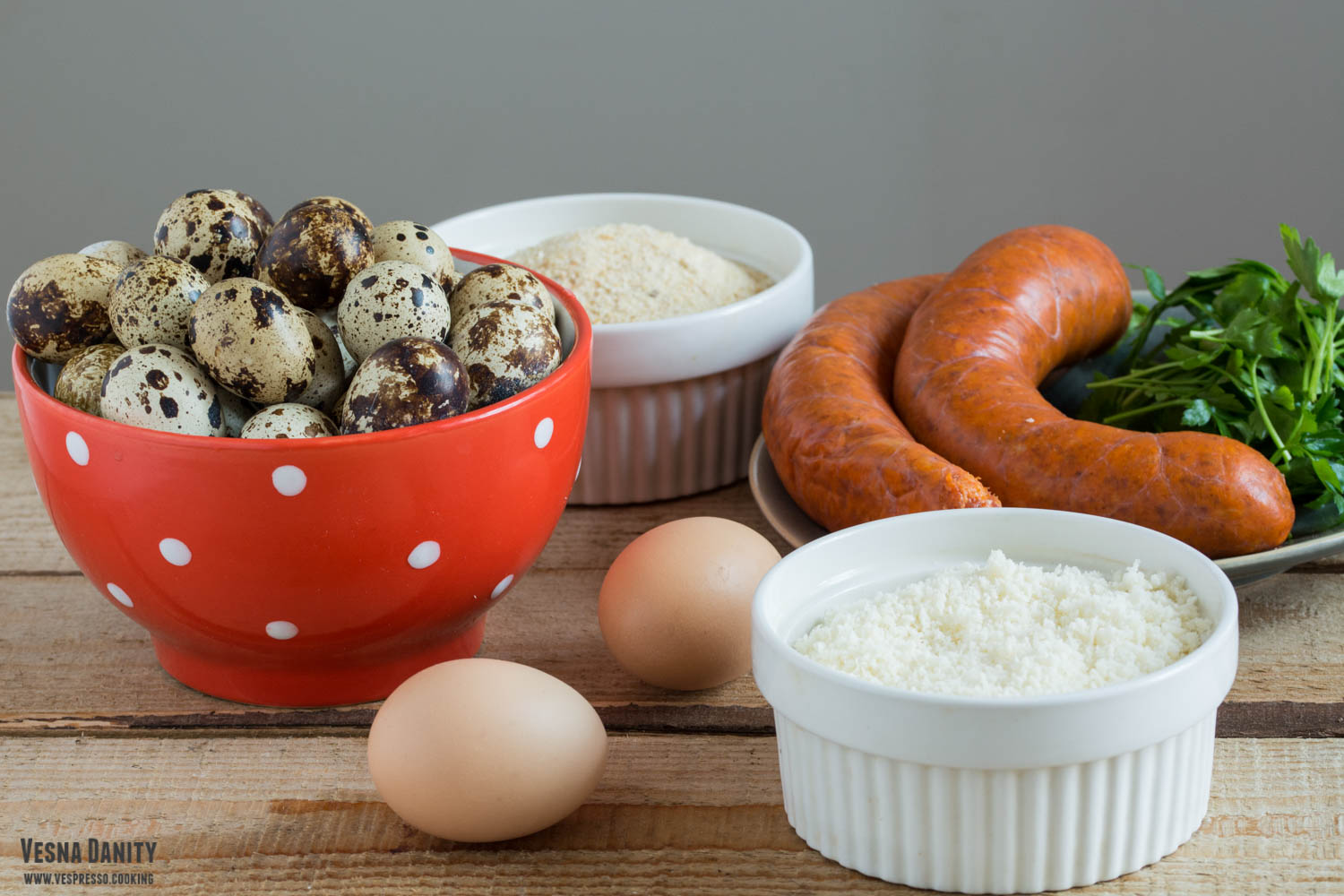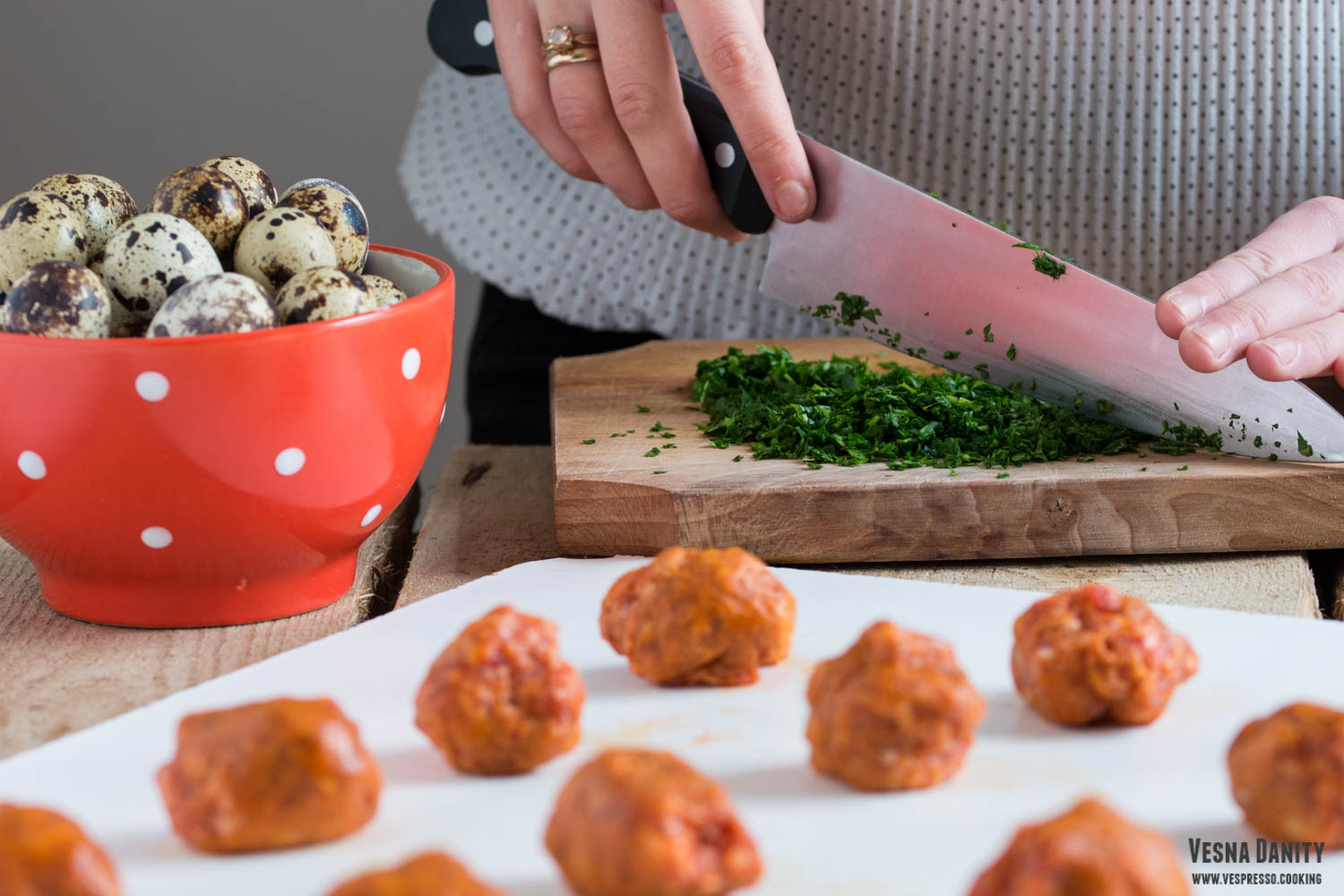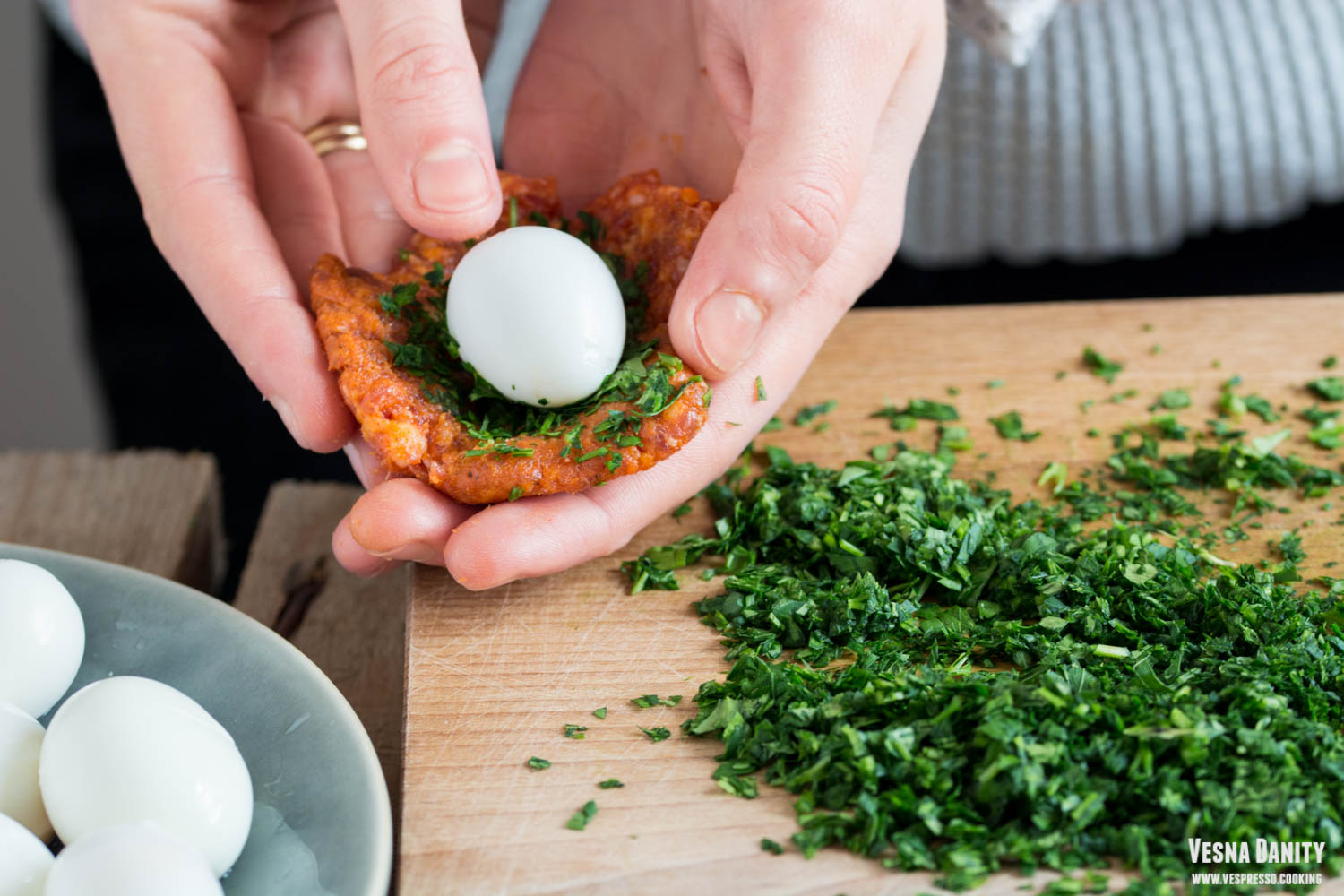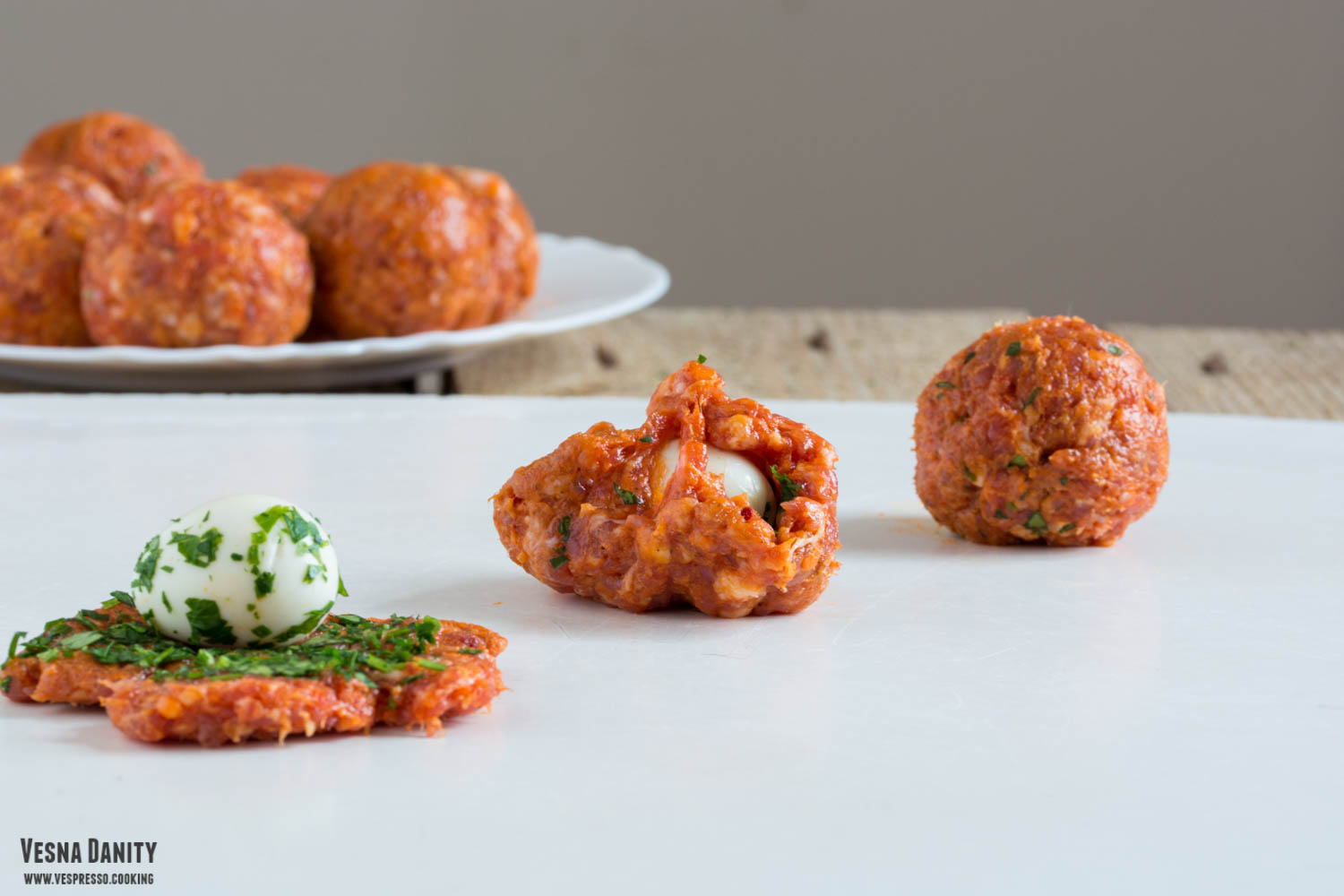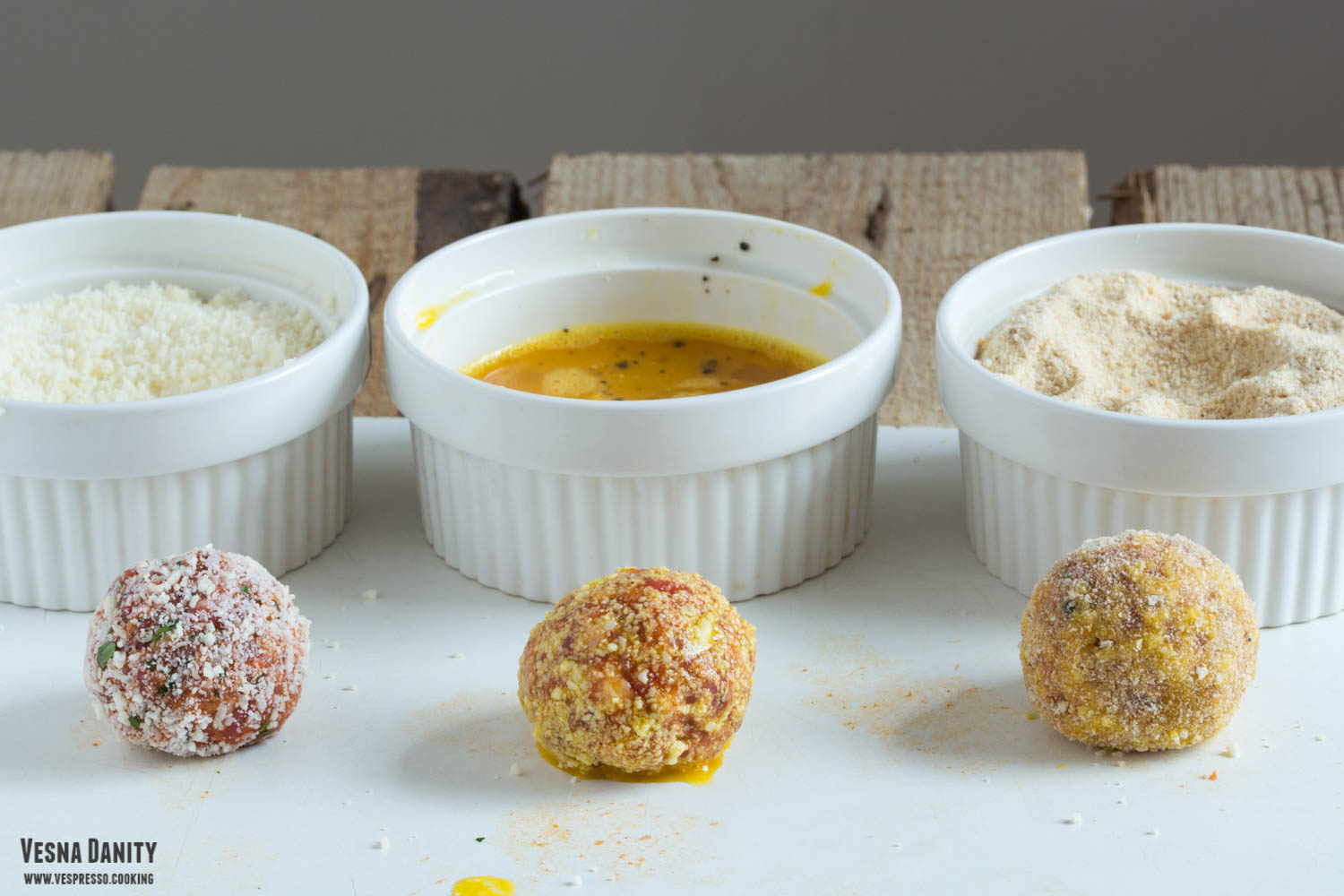 Method:
Wash carefully the eggs. Fill a medium saucepan with water, place it on the stove and wait until the water starts to boil. Place the eggs in the water and boil them (on medium-high heat)  for 2 minutes and a half. Drain eggs and let them cool in cold water for 5 minutes.
Meanwhile divide the sausage meat into 12 equal balls. Finely chop the parsley (picture).
After 5 minutes, carefully peel the quail eggs.
With your hands wet, flatten a sausage ball out in your hands. Sprinkle with parsley and place an egg in the center (picture). Shape the patty around the egg, seal the meat and use your fingers to give it a round shape (picture).
Take 3 bowls. Place parmesan in a bowl, place the eggs, salt and pepper in another bowl and place breadcrumbs in the third bowl. Roll the Scotch egg in the parmesan and use your fingers to shake off the excess. Dip it in beaten egg mixture and then in bread crumbs. Dip it one more time in beaten eggs and then in bread crumbs (flour, egg, crumbs, egg, crumbs). Proceed the same with the remaining eggs.
Deep-fry the Scotch eggs in two batches at 175°C for 5 minutes or until golden brown. Transfer them to paper towel to drain.
Serve warm or cold with raw vegetables (I used Kalamata olives, cucumber and cherry tomatoes).