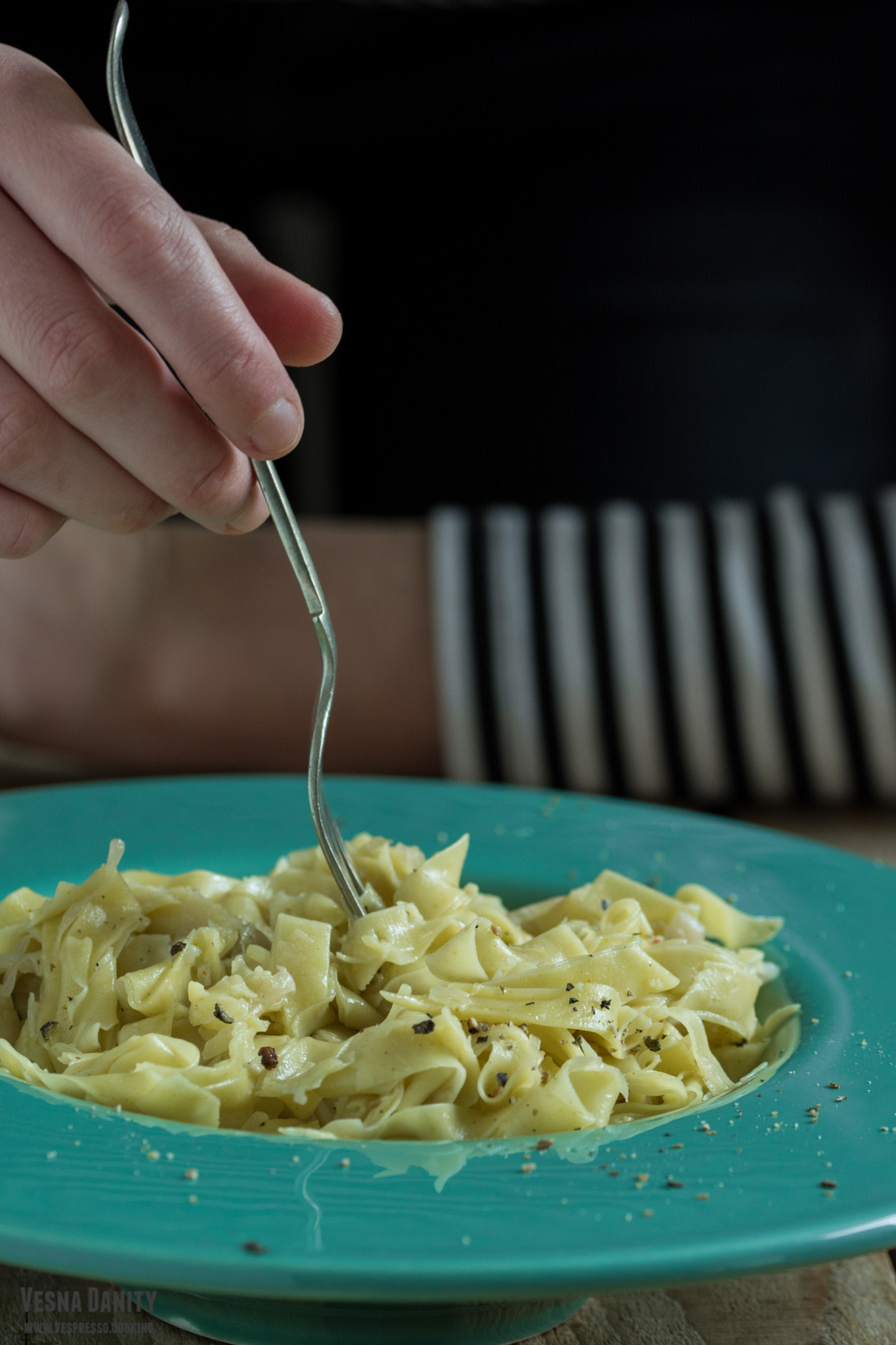 My heart fills with joy when I remember my grandmother's recipe of cabbage noodles, those fragrant and peppery noddles she used to make for me every Friday afternoon. I used to barge into the kitchen, throwing my backpack on the old, wooden armchair and she used to greet me with a warm smile and a simple bowl of cabbage noodles. That's all I've ever needed, for that matter!
For these delicious noodles with sauteed cabbage you only need about a handful of budget-friendly ingredients and a spare 20 minutes. If you decide to make the noodles from scratch, it shouldn't take more than 1 hour. For this recipe I used my pasta machine but a simple rolling pin and a sharp knife did the job brilliantly for years (and the proof lays here). Whenever I make them plant-based, I replace the eggs with olive oil and lukewarm water. Since I can't say I find pale noodles appealing, I add a pinch of turmenic to the flour, which gives the noodles a lovely golden color. So let's get to work!
Ingredients (for 4 servings):
for the pasta:
300g all purpose flour
about 160ml liquid (115ml water + 45ml olive oil)
1 + 1/2 tsp salt
1/2 tsp turmenic
for the sauteed cabbage:
1/2 kg white cabbage
1/2 Tbsp salt
3 Tbsp vegetable oil
1 medium onion
1 tsp pepper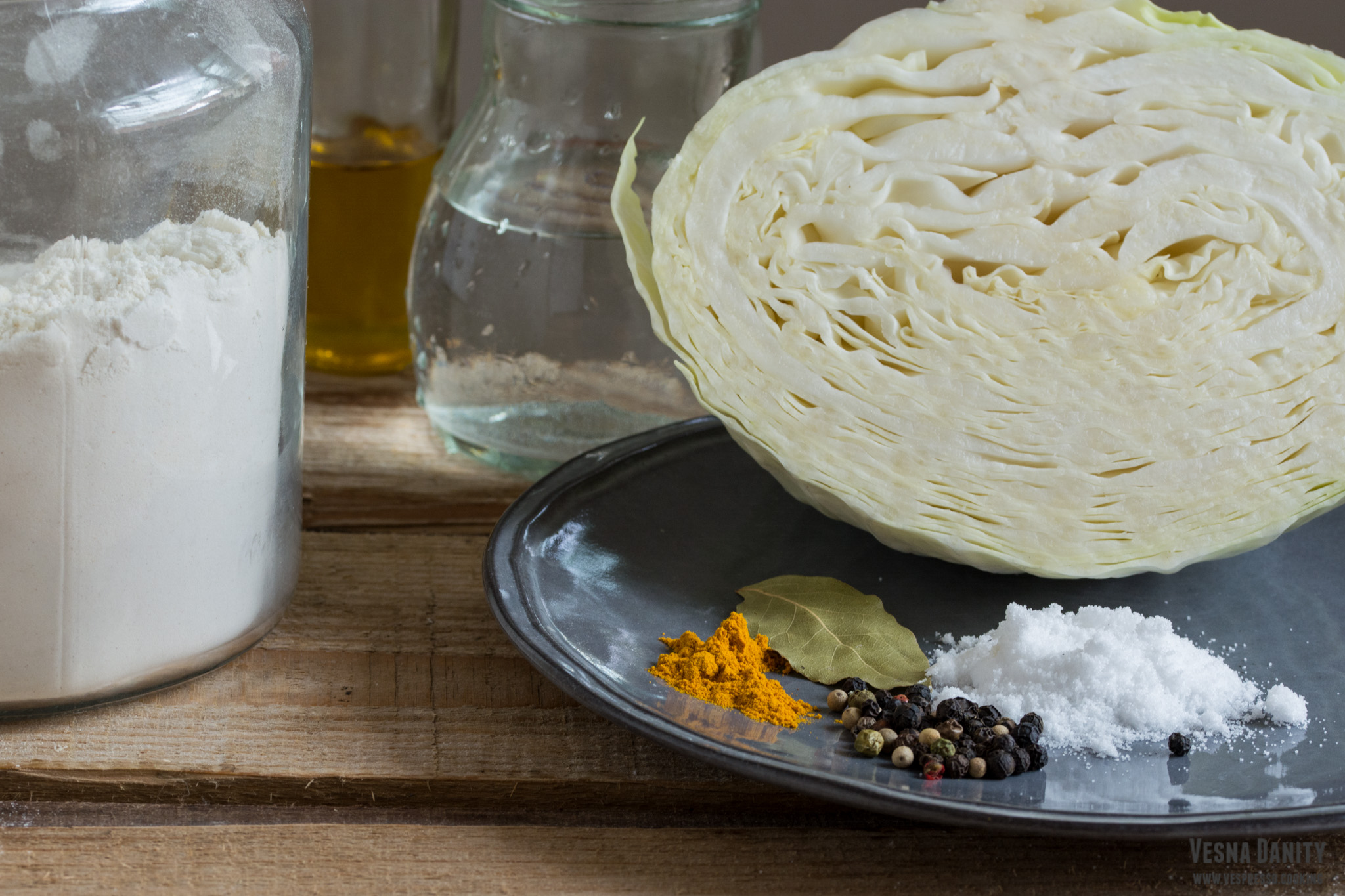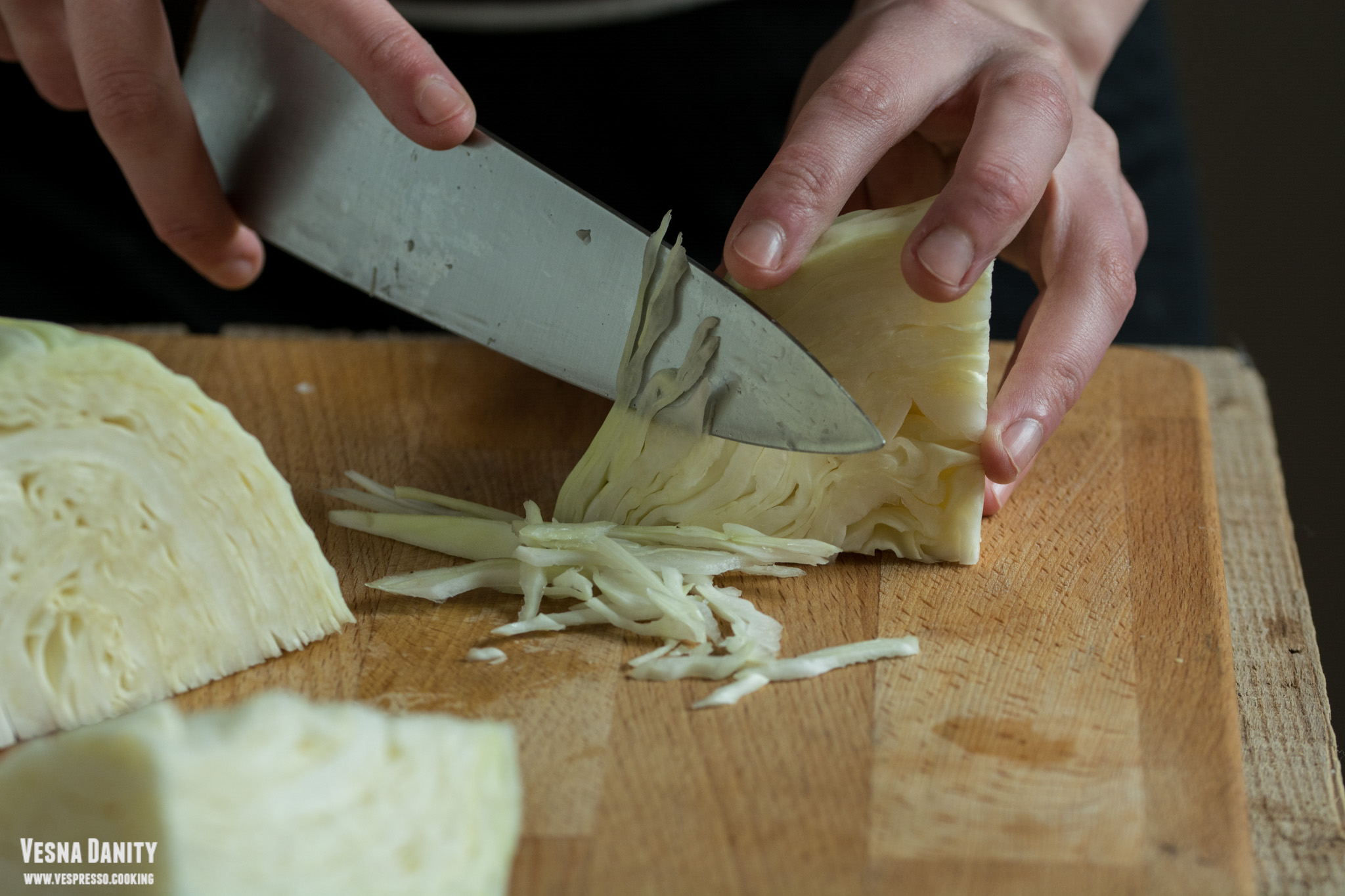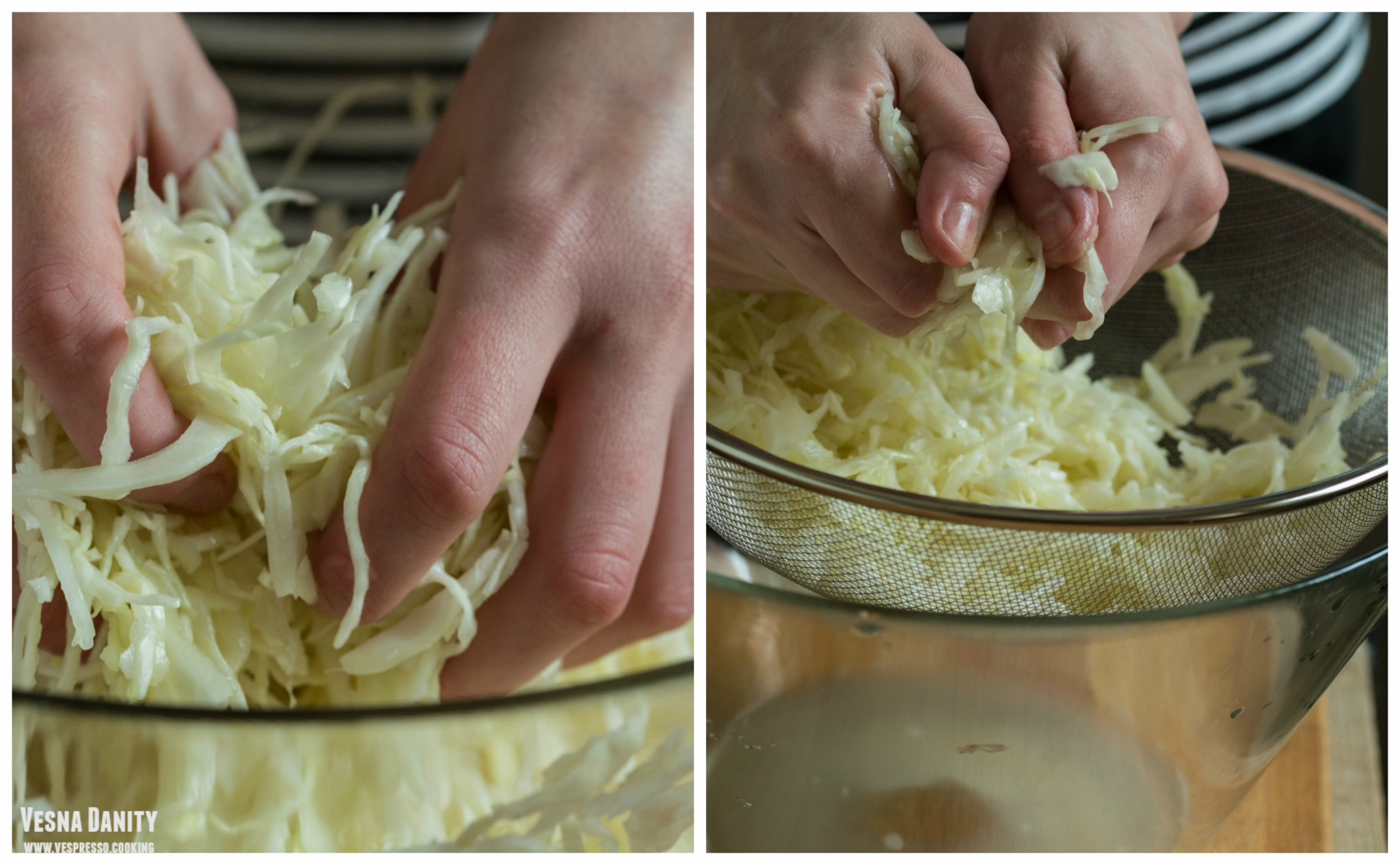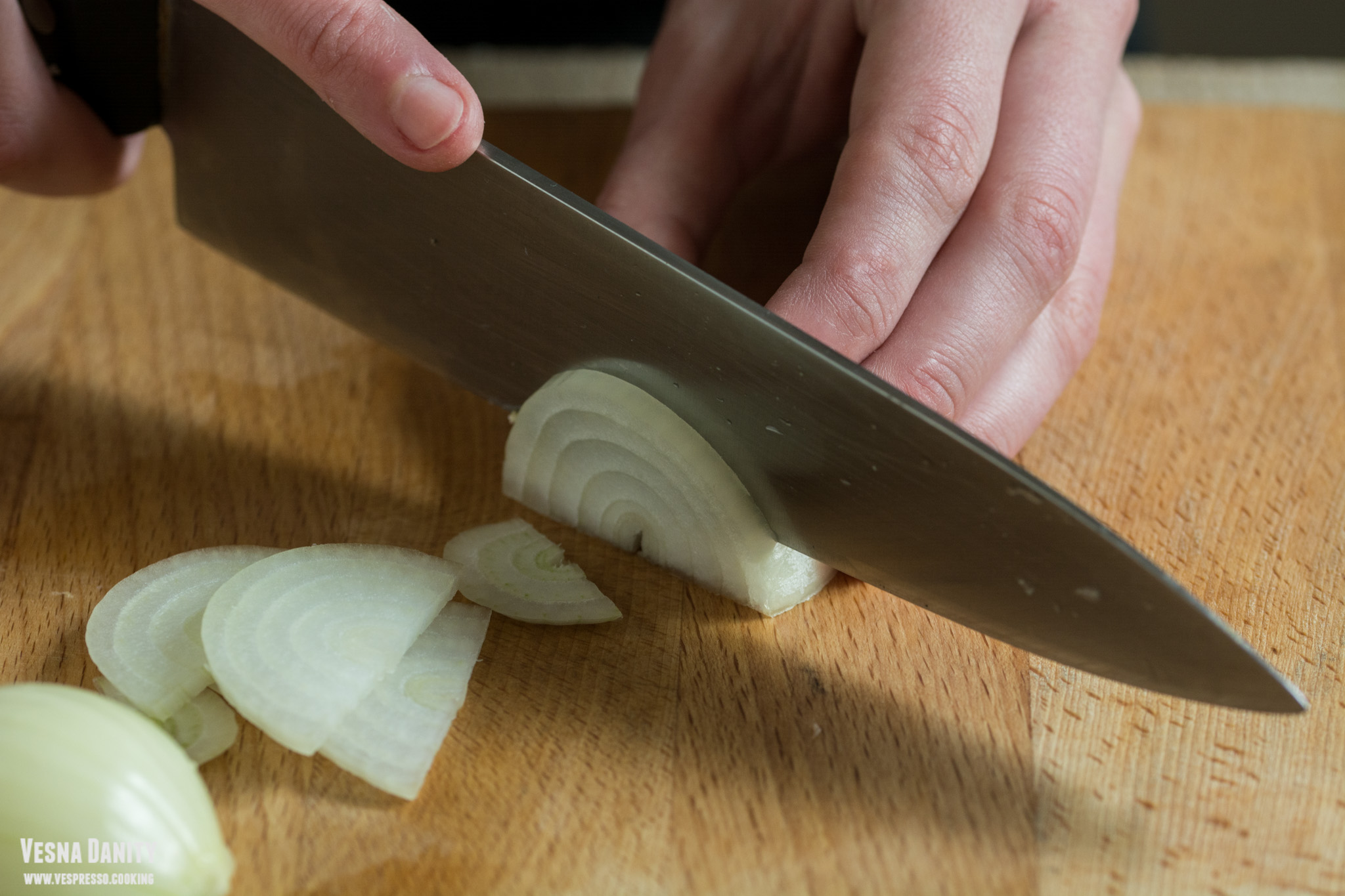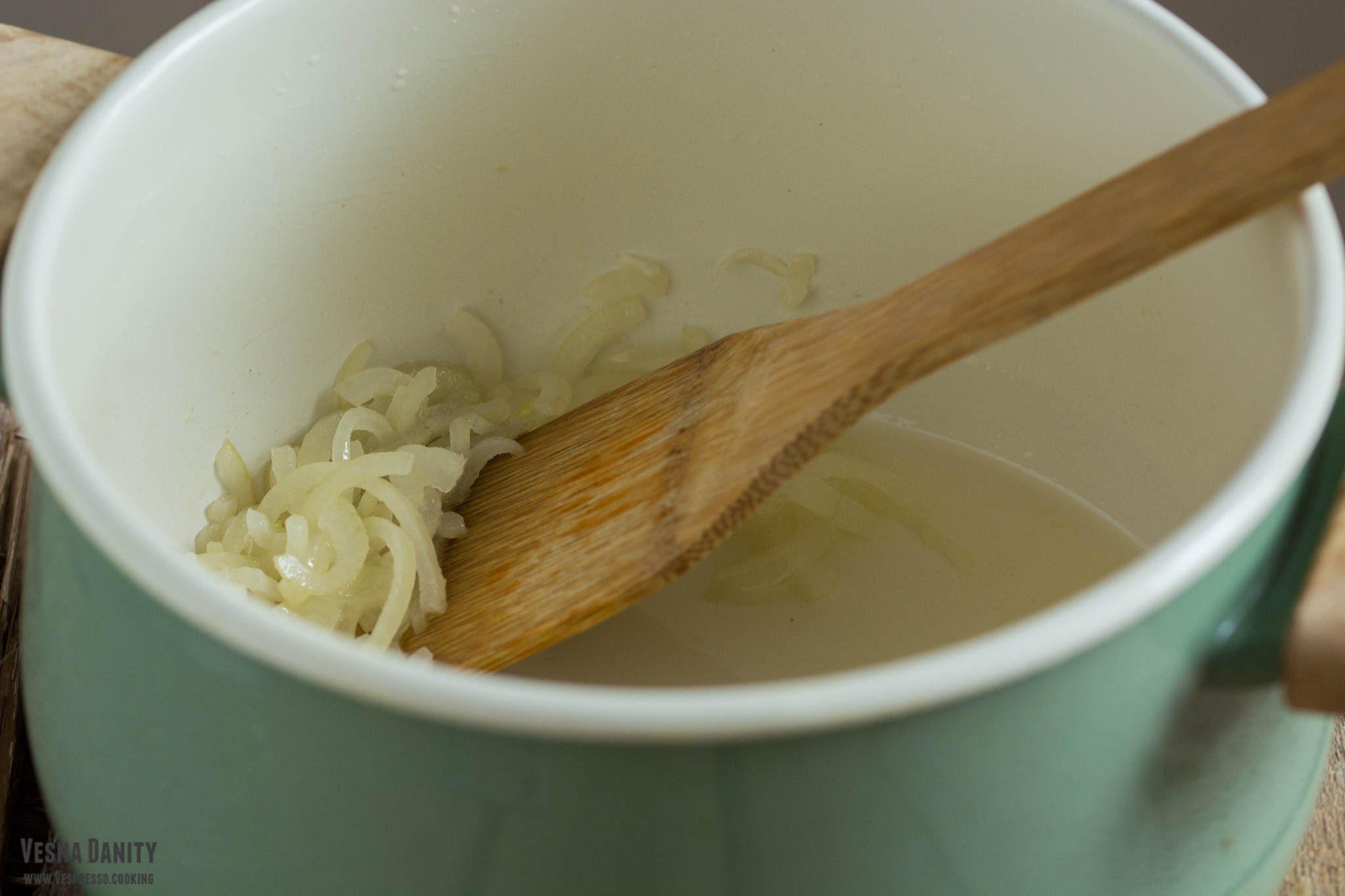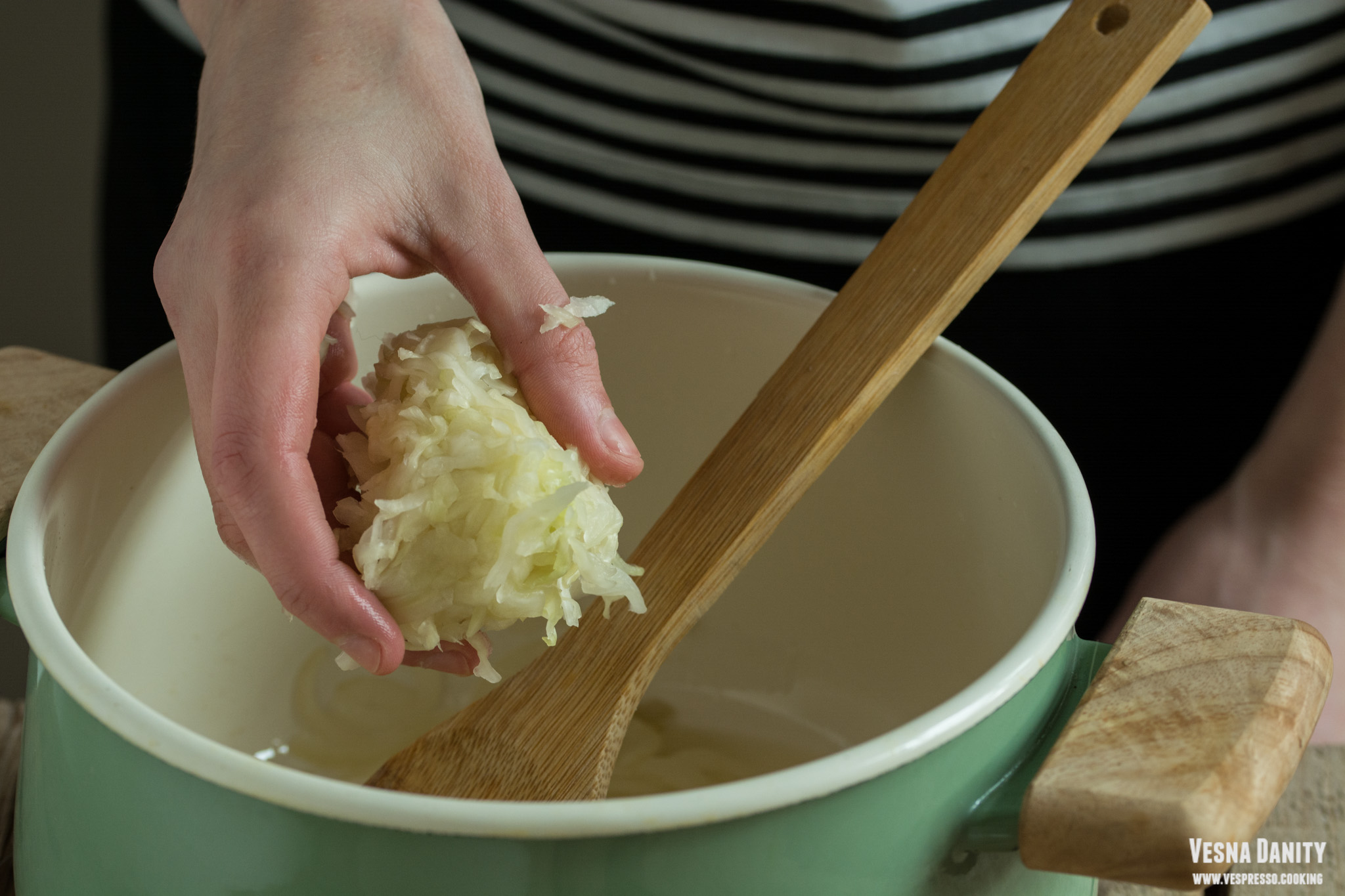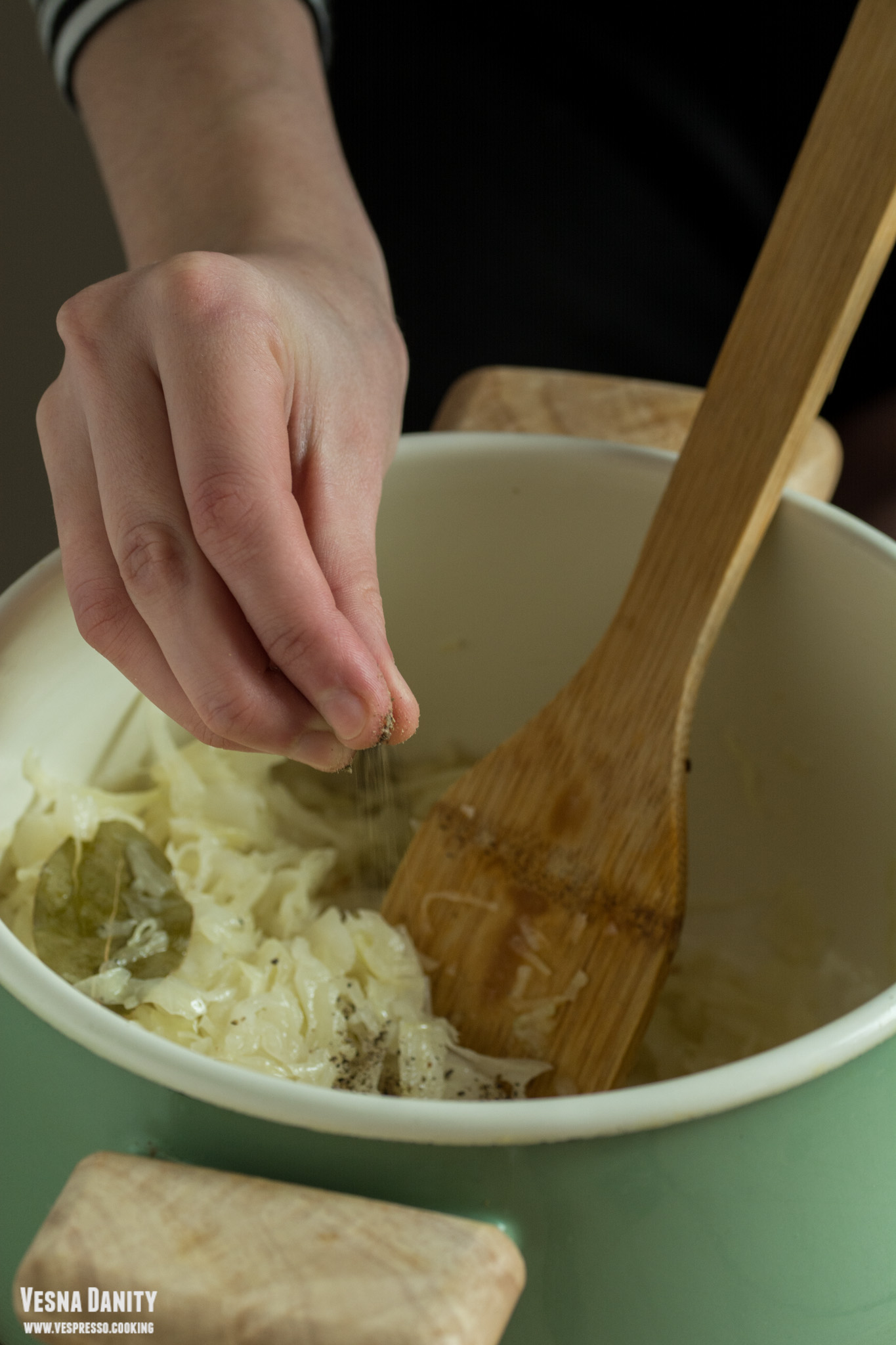 Method:
Pasta dough. In a large bowl sift the flour. Add salt and turmenic and mix well.
Make a well in the center, add water and olive oil and mix with a fork, until you form a ball of dough.
Bring the dough on a floured working surface and knead it vigorously for 10 minutes, or until the surface becomes smooth and elastic.
Wrap it in cling film and let it rest in the refrigerator for 30 minutes.
Sauteed cabbage. Take the cabbage and discard its outer leaves. Give it a wash and pat it dry with a paper towel.
Cut it in 4 and chop it finely. Place the cabage ribbons in a colander and place the colander in a large bowl. Sprinkle the salt over the cabage and masaage it for a minute.
Cut the onion in half and slice it finely. Heat 2 Tbsp of oil in a large saucepan over medium heat. Add the onion and saute it until translucent.
Remove the liquid from the cabbage ribbons using your hands. Add the cabbage to the saucepan, give it a stir, cover with a lid and reduce the heat to minimum. Saute the cabbage until tender (for about 15 – 20 minutes). When it becomes tender, season with salt (only if necessary) and plenty of black pepper and leave aside.
Cutting the noodles – If you don't own a pasta machine, you can use a rolling pin to roll the dough and a sharp knife to cut the noodles, like I did in this recipe. Take the dough out from the fridge, cut it in 4 and form 4 balls of dough. Take 1 ball, flatten it with your fingers and fold it in half. Set your pasta machine to the thickest setting and feed it through the pasta roller. Repeat the step. Change the setting to mark 2. Fold this piece of dough into thirds, and press it with your fingers. Pass it through the pasta machine. Repeat the step. Continue passing the dough through the machine until the desired thickness. For these noodles I like to stop after the 5th mark.
Recap: fold, mark1x2, fold, mark2x2, mark3x2, mark4x2, mark5x1
Run each sheet of pasta through the pasta cutter.
Take a large pot, fill it with water and add a handful of salt. Cover with a lid and let it boil. When the water starts to boil, put the noodles into the pan and let them cook for about a minute and a half (90 seconds). Drain pasta and rinse them with cold water. Toss them over the sauted cabbage and give it a gentle stir.
Serve immediately.