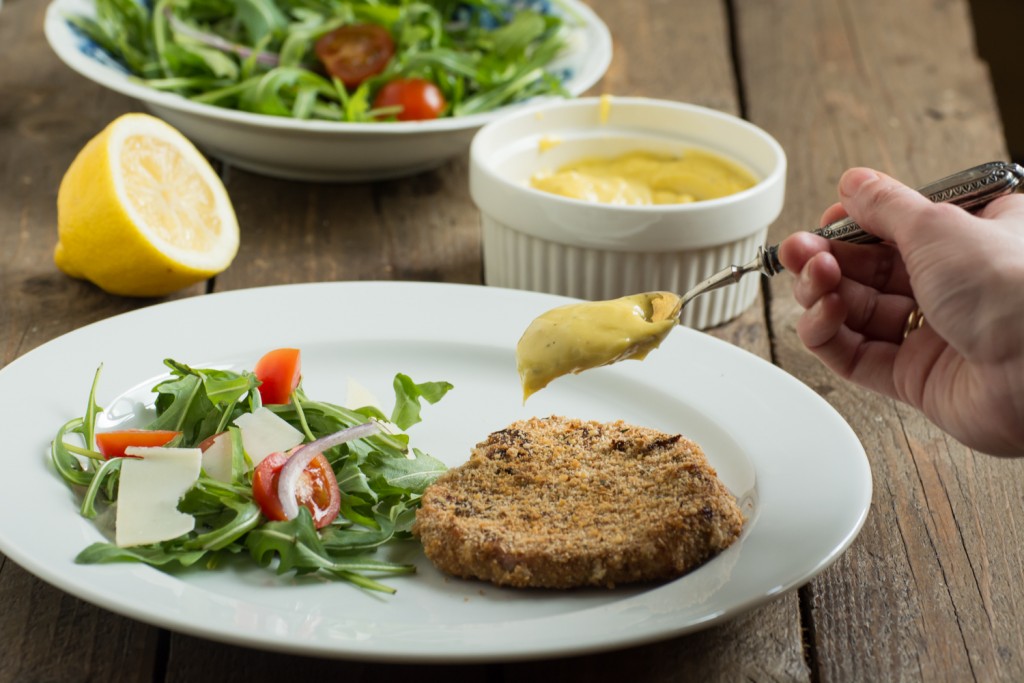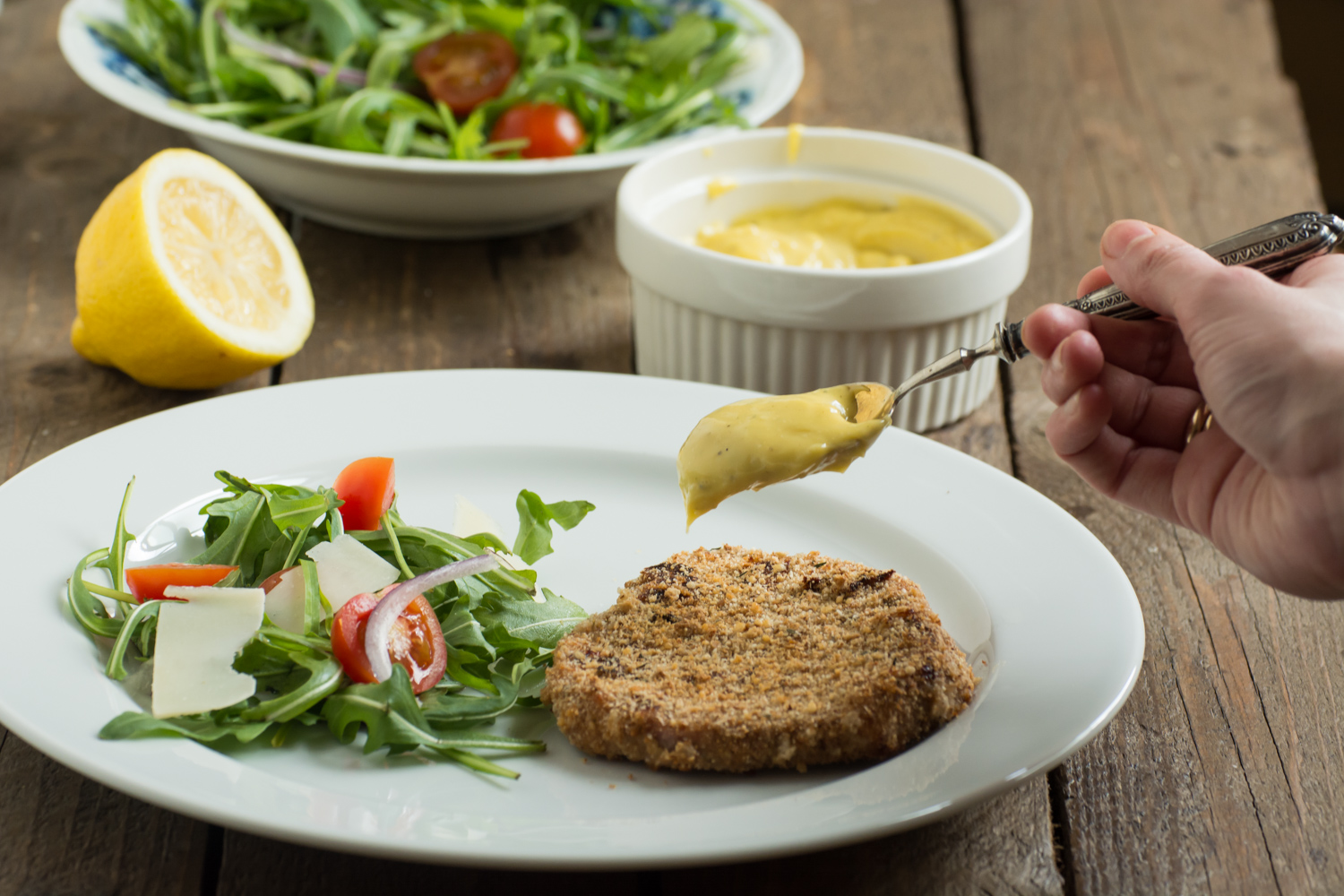 I might have the perfect recipe for Milanese Pork Chops! Why do I dare to call them "perfect"? Because these beauties have a flavorful crispy crust, so crispy that you would never believe that they are baked and not fried. The juicy and tender meat is coated with a golden crust made from whole-wheat bread crumbs, parmesan and thyme. So, in my humble opinion, this dish is the perfect lunch: easy to make, satisfying and very healthy.
Each and every time I cook pork loin, I like to brine it overnight. The steak is much more tender and juicy and the meat absorbs the perfect amount of salt. It's pure magic! Or maybe just physics…
Milanese pork chops (4 servings):
Ingredients:
600g pork loin
3 slices of whole-wheat day-old bread
1 Tbsp store-bought bread crumbs
25g grated parmesan cheese
1 Tbsp chopped fresh thyme
1 egg
½ tsp pepper
for the brine:
3 + ½ cups water
¼ cups sea salt
2 Tbsp sugar
2 Tbsp vinegar
5 thyme springs
2 tea sachets (I used apple & pomegranate flavor)
Method:
Prepare the brine. In a sauce pan, over low heat, combine 1 cup of water, salt, sugar and vinegar. Place the loin in a bowl and cover with the salt mixture and the remaining water. Add the thyme springs and the tea sachets and refrigerate overnight (picture).
Remove the loin and discard the brine. Pat dry the meat, slice it into 4 pieces and using a meat tenderizer, flatten each piece (picture). Season well with pepper.
Make the bread crumbs. Place the bread slices on a tray and bake them over high heat for 10 minutes, turning them once after 5 minutes.
Let them cool and using a blender, crush them to make the bread crumbs. Add the remaining 1 Tbsp of store-bought bread crumbs, parmesan and thyme and pulse a few times.
Take 2 bowls: in the first bowl place the bread crumbs mixture and in the second one beat an egg.
Dip each slice in the egg and allow the excess to drip off. Then dip them in the bread crumbs, press well to adhere and shake off excess.
Place the pork chops on a parchment paper-lined tray and bake them in the preheated oven at 400°F/204°C (gas mark 7) for 15 minutes, then turn and bake for 10 more minutes, or until golden.
Aïoli Sauce (4 servings):
Ingredients:
1 egg yolk
1 tsp mustard
150ml + 1 Tbsp olive oil
1 tsp water
1 Tbsp lemon juice
1 garlic clove
1/8 tsp salt
5 peppercorns
Method:
Whisk together the egg yolk and the mustard for 1 minute, using circular and one-direction movements.
Add the olive oil, 1 teaspoon at a time, whisking continuously until you get a thick sauce.
In a mortar bowl, grind the garlic clove together with the salt, peppercorns and the remaining olive oil (1Tbsp).
To the egg and olive oil sauce add the garlic mixture, 1 tsp of water and 1 Tbsp of lemon juice and whisk again until smooth and creamy.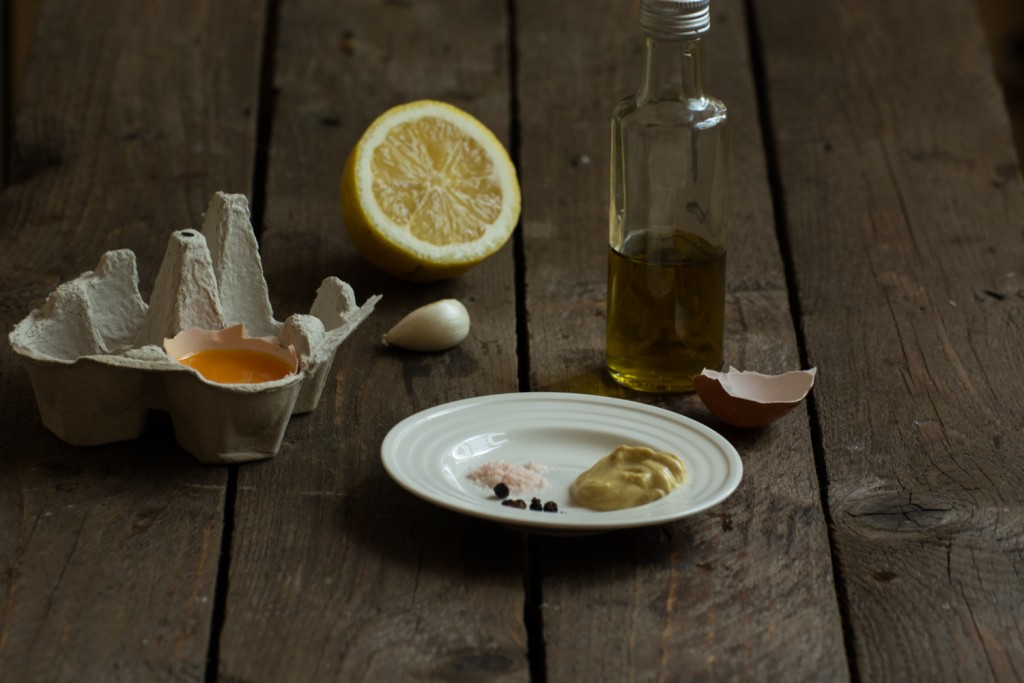 Arugula and cherry tomatoes salad (4 servings):
Ingredients:
2 handfuls of arugula
10 cherry tomatoes, halved
¼ red onion, finely chopped
10 thin slices of Parmesan cheese
2 Tbsp olive oil
1 Tbsp lemon juice
Method: On a platter place the ingredients above in the same order.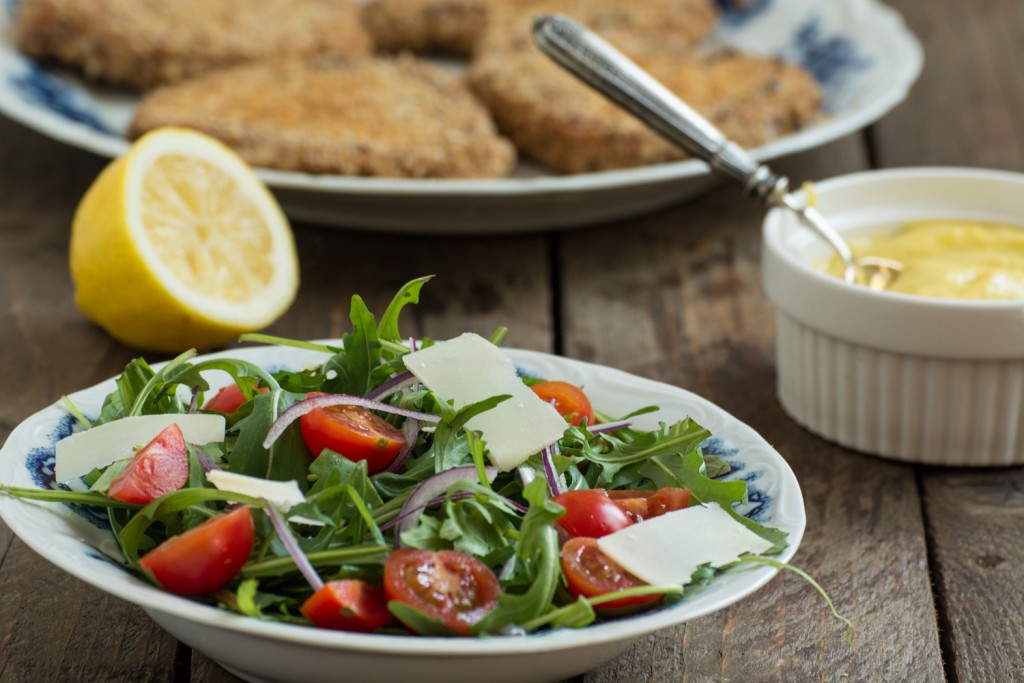 Source: www.bbcgoodfood.com