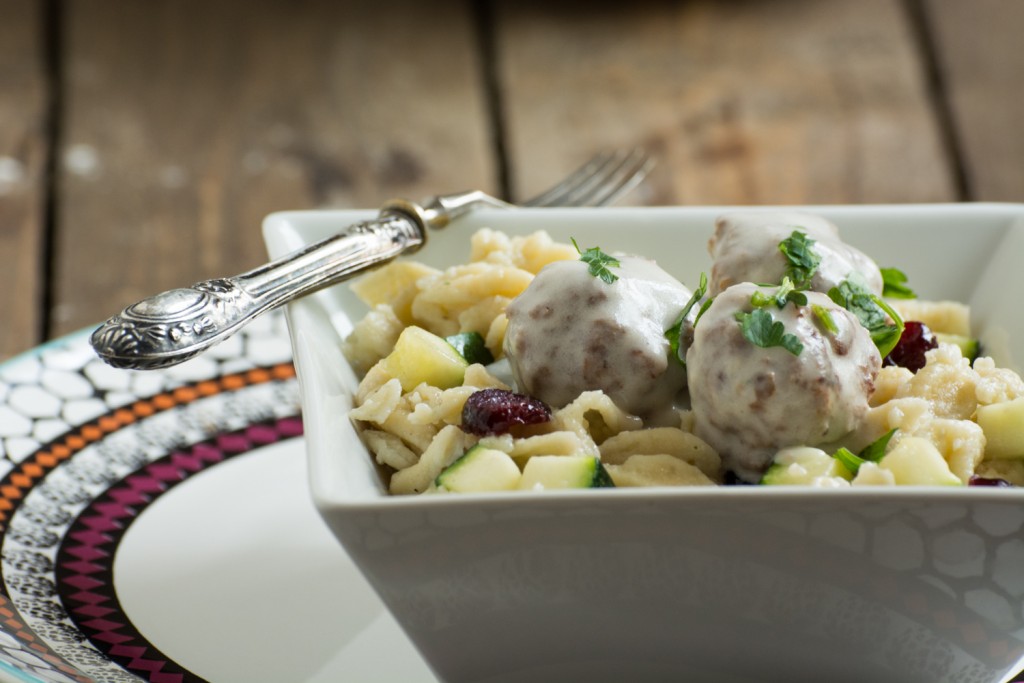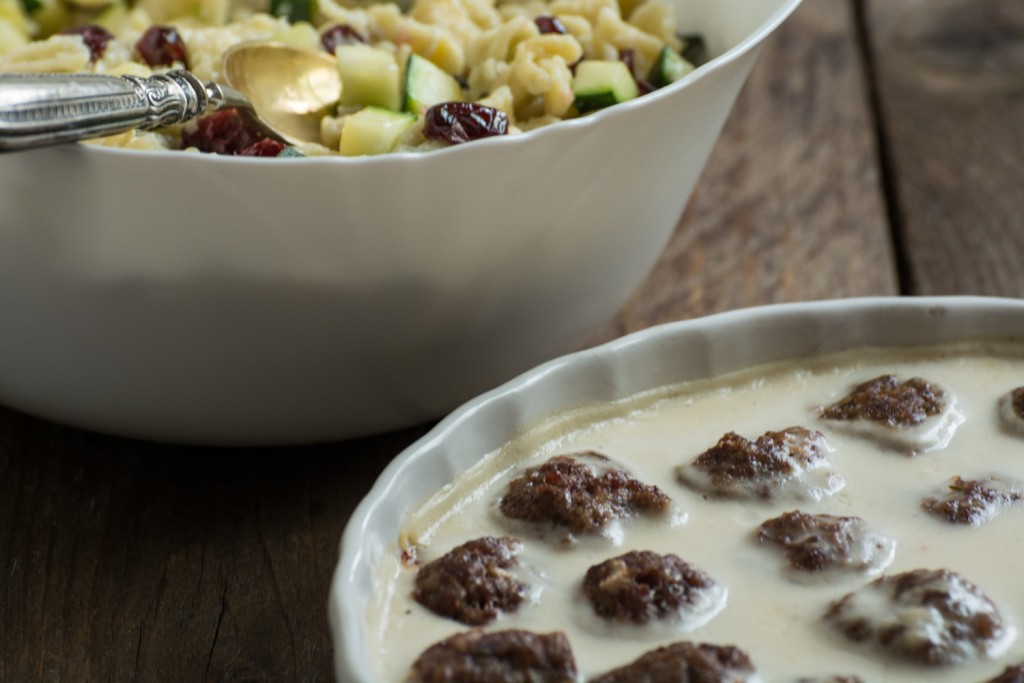 Swedish meatballs (svenska köttbullar) is a delicious dish of Swedish origin (doh!), served traditionally with mashed potatoes and lingonberry jam. These exquisite meatballs are bathed in a delicate yet flavorful broth-based white sauce.
I didn't fry my meatballs, I baked them in the oven, at medium-high heat, as I usually do. This way, they had a crispy crust, a juicy center, and no extra fat. I served my meatballs with homemade dumplings coated with sage-flavored butter, zucchini and cranberries.
Swedish meatballs ingredients:
Meatballs:
600g minced beef
1 Tbsp butter
1 Tbsp olive oil
2 slices of whole wheat bread (dried in the oven for 10 minutes)
2 Tbsp store bought bread crumbs
½ cup milk
¼ cup chopped onion
1 garlic clove, minced
¼ tsp Cajun spice blend
1 tsp Worcestershire sauce
1 egg
salt and pepper to taste
Sauce:
1 Tbsp butter
1 Tbsp olive oil
1 + 1/2 cup beef broth
1/3 cup single cream
1 tsp Worcestershire sauce
1/8 tsp nutmeg
salt and pepper to taste
Method:
Preheat the oven at 400°F/205°C (gas mark 6).
In a blender crush the dried bread to make the bread crumbs (about 1 cup of bread crumbs).
In a sauce pan, melt the butter and add olive oil, milk, Worcestershire sauce, onion, garlic and Cajun blend. Bring to a simmer, pour the milk mixture over the bread crumbs, stir and leave aside to cool for 5 minutes.
In a large bowl mix together minced beef, milk and bread crumbs mixture, egg and store bought bread crumbs and season well with salt and pepper.
I formed one meatball and I cooked it in a frying pan, just to make sure I had the right taste. In my case, it needed salt and pepper.
Mix all the ingredients again and form the meatballs.
Bake them on a parchment paper-lined tray for 20 minutes, turning them once after the first 10 minutes.
Meanwhile prepare the sauce. In a saucepan heat the butter and olive oil over low heat until melted. Add the flour and stir until the mixture is golden and smells like freshly baked pie crust (about 5 minutes).
Add the hot broth, one ½ of a cup at a time, stirring frequently.
Cook sauce on low heat for 5 minutes, stirring from time to time.
At the end add cream, Worcestershire sauce, nutmeg, salt and pepper.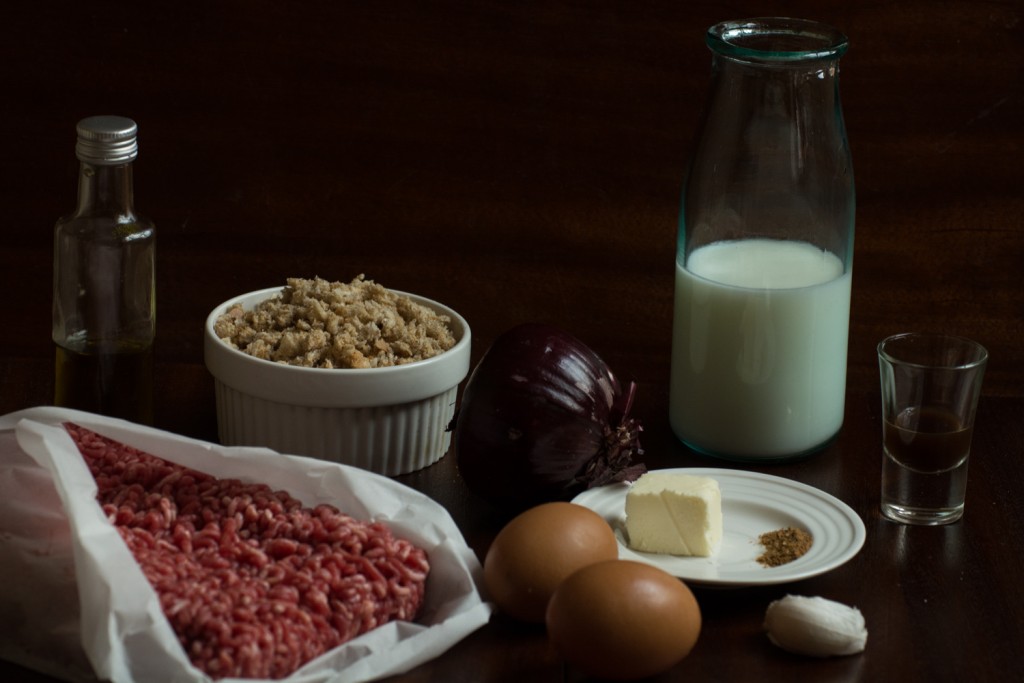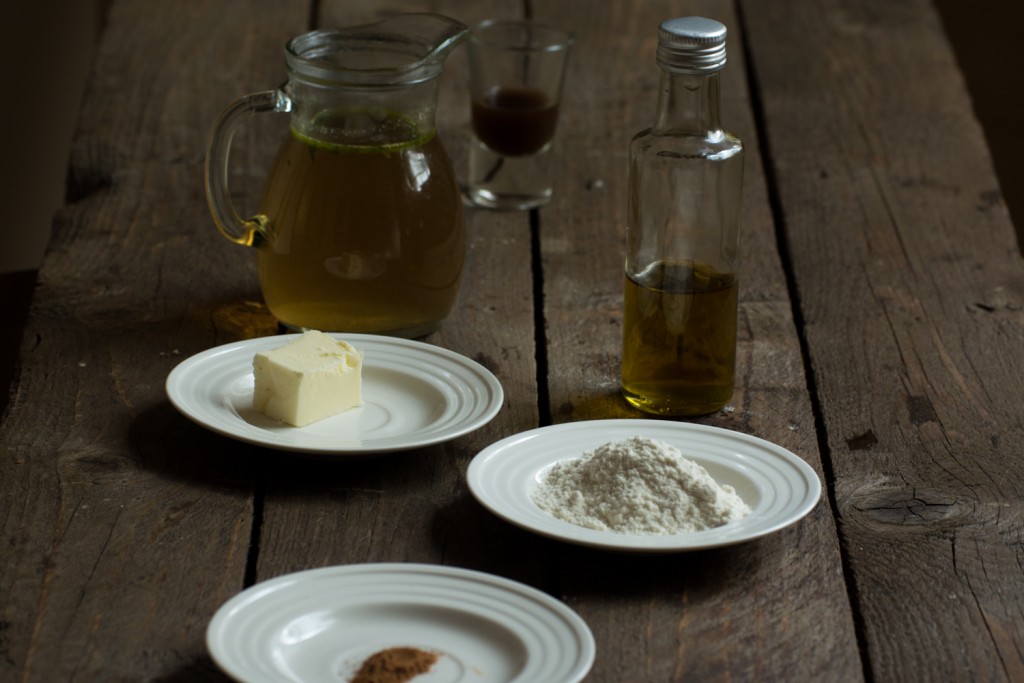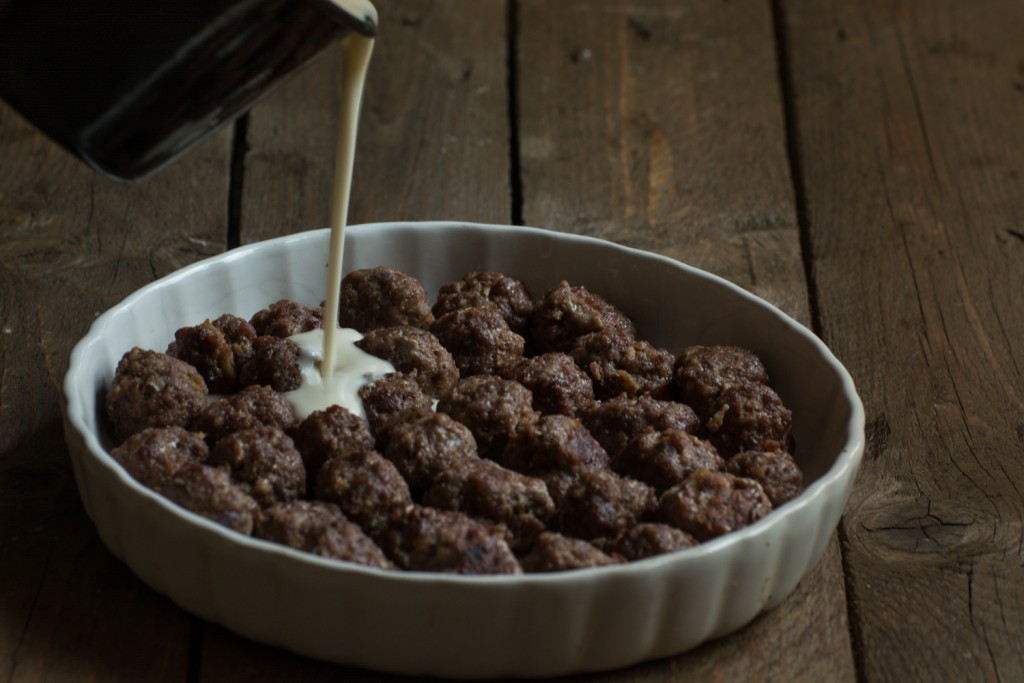 Homemade dumplings with zucchini and cranberries
180g strong white flour
3 eggs
1 tsp salt
1 Tbsp butter
1 Tbsp olive oil
1 small zucchini, cubed (about 200g)
50g dried cranberries (covered with water)
10 sage leaves
1 garlic clove
Method:
Fill a 4l pot with water and put in on the stove, on high heat, covered with a lid.
Beat the eggs with a fork and add the salt. Pour the flour gradually and mix continuously with a spoon until you form a paste. Leave the dough for 5 minutes to rest.
When the water starts to boil add a handful of salt and 1 Tbsp of oil and reduce the heat to minimum.
Place your tablespoon in the hot water to heat the spoon and tear a small amount of dough. Put your spoon (with the uncooked dumpling) back in the water to release the dumpling. Repeat this procedure. Cook the dumplings for about 8 minutes, drain and rinse under cold water.
In a large pot heat the butter and the olive oil. Add the sage leaves and the crushed (not minced) garlic. Add the cubed zucchini and cook on low heat for about 5 minutes. Add the cranberries (without the water) and the dumplings and cook for another 5 minutes stirring occasionally.
Season well with salt and pepper and serve with Swedish meatballs.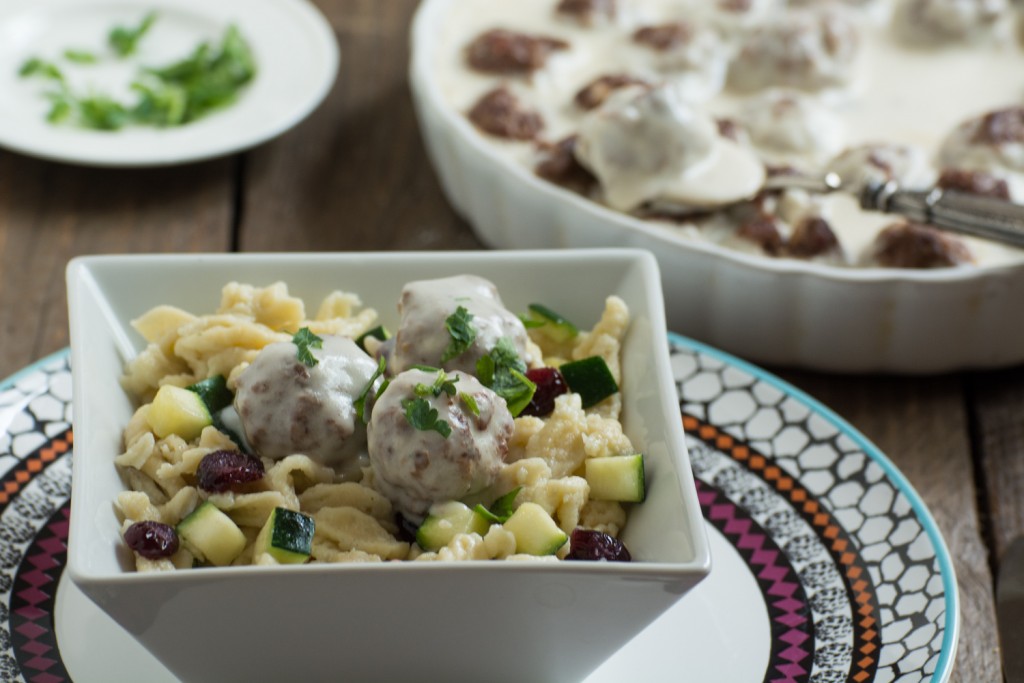 Source: www.foodnetwork.com