Tagliata is a grilled or pan-fried sliced stake, generally made from pork or veal. I usually make my tagliata from pork shoulder because I find this cut easy to work with, unpretentious, yet absolutely stunning when prepared well. In this case, I brined the meat  for 1 hour (I used this recipe) just to keep it moist long after slicing. I seasoned my steaks with demerara sugar and I fried it in olive oil. It may sound weird using sugar in this equation, but while cooking, the sugar caramelizes into a crispy and delicious crust. I served my steaks with a tangy parsley and basil chimichurri and some flavorful oven roasted cherry tomatoes.
Tagliata
Ingredients (for 4 servings):
4 x 150-200g pork shoulder steaks
1 tsp demerara sugar
pepper
2 Tbsp olive oil
Method:
Remove steaks from brine and pat dry them. Season well with sugar.
Heat the olive oil in a frying pan on medium heat. Add the steaks (2 at a time) and fry them for about 4 minutes, then turn them and fry them for another 4 minutes.
After 8 minutes check the internal temperature. The steaks are done if the internal temperature reaches 63°C. Place them in a bowl, season with plenty of pepper, cover with a lid and let them rest for 5 minutes. Slice them just before serving.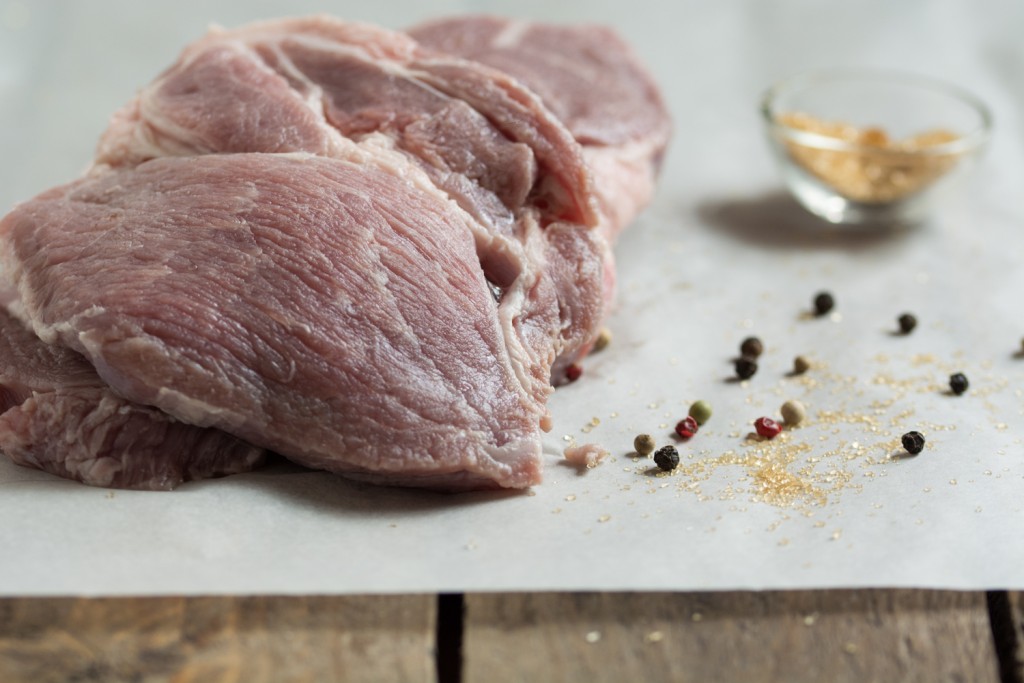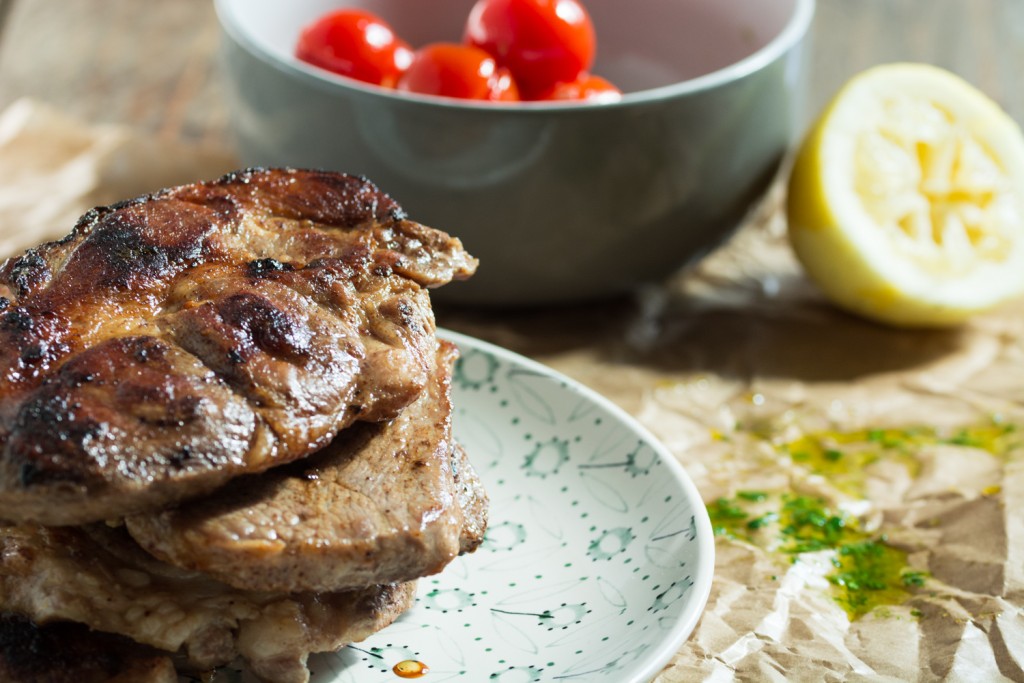 Chimichurri sauce
Ingredients (for 4 servings):
½ cup parsley leaves (stems removed)
about 10 basil leaves
1 garlic clove
1 chilli, deseeded
½ tsp lemon zest
4 Tbsp olive oil
2 Tbsp lemon juice
¼ tsp brown sugar
salt and pepper to taste
Method:
Place all the ingredients mentioned above in the food processor and pulse until you get a smooth and creamy sauce.
Baked cherry tomatoes
Ingredients (for 4 servings):
300g cherry tomatoes
1 Tbsp olive oil
½ Tbsp honey
1 garlic clove, minced
¼ tsp salt
Method:
Place cherry tomatoes in a ceramic tray.
Combine garlic, honey, oil and salt, pour the mixture over the tomatoes and toss to cover.
Bake in the preheated oven at 400°F/200°C (gas mark 6) for about 20 minutes.