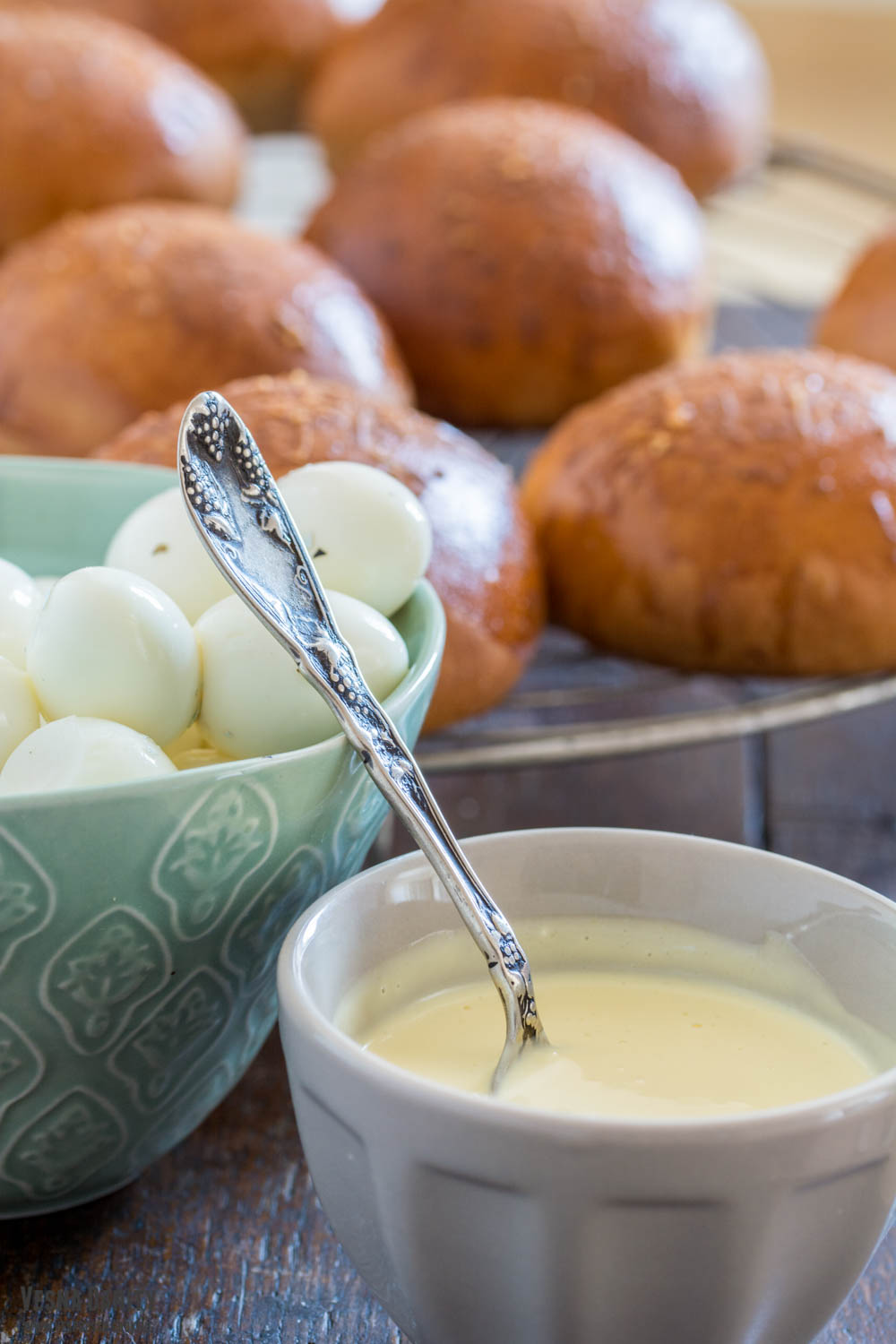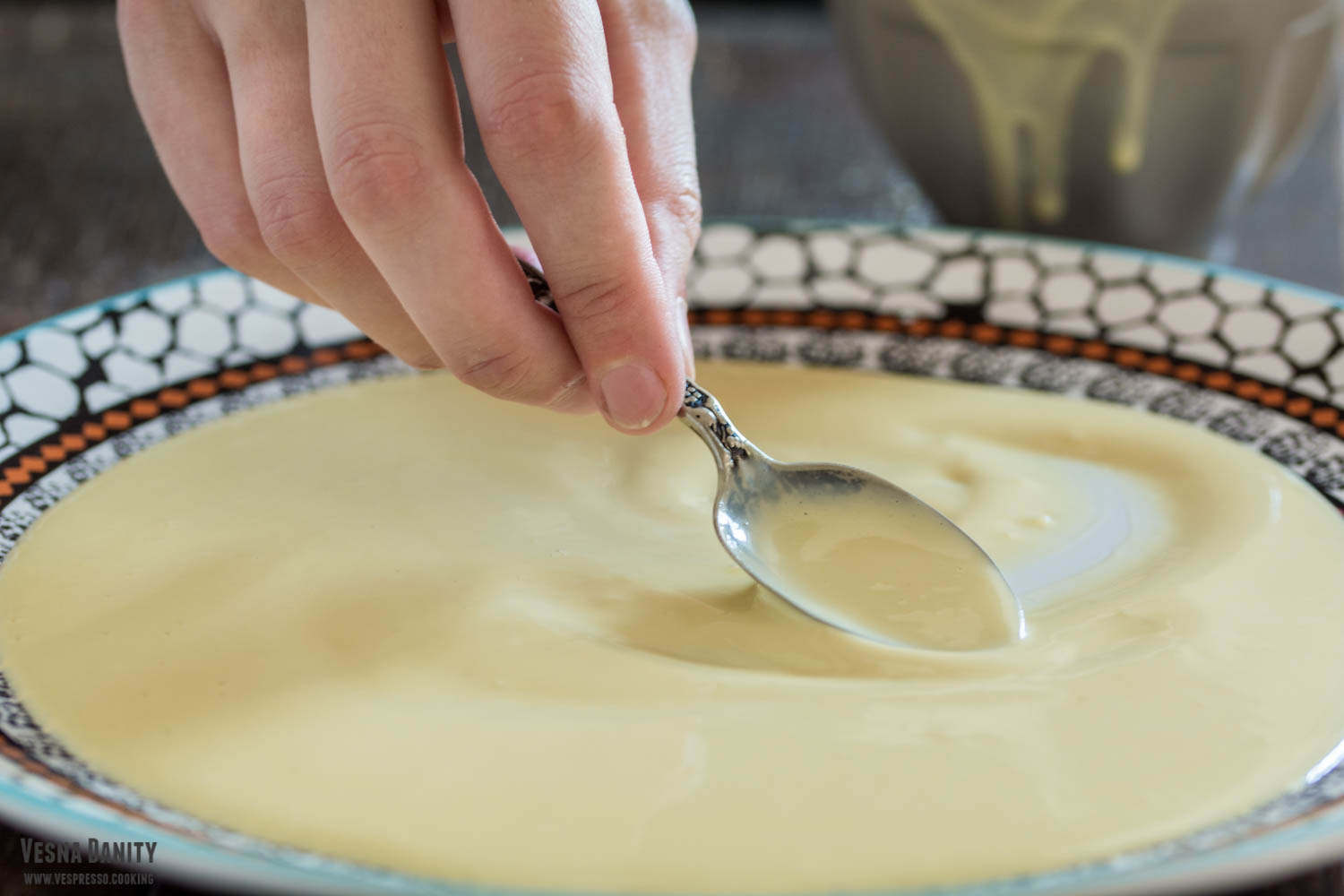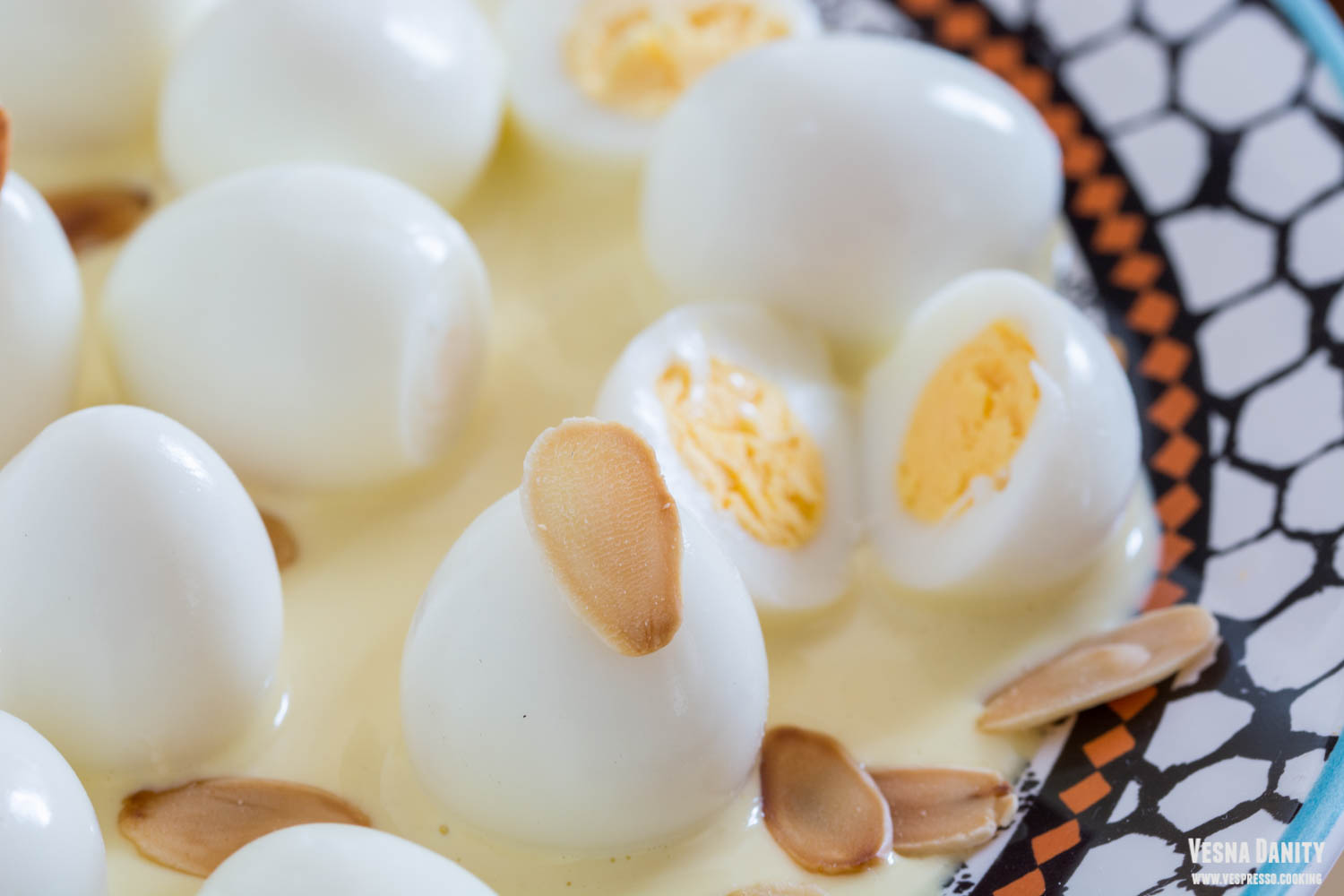 Since my adorable pultry farm has seen the light of he day Ițve been testing and developing lots of egg-based recipes. We enjoy chicken eggs as well es quail eggs, goose eggs, duck eggs, guinea fowl eggs and if I forgot to mention any other cute feathered creature that carelessly lounges in backyarg, I ask for forgiveness. The business is quite simple we give them love (and corn) and they give us eggs. I've noticed that I tend to cook quail eggs more often than any other variety of eggs and I base my decision not as much on the nutrition aspect, but on the fact that it takes no time for them to cook. An whenever I eat a whole quail egg I like to pretend that I'm having a regular-sized egg and I'm just a giant but that's a whole other level of childness.
My favorite quail egg recipe is also the simplest recipe I know, not to mention it hardly takes more than 15 minutes. For this recipe I like to boil the egg for about 3 minutes. I remove their shell and I serve them with a velvety garlic and Greek yogurt sauce. I don't know exactly what makes them perfect. Maybe the fact that the simplicity of the sauce make the eggs shine. Maybe the fact that making the aioli sauce reminds me of graceful my grandmother used to make the mayonnaise. Or maybe hypnotic traces the torn bread leave in the yellow sauce. I simply don't know.
Ingredients (for 4 servings):
24 quail eggs
2 Tbsp aioli sauce
2 Tbsp Greek yogurt
1 Tbsp almond flakes (lightly toasted in a pan)
for the aioli sauce:
1 egg yolk
1 tsp mustard
120ml olive oil
1 tsp water
1 Tbsp lemon juice
1 garlic clove
¼ – ½ tsp salt
1/8 tsp white pepper
For this recipe I use about ½ of the aioli sauce that results from the ingredients mentioned above. The remaining sauce I use it in hamburgers, sandwiches, fries or even pasta salad.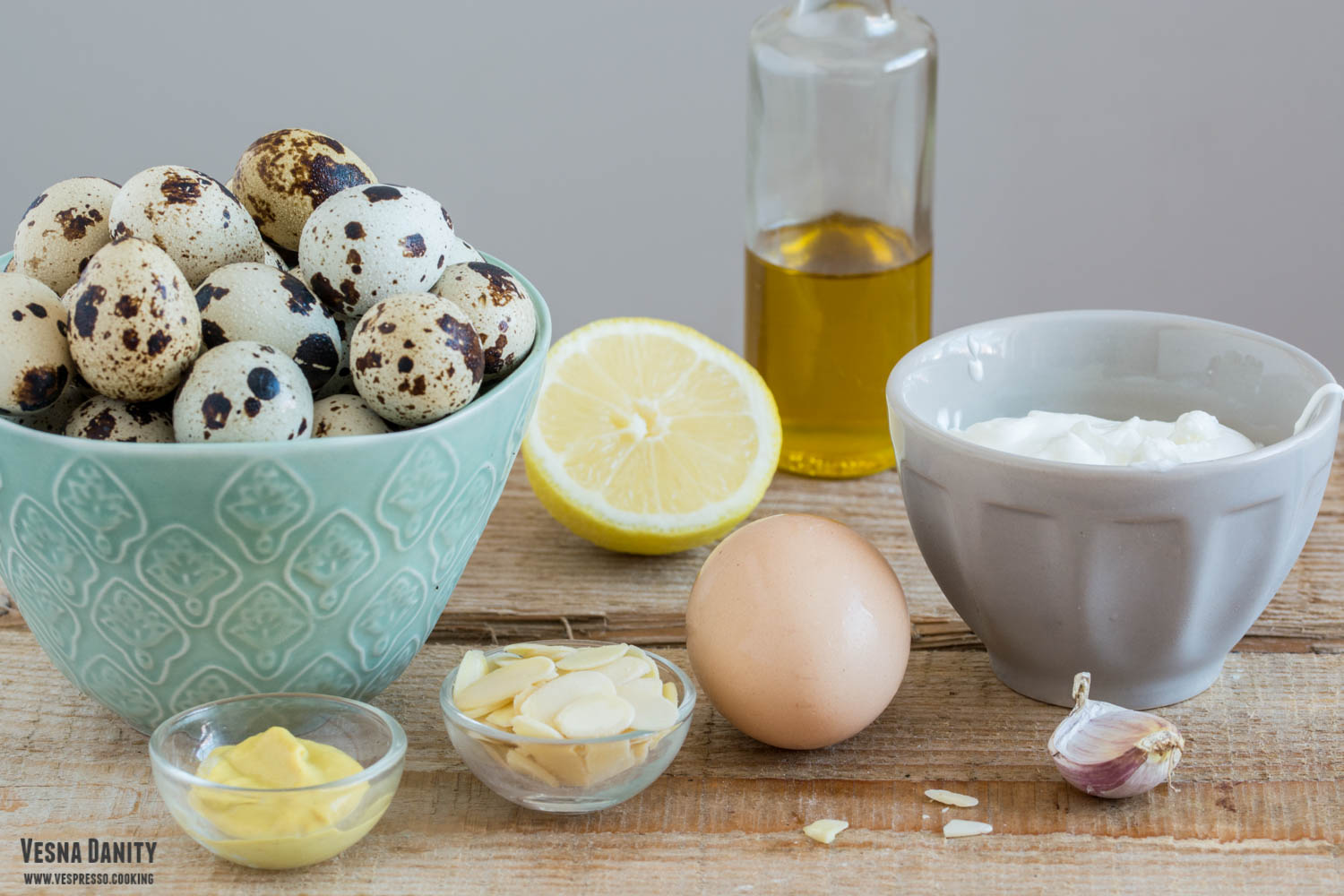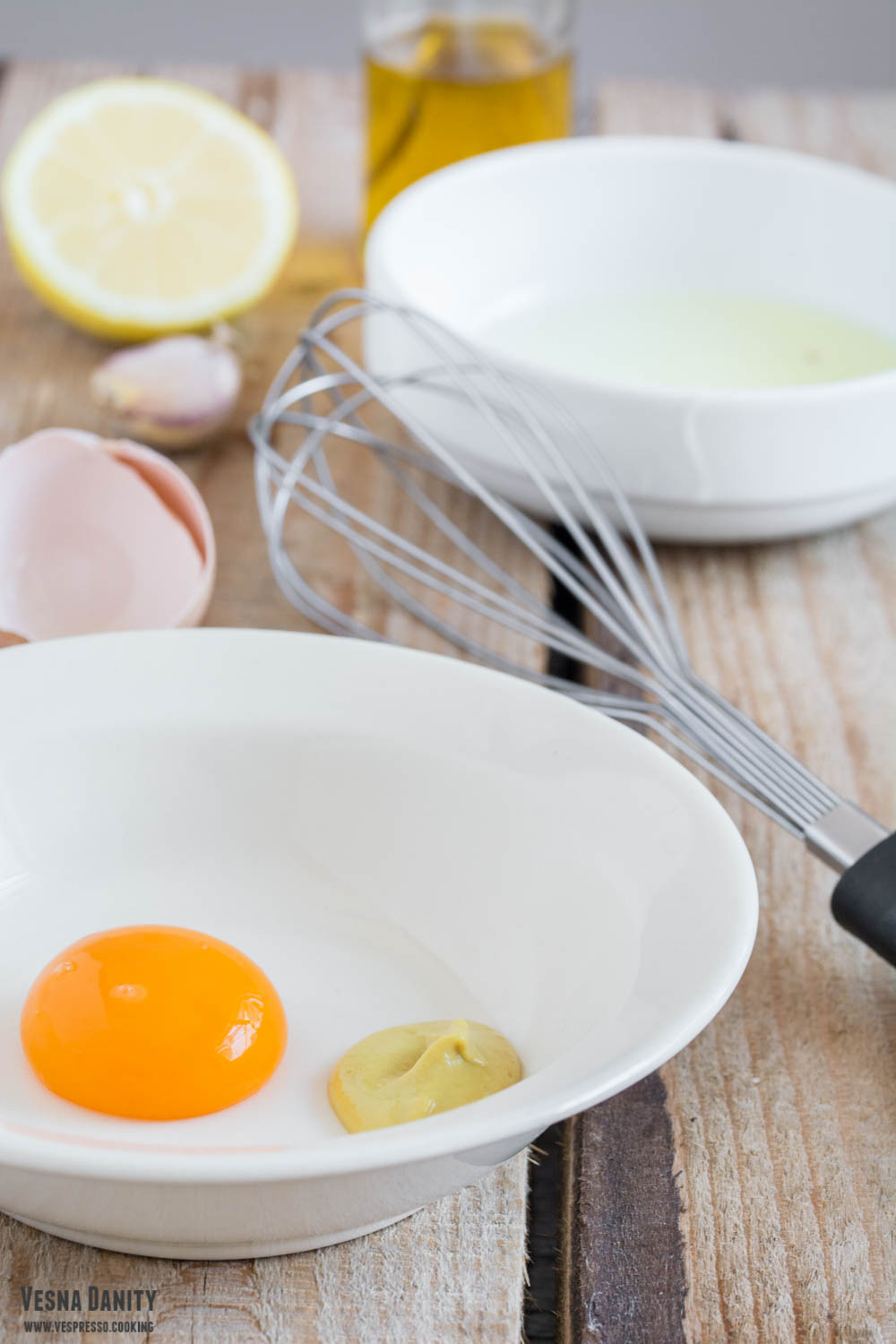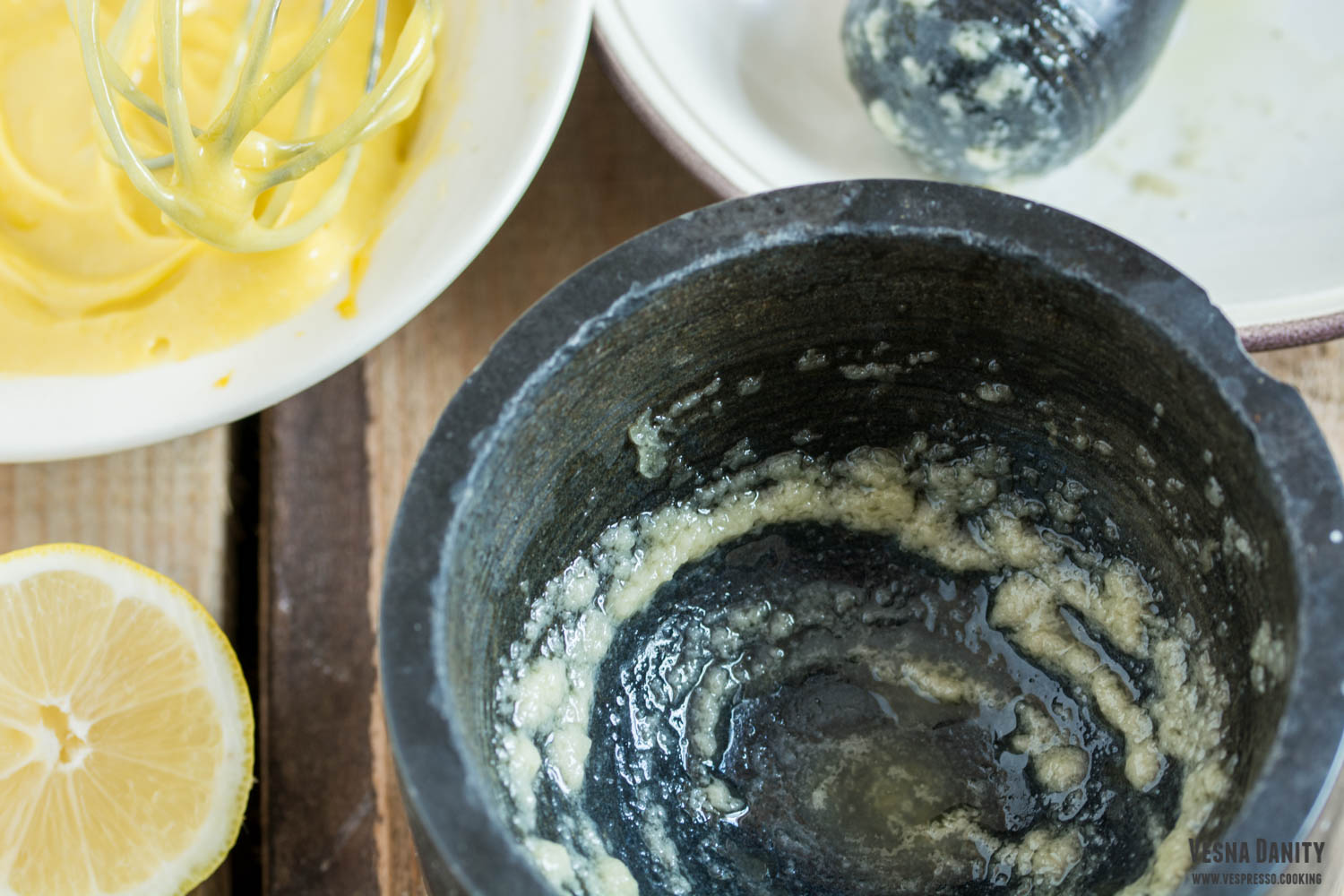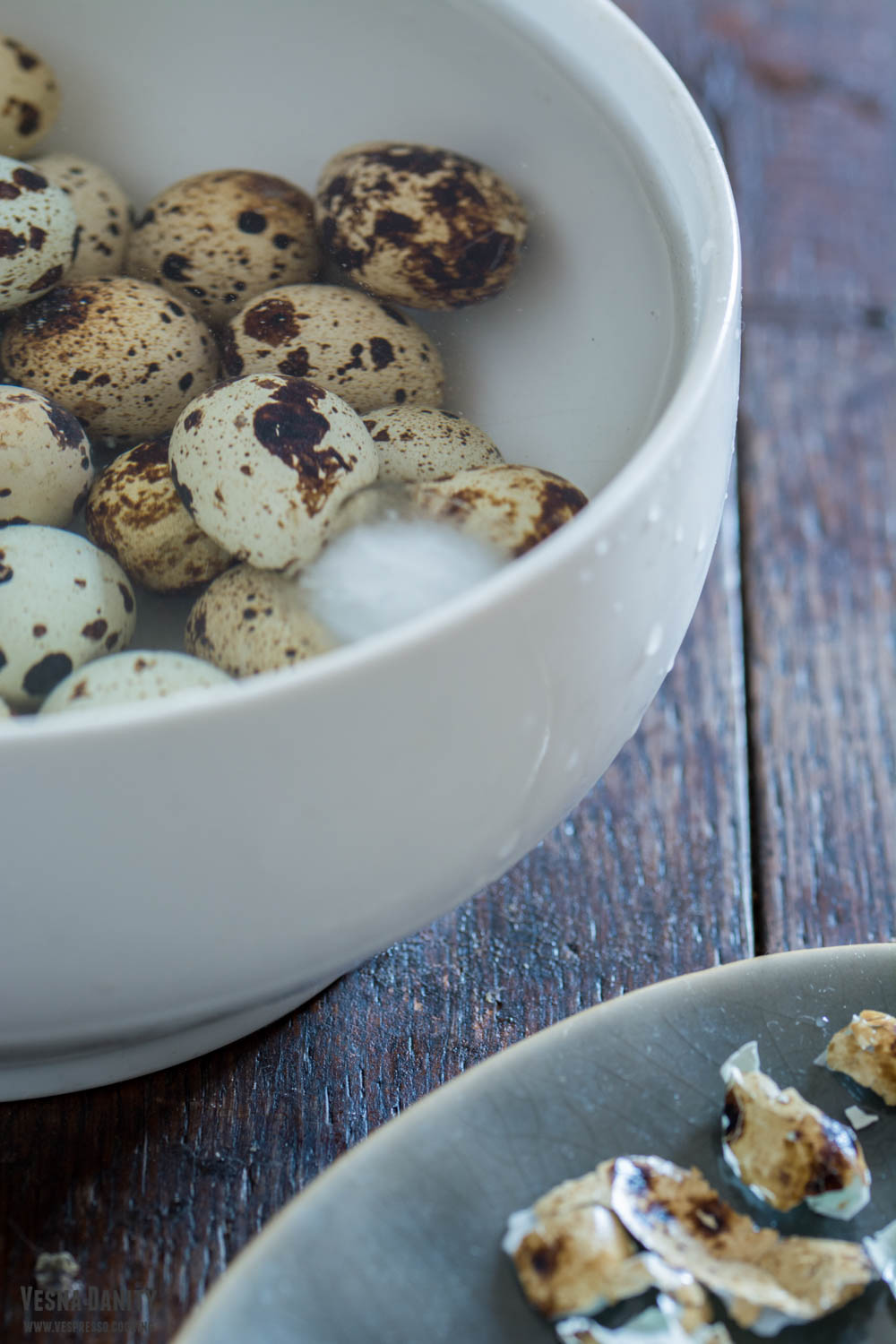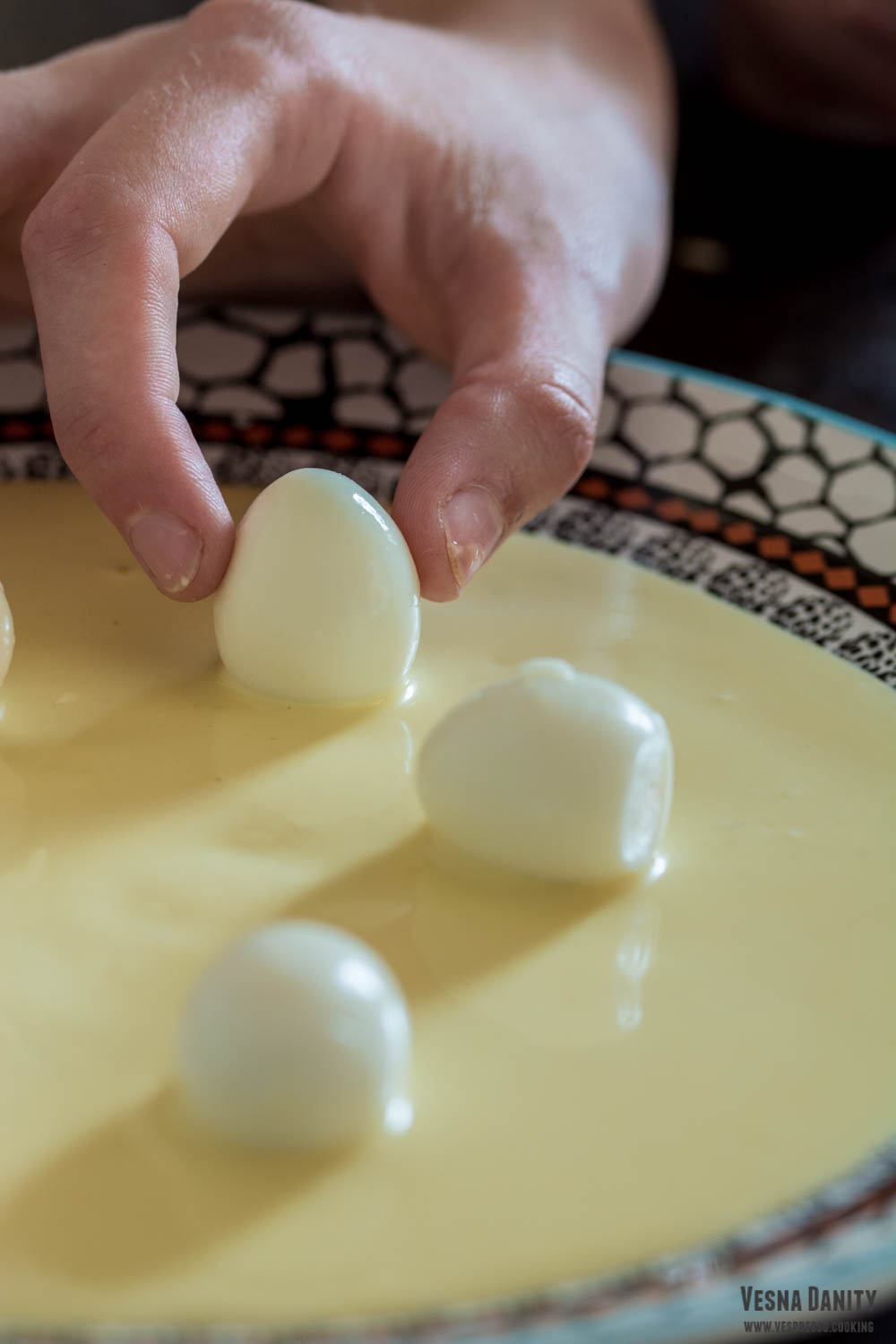 Method:
Carefully wash the eggs, place them in a pot and cover with cold water. Place the pot on the stove and wait until the water starts to boil. Reduce heat to minimum and let eggs boil for 3 minutes. Drain eggs, let them cool in cold water and peel them.
Meanwhile prepare the aioli sauce. Whisk together the egg yolk and the mustard for 1 minute, using circular and one-direction movements.
Add the olive oil, 1 teaspoon at a time, whisking continuously until you get a thick, mayonnaise-like sauce but reserve 1 Tbsp of olive oil
In a mortar bowl, grind the garlic clove together with the salt, peppercorns and the remaining olive oil (1Tbsp).
To the egg and olive oil sauce add the garlic mixture, 1 tsp of water and 1 Tbsp of lemon juice and whisk again until smooth and creamy.
Take about half of the sauce and mix it with about the same quantity of Greek yogurt. Season with salt and pepper if necessary.
Spoon the sauce on a platter, place the eggs on top of the sauce and scatter the lightly toasted almond flakes over the eggs. Serve with a crusty bread (the fast homemade dinner rolls are a great option).