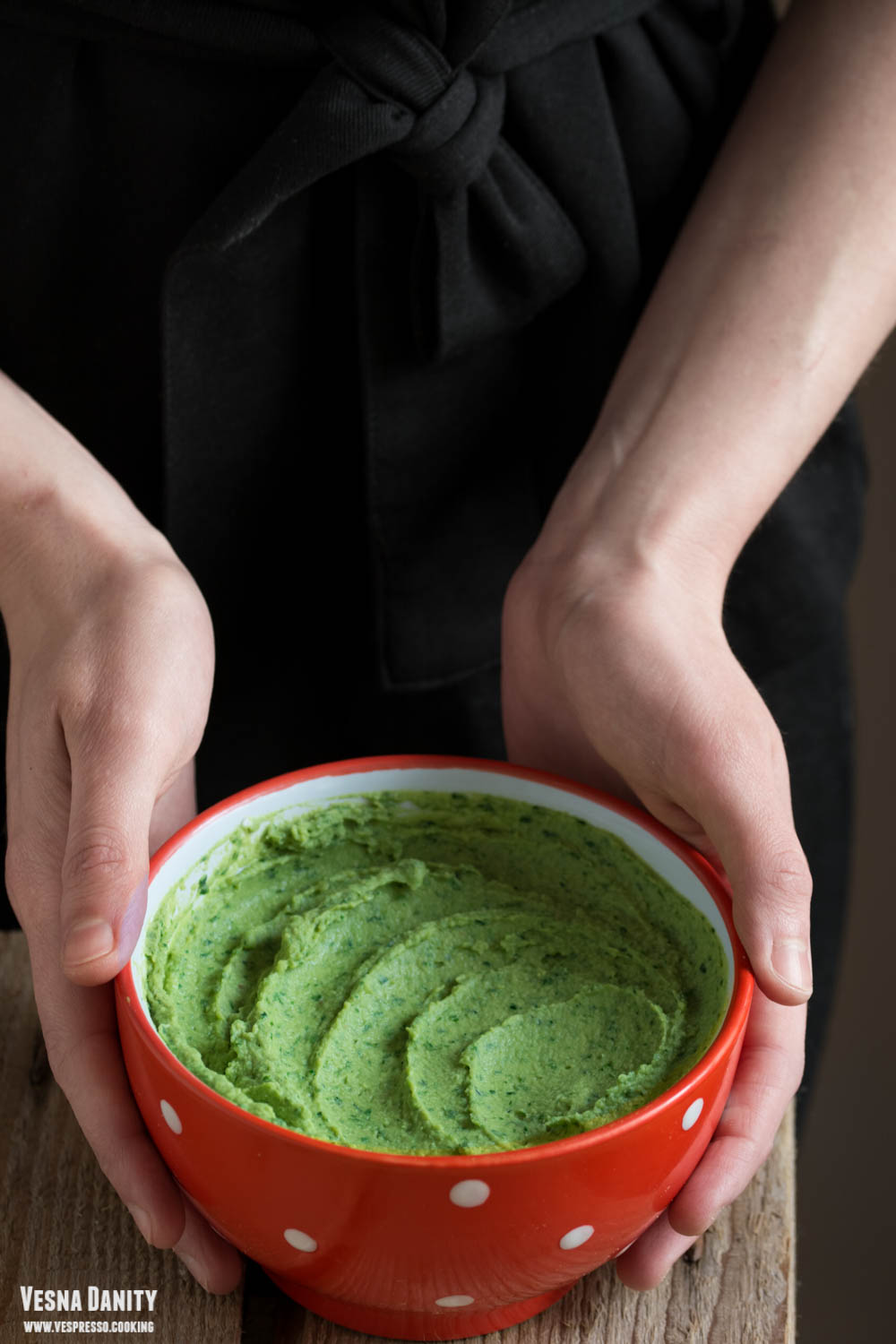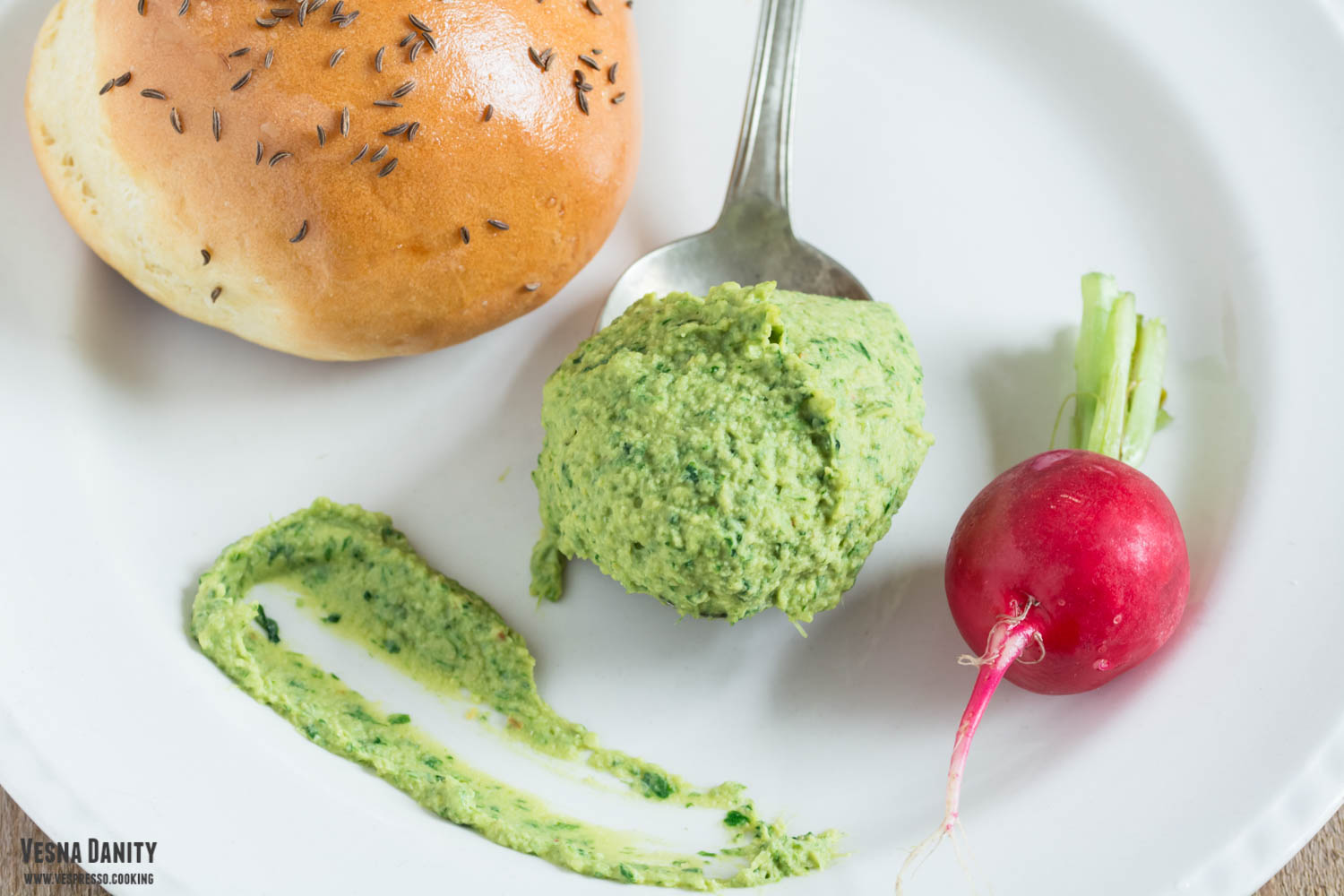 Hummus is an oriental chickpea and tahini paste. It is hearty, smooth and creamy and it has a rich and nutty sesame seed flavor. It is a high-protein vegan spread and it's also so easy to make. I've tried a myriad of recipes over the years, I played both with the ingredients and with the different techniques involved in preparing this simple yet delicious spread. I learnt two tricks which I use each time to get an incredibly creamy texture. I remove the skins of the chickpeas by squeezing them with my fingers – this extra step makes a smoother final product. The second trick is to start the hummus by mixing the tahini with lemon juice and olive oil, which creates a mayonnaise-like consistency emulsion. This two tricks make the difference between a regular and an over-the-top delicious hummus.
The version of hummus I bring you today is a velvety, flavorful and colorful hummus, a wild garlic hummus, to be more accurate. Wild garlic is a wonderful plant, it has a fresh garlicky taste and it is packed with nutrients, from carotenoids to vit A, vit C and vit B complex. I'm not a fan of the raw wild garlic, I find it too overpowering, so I blanch it for 40 seconds before using it, to temper its wild taste.
Ingredients for (4 servings):
1 can of chickpeas (400g)
50g wild garlic
1 Tbsp tahini (I used homemade tahini – here is the recipe)
2 Tbsp lime juice
3 Tbsp olive oil
1 – 2 Tbsp water
¼ tsp cumin
1/8 tsp chili flakes
salt to taste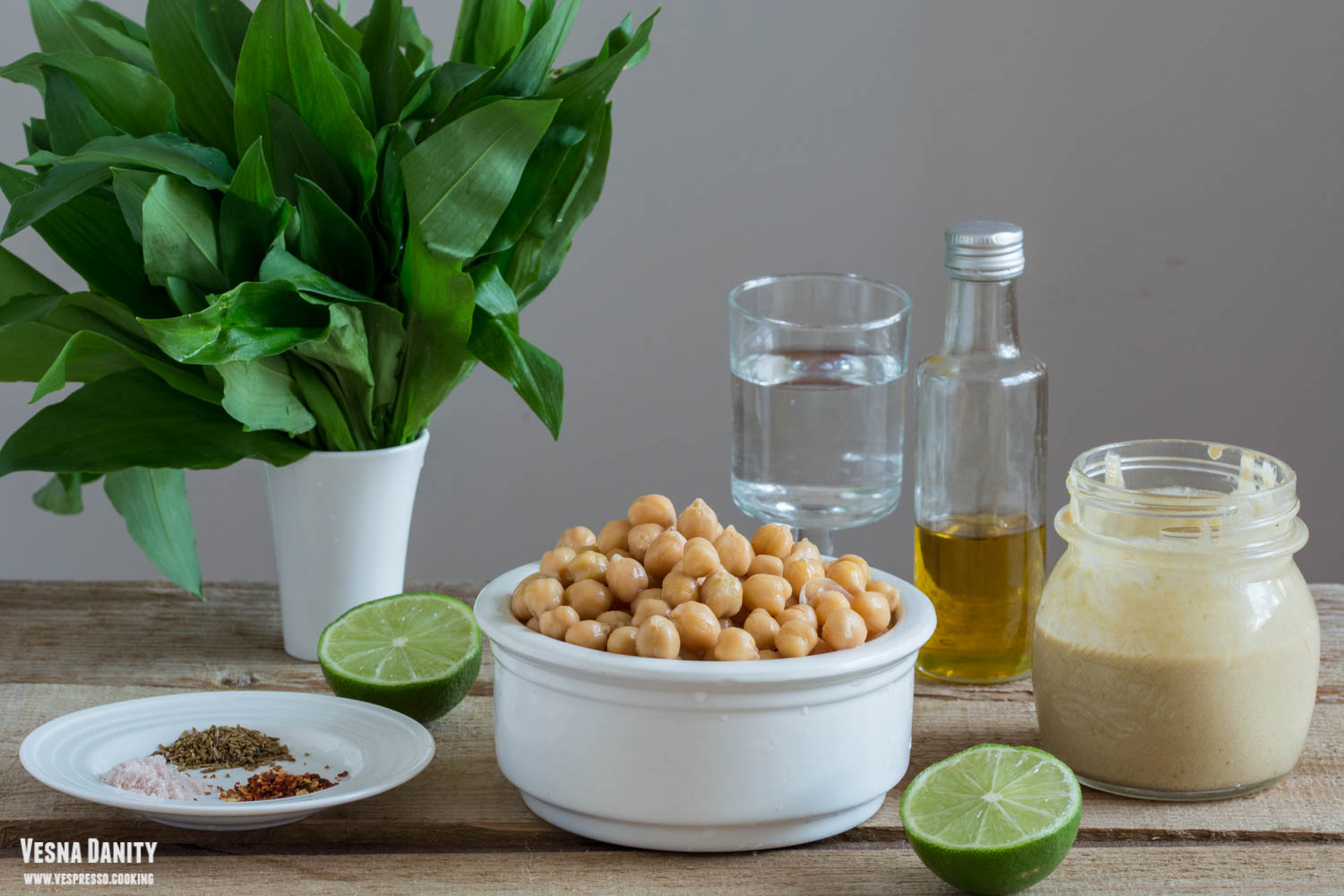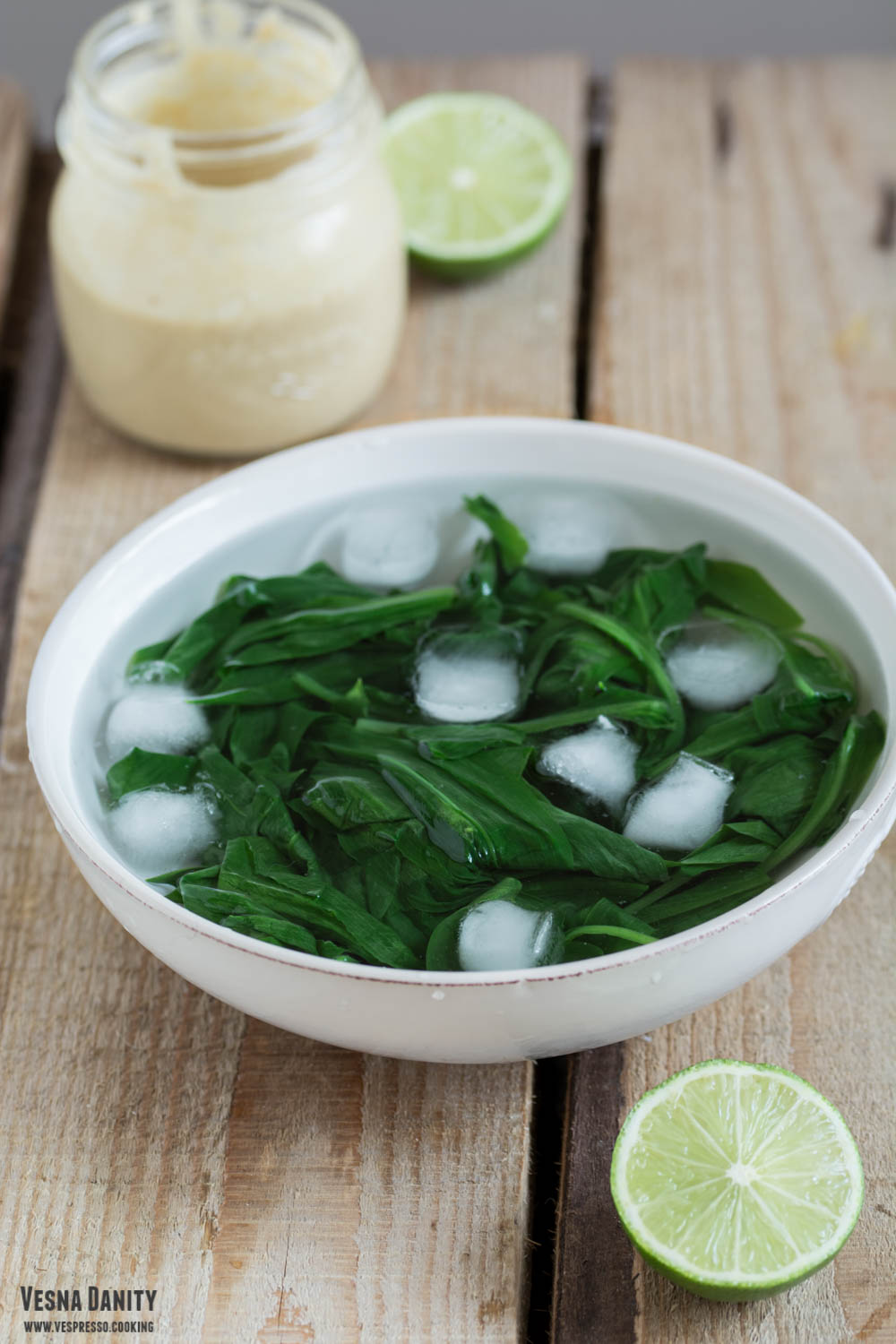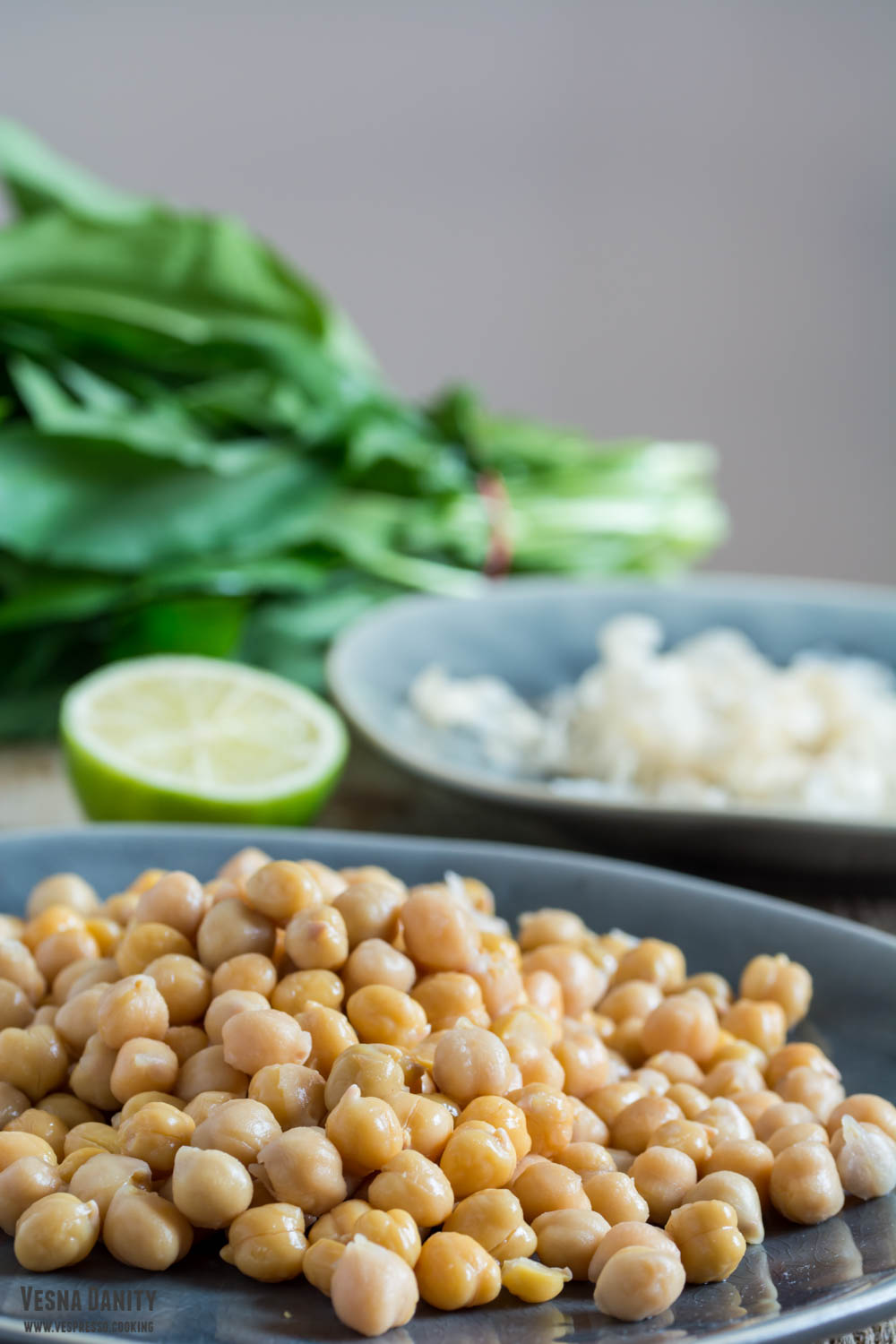 Method:    
Blanch the wild garlic. Bring 1l of water to a boil. Wash the wild garlic and trim its fibrous ends. When the water starts to boil add the wild garlic, reduce the heat to low and simmer for 40 seconds. Meanwhile prepare the ice bath by adding 1 cup of ice to a bowl filled with cold water. Carefully drain the wild garlic and immediately place it in the ice bath. Let it cool completely and then drain it. Remove the excess water by squeezing it in your hands (picture).
Prepare the chickpeas. Drain the chickpeas using a colander and rinse it under cold water. Take about 8 – 10 chickpeas and gently squeeze them in your fingers to remove their skins. Proceed the same with the rest of the chickpeas – this step is optional.
In the bowl of the food processor add the tahini and the lime juice and pulse until combined (picture).
Drizzle the olive oil 1 Tbsp at a time. Pulse until the mixture resembles to a mayonnaise (picture).
Add the chickpeas and pulse until you form a paste, scraping down the sides of the bowl with a spatula.
Add the chopped blanched wild garlic and the spices (cumin, chili flakes and salt). Add 1 Tbsp of water and process. Add more water until you reach the desired consistency. Spoon it into a bowl and drizzle some olive oil on top.
I served my wild garlic hummus with homemade dinner rolls (I made them following this recipe), raw radishes, spring onions and chili peppers.
Source: www.inspiredtaste.net